Breaktothebeat recently had the opportunity to interview pioneering Milton Keynes B-Boy and Graffiti artist Rolek One. Rolek One was a member of the Asiatic Soul break-dance crew during the 1980's and gained recognition on the local Hip Hop scene before going on to represent Milton Keynes at several national events. Rolek One also contributed to and helped pioneer an emerging local graffiti art scene in Milton Keynes during UK Hip Hop's early years. Rolek One's foundation in Hip Hop culture has allowed him to apply his talents to a number of creative outlets such as flyer designs, murals and metallic sculptures. 

"Rolek metallic sculpture" by Rolek One, 2019.
Taking things right back to the start could you tell the readers how you discovered Hip Hop music and culture?
In 1983 I visit my dad in USA and saw Style Wars the graffiti documentary, I had already been listening to my mum's Sugar Hill Gang 7 inch single and Kraftwerk album (cool mum) at home so had started catching the B-Boy bug already.
"Style Wars" documentary trailer – Public Art Films, 1983.
I started writing 'DEMO' in Fishermead then Old Brook then outwards throughout MK, soon after I change to 'DIME' and then 'MONDO'! mostly tags and silver and colour pieces/throw ups. My main competition was the NF and skinhead shite they used to paint on the underpasses. Very occasionally I would see another tag, always other random writers out of their territory on tour.
84 comes and my mum buys me Subway art the book when it came out, this marked a change.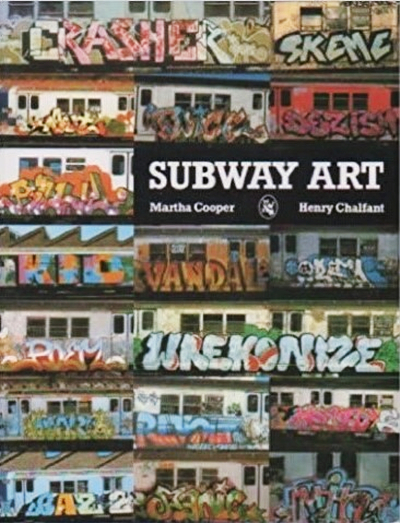 "Subway Art" book – Martha Cooper & Henry Chalfant, 1984.
Now I was painting full blown pieces through 85 and change my tag one last time to Rolek one. By now lots of people are writing I started moving along the stations, anywhere by train, Leighton Buzzard, Northampton, etc as active as I could be getting up, I was in the peak of my bombing then.
At Break to the beat we are trying to document and build up a picture of the local Hip Hop culture from it's foundations. Do you recall any other name tags of early graffiti writers in Milton Keynes during the 1980's that were creating locally?
Here's a few I remember that were M.K. based…..Squash, Dubtek, Kanz, Page, Rastafari (later becoming our fave 'the Urbanist') lots of people joined in with tagging, different tags would come and go. People changed them, my own included anyone who B-Boy'ed had a tag it seemed back then and at least half of the pieces going up though MK were done by travelling writers that were extending their territory from Northampton, Leighton Buzzard, Luton, etc.
You were also a member of Break-dance crew Asiatic Soul. Looking back at the photos from the break dance era you guys had your own tracksuits, baseball caps, etc and were a professional crew. In a previous interview with break to the beat DJ Mixmaster MSC said that City Square (currently Marks & Spenser's) was a popular breaking spot during the 1980's. Did Asiatic soul perform at any other spots/venues locally or further afield?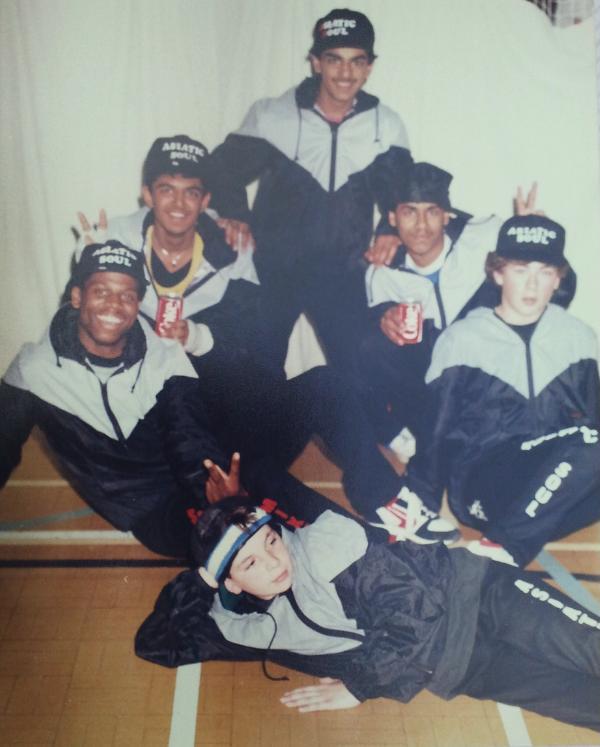 Asiatic Soul – Milton Keynes 1980s.
Asiatic Soul went and performed at quite a few events over time, the older members would arrange them. One of note was at the south bank summer arts show with (Melvyn Bragg) I say at, as we never made the edit that was on T.V. but we definitely represented M.K. well as breakers. The top boys in the game were defo from London back then thow.
Do you recall meeting any other Break-dance/B-Boy crews during the break-dance era and if so were any of them from the Milton Keynes area?
In M.K. each area had its B-Boy crews, Bletchley had the 'Soul Patrol' with a few breakers that were bang on it (not just chatting up the ladies). Stantonbury ways had John Marshall, Ian McNair, Warren Swain (aka CMD/Grafik Styles from The Criminal Minds) and quite a few others B-Boying. Up city was Noels (aka reggae/dub artist Noel Zebulon) domain with brother Delroy Rose Leading the way. Pluto (Nigel aka The writer Page) was a demon breaker, wow and a young Andy Brown (aka DJ Furious Styles) was a wicked breaker too must of been 10 yrs old at the time.
As well as being a breaker Mix master MSC was also the DJ/producer for pioneering local Hip Hop crew The Double Deff Chillers. You designed some artwork and flyers for DDC and their events. Could you tell us anything about the local Hip Hop scene in MK, regarding local events, local artists or local venues during the 1980s?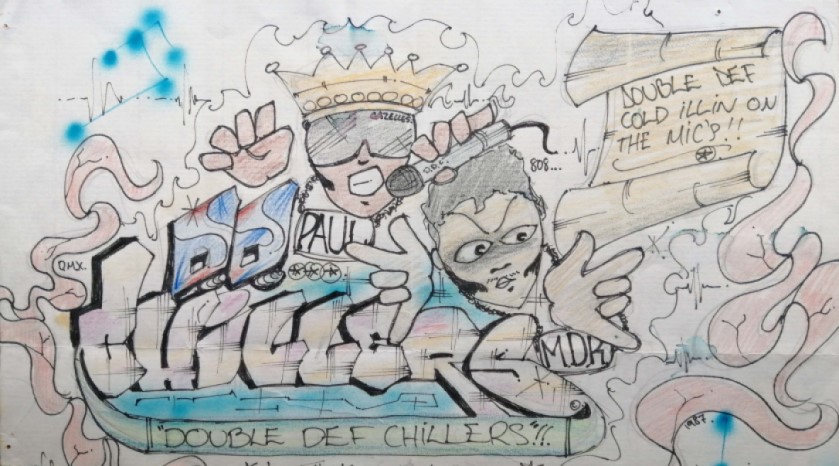 Double Deff Chillers artwork – Rolek One, 1987.
Back then in the early days we had the 'Funky Breakdown' Hip Hop doo in Pear tree bridge. A guy called Errol organised it. Everyone went, M.K.'s first D.J's DJ M.S.C and Steve Gurly could be seen there, I'm going to guess that was 84 it was killer.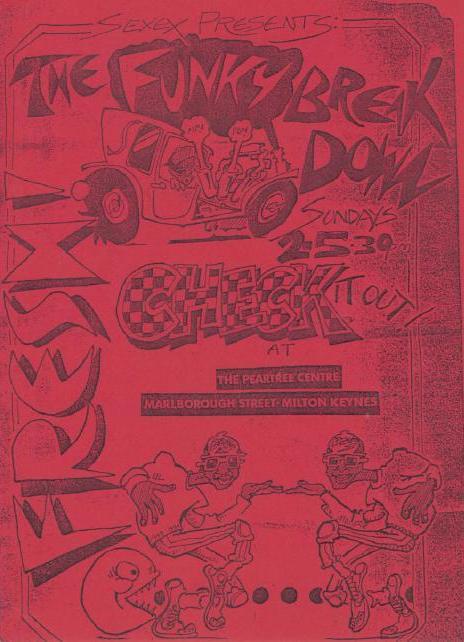 "The Funky Breakdown" event flyer – Peartree bridge, Milton Keynes, 1984.
Later we had 'Teasers' which were events spread around MK but equally good B-Boy nights with some Soul thrown in and many random events.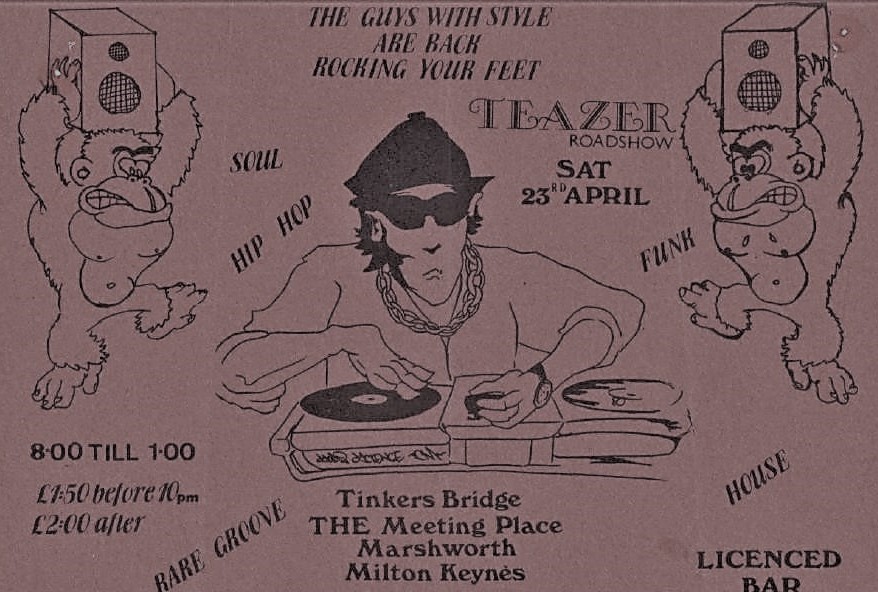 "Teasers" event flyer – Tinkers bridge, Milton Keynes, 1987.
The Double Def Chillers was Martin Reilly and Paul Delany's group, they were definitely top shelf rappers and one of the originators in M.K. as far as getting organised and laying down music once the B-Boy bug had hit the U.K. The grand wizard M.D.R. was travelling to London from way way back to buy vinyl and to hear the latest music, a real maverick always had the B-Boy style and still does no doubt.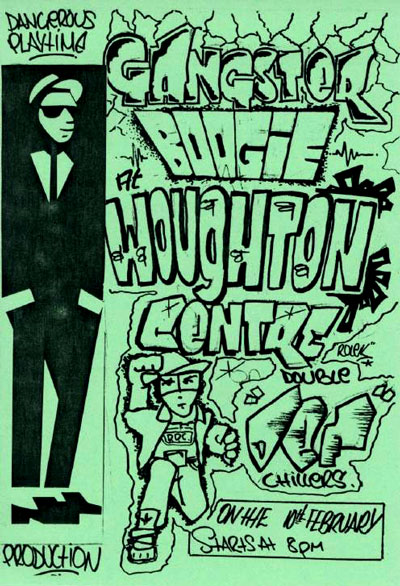 "Gangster Boogie" event flyer by Rolek One – Woughton center, Milton Keynes, 1988.
As the Hip Hop scene progressed you concentrated on using legal commissions as a creative outlet for your artwork could you elaborate on this period?
Fast forward to 88 and I've started slowing down on the illegal pieces, I was pretty much only doing legal commissions occasionally. I remember around then I met Chase One through a mutual friend, I'd never seen any of his work before as he was from Buckingham and I hadn't ever been there writing but we quickly got together and did a piece at the train station, I kinda came out of retirement for it.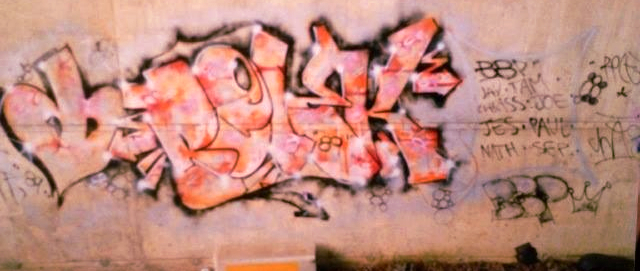 "Rolek" by Rolek One – Milton Keynes, 1989.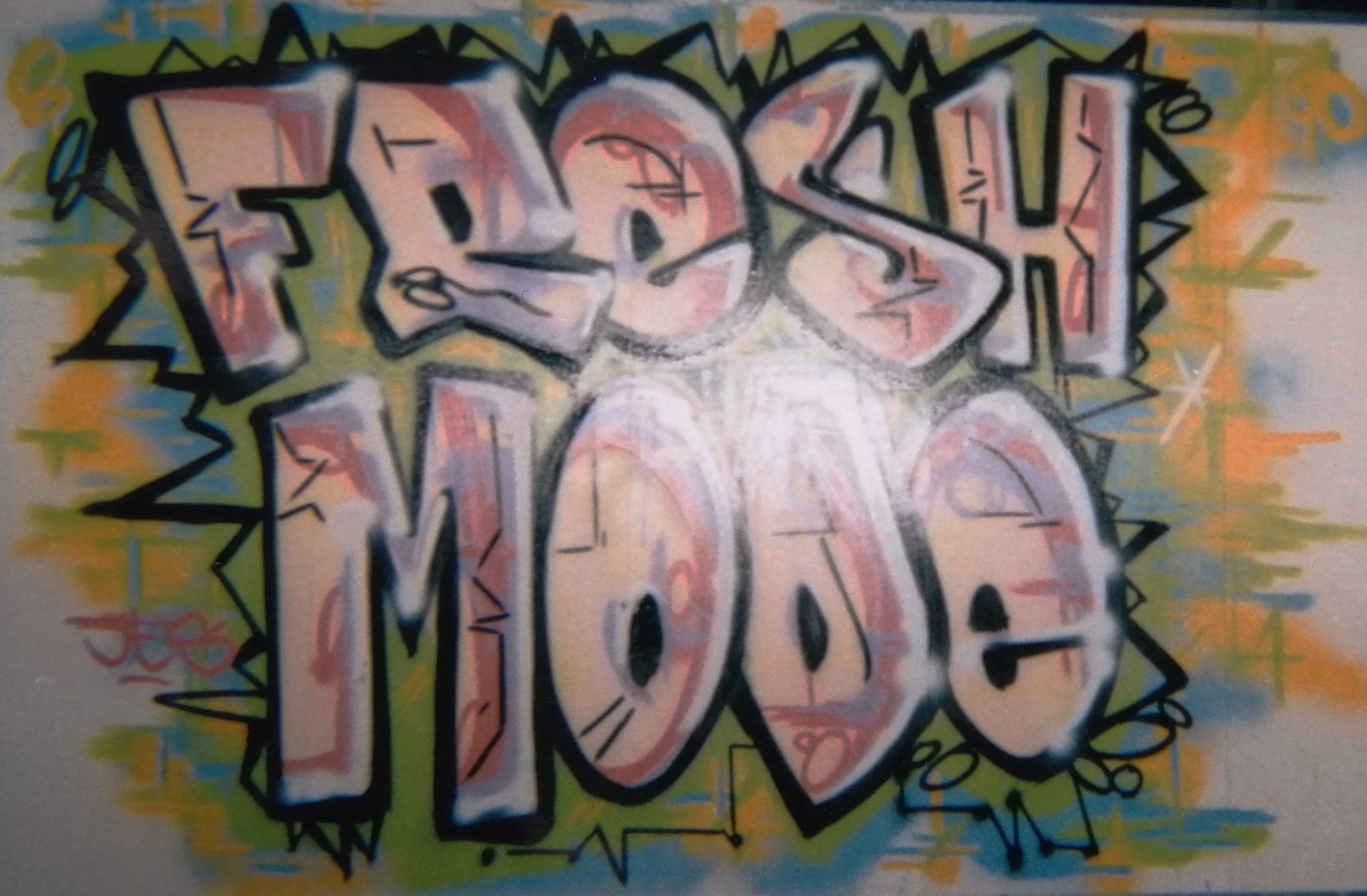 "Fresh Mode" mural by Rolek One – Milton Keynes, 1999.
Aside from graffiti artwork you have also designed and created metalic sculptures of graffiti lettering could you elaborate on what inspired you to create this unique style of art?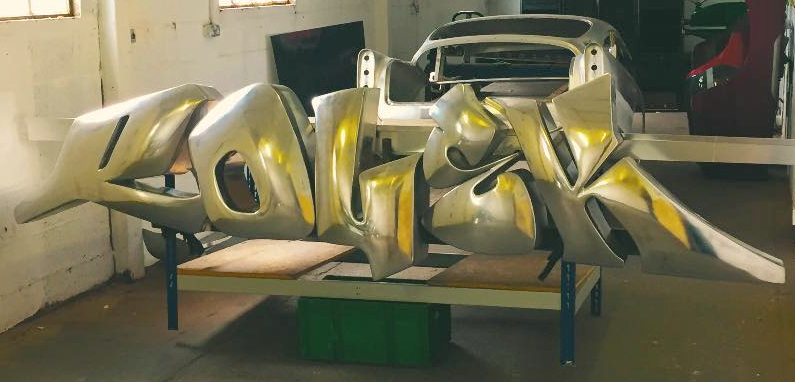 "Rolek metallic sculpture" by Rolek One, 2019.
If you write graff you never loose interest even if you don't participate anymore, I always wanted to try making a graff sculpture and finally got round to it .
In 2019 you and several other pioneering artists were involved in redesigning the underpass between Tinkers bridge and Simpson. Can you tell us a bit about how you reconnected with the pioneers such as Urbanist and Chase One for this unique display?
Yes an old friend of mine Seb contacted me (The Urbanist) he told me he'd been writing with an awesome writer called Kade and wanted to know if I'd come and join in as they had an underpass with a few other amazing writers like Chase One from Buckingham, Vapor and Focus, I thought why not even thow I wasn't sure what would come out of the can after 20 yrs not spraying!
"Jes JNR" by Rolek One – Tinkers Bridge, Milton Keynes, 2019.
Also more recently some of your artwork, photos and memorabilia were put on display in the first MK Hip Hop Exhibition at The Open University. How important do you think events like these are for preserving local Hip Hop Culture?
Yes Milton Keynes first Hip Hop exhibition held at the O.U. was a well organised event, it had a lot of the City's B-Boy history recorded in photos, flyers, vinyl and even some live DJing and MC'ing from some of the old school B-Boys themselves, not an easy task organising and collating history from a group known for flying under the radar or an underground scene at least, respect to Barry Watson and all involved for that as our history is important and it would be a shame for it to be lost.
Milton Keynes Hip Hop Culture exhibition – The Open University, 2019.
Recently you have been in contact with one of the Godfathers of graffiti, the legendary artist Seen, and have created a sculpture in his honour. What are the hopes for this project and how did you come in to contact with such a pioneering artist?
Yes  I've had a few chats with SEEN, he showed some interest in a sculpture I made last year and mentioned me doing some work for him at one point. I've been pestering him ever since to do something together and thought I'd make a small prototype/demonstration piece rather than just talk about it, SEEN's the king!!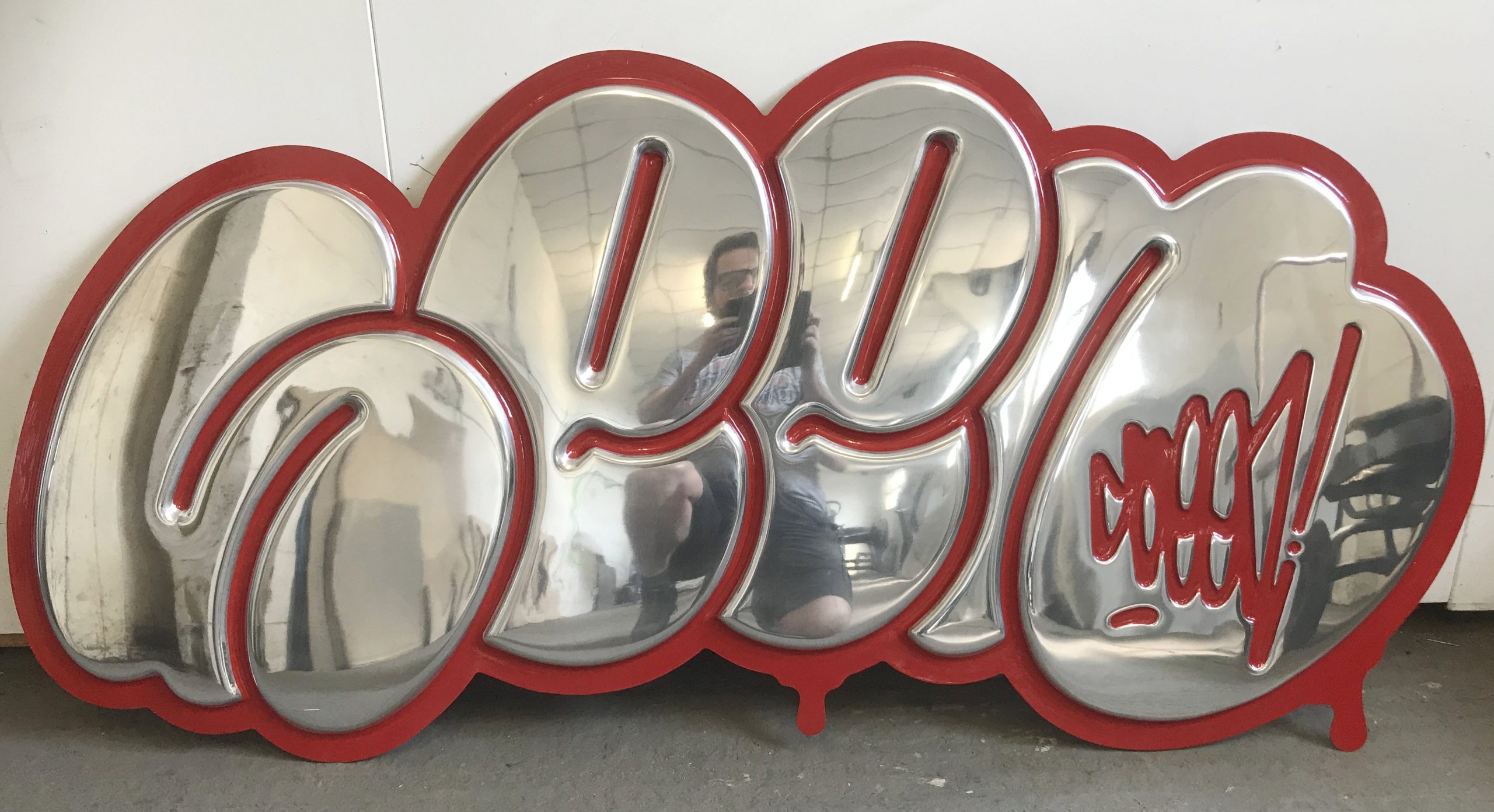 "Seen metallic sculpture" – Rolek One, 2020.
To conclude, thanks for taking time out to do the interview and for breaking down some of the early Hip Hop history in MK. Any shout outs you want to give?
shout outs ..to the B.B.P. and all those that B-Boyed in M.K. way too many to name but they know who they are….respect.
For further information on Rolek One please see:
To keep up to date with Break to the beat news, projects and events please follow our social media pages.