Since the early 1990s Kraze One has been an active participant in several of Hip Hop's elements and has contributed to a number of different projects as a graffiti artist, rap vocalist, turntablist, producer and events organiser. In the first of a series of articles aimed at documenting Kraze One's contributions to local Hip Hop culture we will focus on his founding years during the 1990s and the various projects he initiated while living in Buckingham located on the outskirts of Milton Keynes.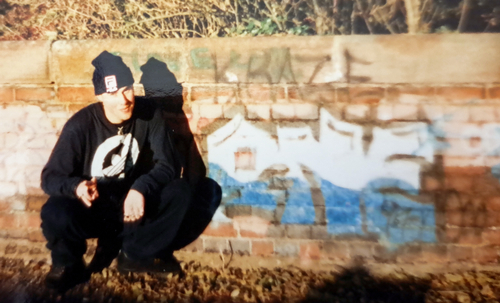 Kraze One – Buckingham, 1994.
Kraze One discovered Hip Hop culture as a youth during mid 1980s and in his early teens began experimenting with graffiti art and participating in street dancing. In 1991 at age 15 he formed Hip Hop collective UnderCover Prophecy (UCP) with DJ Delta and DJ Trail One. The formation of UCP and the creation of the name tag "Kraze One" marked a change in his relationship towards Hip Hop culture as he began to participate in several of it's elements.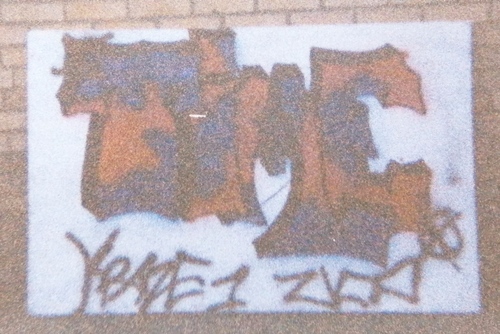 "Time" canvas by Kraze One – 1991.
Prior to the formation of the UCP posse Kraze One had been creating graffiti art images on paper using pencils and had began experimenting with street tagging using marker pens. Kraze One's first piece of art using spray paint was created during the summer of 1991 on a wooden canvas just after the formation of UCP. Shortly after Kraze One, Trail One and Delta began to establish the collective in and around their home town of Buckingham located on the outskirts of Milton Keynes.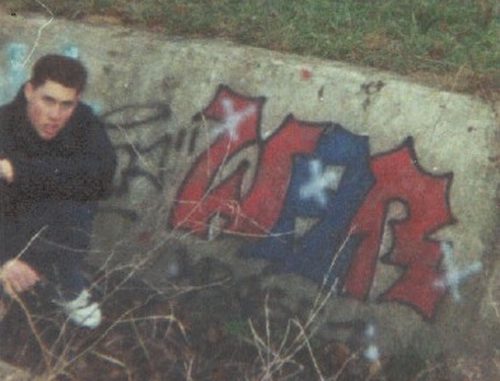 "War" by Kraze One – Buckingham, 1991.
UCP quickly expanded to include other participants in Hip Hop culture all of which attended Buckingham secondary school during 1991. As well as creating graffiti art murals Kraze One began to write, perform and record rap vocals with DJ Delta and various other members of the collective. UCP's first live performance eventually happened as a result of a house party in 1992 on the Western avenue estate in Buckingham.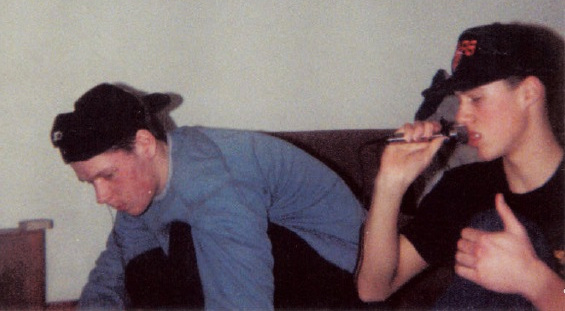 DJ Delta & Kraze One, Buckingham, 1992.
During the time period that UCP were actively participating in Hip Hop culture the collective progressed from focusing on graffiti art to the creation of Hip Hop music. DJs Trail One and Delta pieced together a basic recording set up while Kraze One focused on writing lyrics. The collective attempted several recordings which progressed from using turntables and a drum machine to working with samples to construct backing tracks.
UnderCover Prophecy (UCP) "The final assault" – Demo recording, 1992. 
No UCP recordings were ever released and the collective disbanded towards the end of 1992 shortly after leaving full time education. Kraze One continued as a writer of both lyrics and graffiti art and became involved with Buckingham youth center where he contributed to community events as a DJ using the centers sound system. Throughout 1993 Kraze One was able to practice scratching and mixing records at the youth center while the equipment was not booked for use.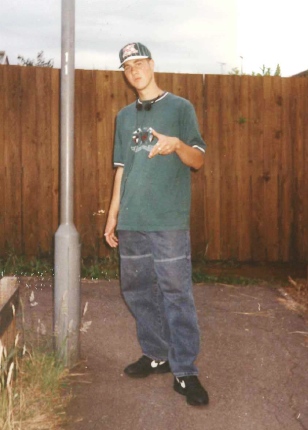 Kraze One – Buckingham, early 1990s.
Eventually Kraze One learnt to construct musical demo recordings using the community DJ equipment at Buckingham youth center. The opportunity allowed Kraze One to practice and record lyrics, scratches, DJ mixes and experiment with basic production techniques using the DJ mixer's built in sampler. Kraze One worked primarily on developing solo material during this period but also contributed to several group projects with other local artists where possible.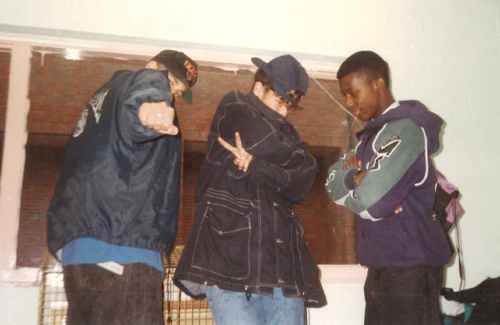 Kraze One, DJ Dialz, Jedi – Buckingham youth center, 1993.
In September 1993 at age 17 Kraze One attended Buckingham sixth form collage as a full time student where he began to study communication and entertainment. Kraze One had built up a portfolio of demo recordings and conceptualised a production company One On One Productionz. Towards the end of 1993 Kraze One formed the Justice Element crew with MC Killa Joul and DJ Crime Plate who were also studying at the college.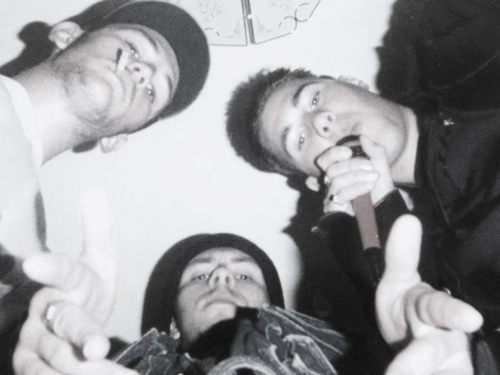 Justice Element – Buckingham, 1994.
Kraze One was able to develop his musical ideas further as part of Justice Element which he contributed to as a rapper, DJ and eventually as a producer. Justice Element began by performing live at local talent events before recording and releasing a self funded demo cassette tape entitled "The prologue of Buckingham's innovators". The demo tape opened up several studio opportunities for Justice Element and allowed them to elaborate on their production by using samples to construct backing tracks.
Justice Element "Stage One" – Demo recording, 1994.
The Justice Element crew disbanded in late 1994 before any other materiel was finished or released. During the same period Kraze One began to study sound recording part time at Audio lab studio located in Buckingham town center. Studying at the studio provided opportunities to collaborate with other musicians and artists which lead to a joint recording project with fellow students Mr Lusta, Mr Delta and The Lady Of Funk under the collective name of Phase 4.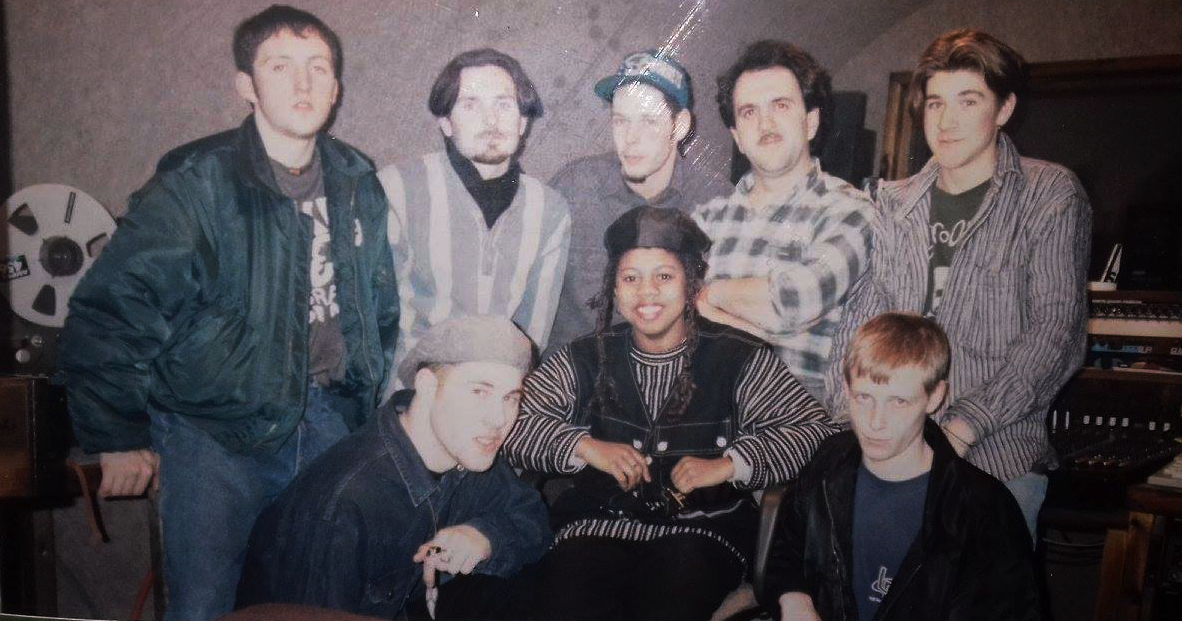 Phase 4 & Audio lab studio collective – Buckingham, 1994.
The Phase 4 project started as an experimental studio session which was part of the course structure that allowed students to practice using the various pieces of recording equipment. The demo caught the attention of DJ Halo who at the time was using the Audio lab studio to master several of his recordings for a compilation album. DJ Halo offered to release Phase 4's recording as part his project which allowed the opportunity to mix and master the track with studio engineer and owner Nigel Neil.
Phase 4 "Positive freestylin'" – Studio recording, 1995.
Kraze One was also able to use Audio lab studio to complete one of his unfinished productions started while working with Justice Element. This recording entitled "Straight from the sector" was a solo offering by Kraze One that was initially recorded as part of "The prologue of Buckingham's innovators" project. The completed recording was also submitted and included on DJ Halo's 1995 compilation cassette entitled "Widow maker".
Kraze One "Straight from the sector" – Redshaw 1995.
Although a very localised release and a small part of DJ Halo's musical discography the "Widow maker" cassette tape was released in March 1995 and contained the first studio recordings by and involving Kraze One. "Straight from the sector" was included on Side A track position 5 and "positive freestylin'" by Phase 4 was on Side B track position 3. The compilation contained various musical genres including Hip Hop, Jungle, Drum & Bass and House music and was exclusively created by local artists.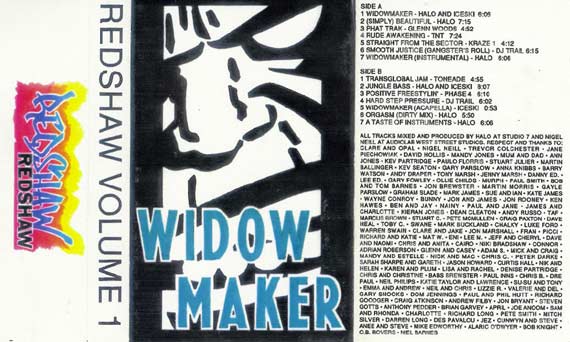 Widow Maker compilation cassette – Redshaw 1995.
As 1995 progressed Kraze One actively sought opportunities in which to contribute to or express Hip Hop culture through it's various elements. Although Kraze One did not own his own turntables he had collected Hip Hop records since the late 1980s and since playing at the youth center had progressed to DJ at local bars, clubs and parties as a guest DJ. Kraze One was also still actively participating in local graffiti art with several other writers.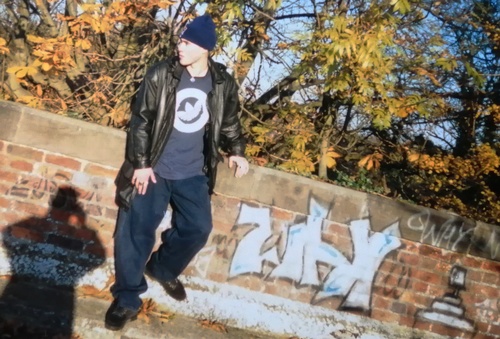 "Why" by Kraze One – Buckingham 1994.
During the summer of 1995 Kraze One, Mr Lusta and Danny Cooli formed Crazy Options. The crew evolved as a result of the members actively looking for and creating opportunities to express themselves musically in their local community. In a fairly short space of time the Crazy Options crew organised several DJ events, created a studio demo and performed live in their home town of Buckingham. The below video footage was captured during an event held at Buckingham University in September 1995.
Crazy Options live performance – Buckingham University, 1995.
In late 1995 Kraze One began working part time as a sound engineer at Audio lab recording studio. This opportunity led to the use of one of the studio suites during downtime and Kraze One began to experiment with production techniques using a midi sampler and a sound module. Kraze One contributed to early Crazy Options materiel with Danny Cooli but focused mainly on creating an album conceptualised around the local Hip Hop scene in Buckingham. 
Kraze One "Straight from the sector remix" – One On One Productionz, 1996.
The project also entitled "Straight from the sector" was planned to be a full length Kraze One produced album that featured several guest performances by local artists. It was also conceptualised as a progression of Kraze One's debut releases on the "Widow Maker" compilation. The album was about half way through being created when the studio suddenly closed down. Kraze One independently released a cassette ep in July 1996 that contained four completed tracks from the project.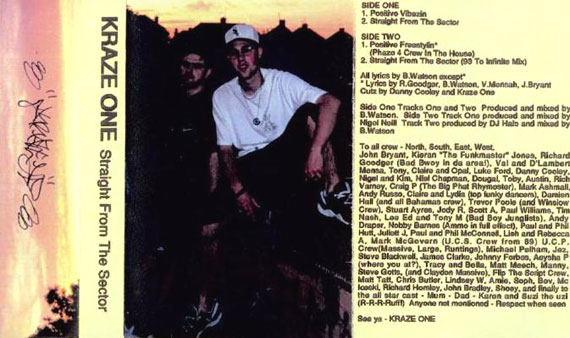 Kraze One "Straight from the sector ep" – One On One productionz, 1996.
In 2022 Kraze One revisited the "Straight from the sector" recording project and using digital technologies that were unavailable at the time made several minor edits and adjustments. To help preserve Milton Keynes's Hip Hop culture the newly mastered versions were made available to listen to and download free. Please see the below link for further details: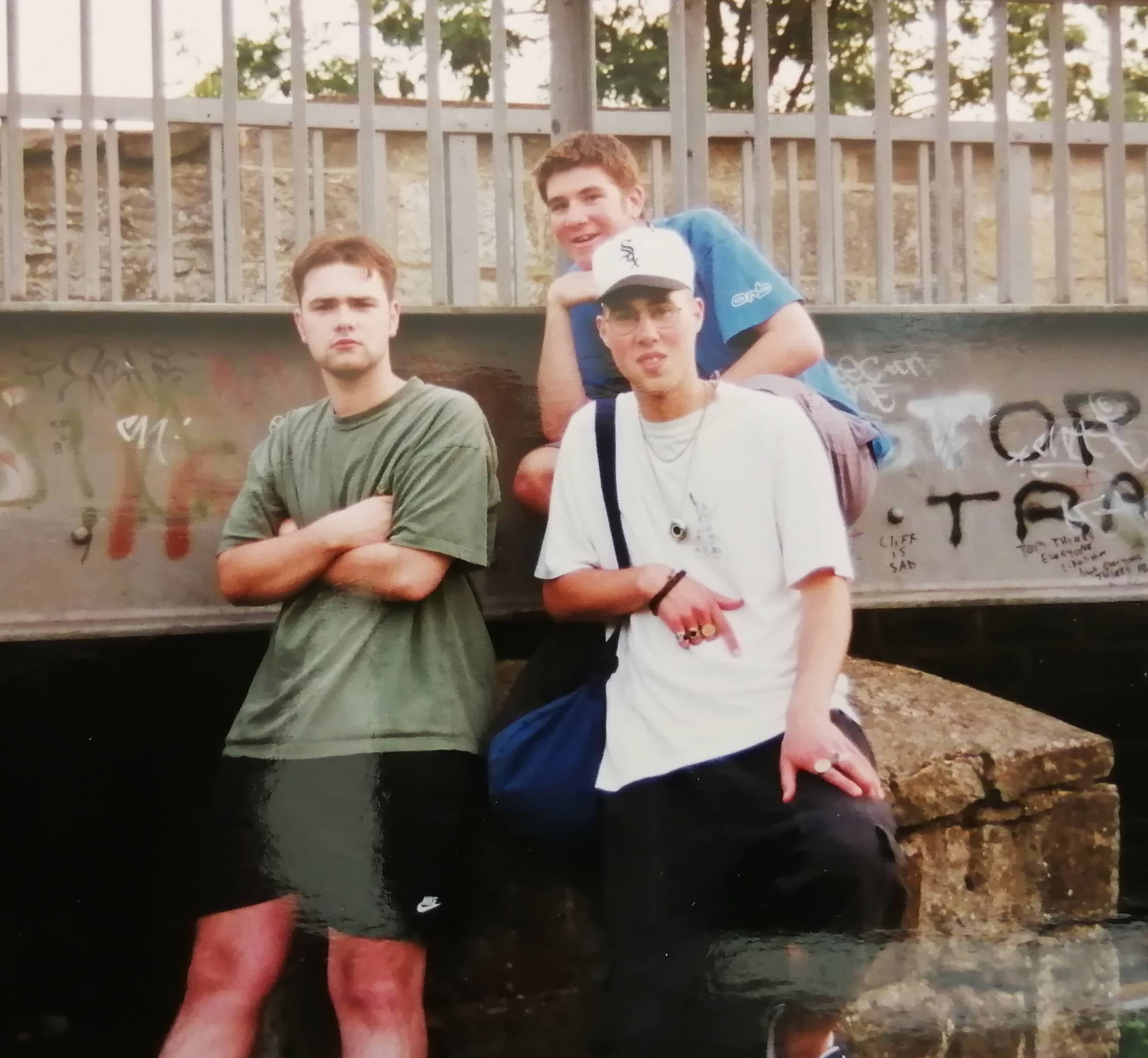 Danny Cooli, Mr Lusta, Kraze One – Buckingham, 1996.
One of the recordings entitled "Take a look around" began as a studio jam session with the Crazy Options crew during 1995 while Kraze One and Mr Lusta were studying sound recording at Audio lab studio. Kraze One produced a new backing track while working on the "Staright from the sector" project but the recording did not get completed until 1997 and so formed part of the debut release for the Kraze One founded project True Element. 
True Element "Take a look around" – One On One Productionz, 1997.
Kraze One (Part Two) will be documented in the future when we begin looking at the next stages of Milton Keynes Hip Hop culture. Thankyou for visiting Break to the beat.
For further information on Kraze One please see:
To keep up to date with Break to the beat news, projects and events please follow our social media pages.