Chase One is a pioneering graffiti artist and founding member of Buckingham/Milton Keynes Hip Hop collective The Criminal Minds (TCM). In 1985 while living in Buckingham Chase One (then known as Sketch) and DJ Halo (Then known as Impasto) formed The Criminal Minds which eventually evolved in to a collective of pioneering Hip Hop practitioners contributing to all aspects of local Hip Hop culture. Over time Chase One incorporated his foundations in graffiti art in to flyer designs, record covers, logos, and eventually in to his chosen profession of graphic design.
Graffiti artwork by Chase One – Buckingham/Milton Keynes, 1988-1990.
An example of Chase One's early artwork can be viewed in the below slideshow which contains several flyers for a series of events organised by the Teazer Road Show in the Peartree Bridge area of Milton Keynes during the 1980s. Chase One and DJ Halo both studied at Bletchley collage during this period which is where they initially connected with Milton Keynes based rappers MC Iceski and Safe D who both progressed to form part of The Criminal Minds musical line up alongside rapper CMD and producer Spatts.
"Teaser Road Show" event flyers featuring artwork by Chase One, 1987.
As Chase One progressed to explore graphic design as a creative outlet DJ Halo gravitated towards scratch Deejaying and Hip Hop production. Shortly after connecting with rapper MC Iceski the duo began collaborating on what would become the first of The Criminal Minds musical recordings. During the late 1980s after the recordings were completed Chase One created and designed the artwork for the first collection of TCM materiel which was circulated throughout Milton Keynes and Buckingham via the below cassette tape.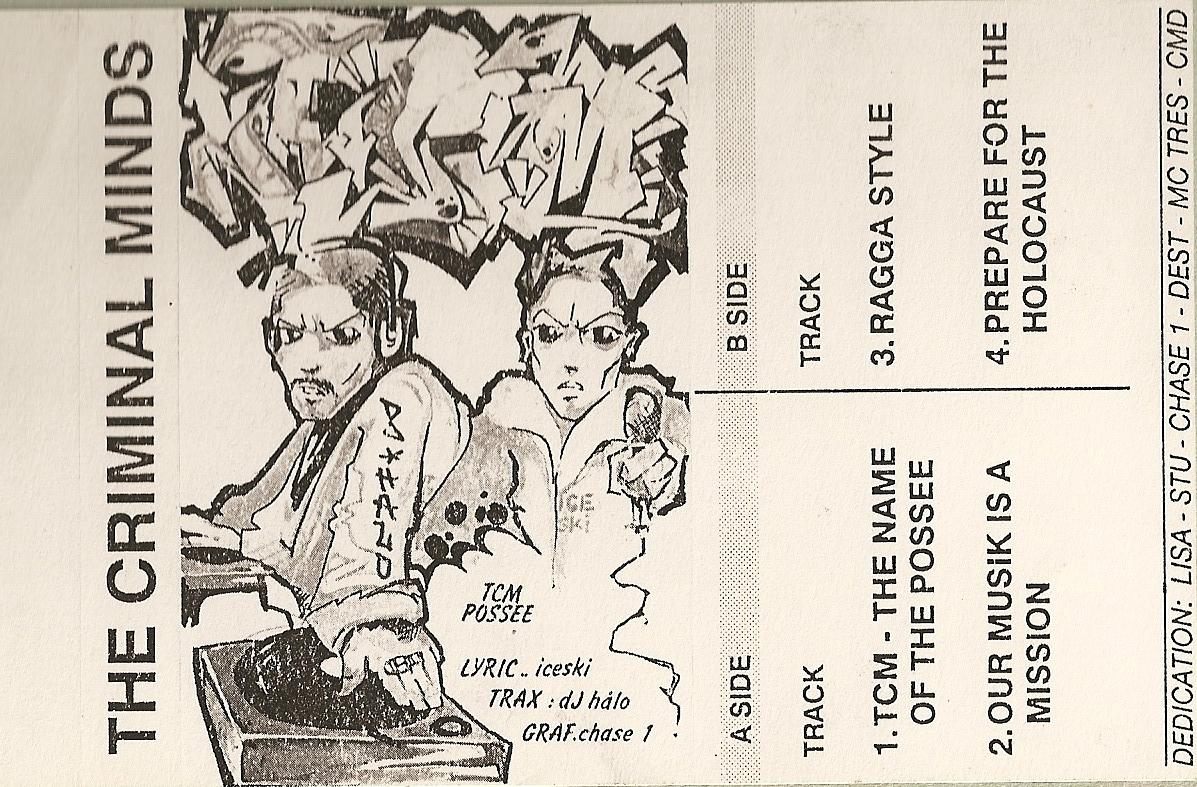 "The Criminal Minds" cassette cover artwork by Chase One – Late 1980s.
The Criminal Minds were among the first of a small number of graffiti artists to piece Milton Keynes network of bridges and underpasses. After establishing themselves in their home town of Buckingham Chase One and several other artists from the collective expanded in to Milton Keynes where they created several murals. The below slideshow contains two Chase One characters created in 1990 at a location along the Milton Keynes trainline. The images also contain several other name tags of TCM members Sin One, MC Tres, and DJ Halo.
Characters by Chase One – Milton Keynes, 1990.
Between 1990 and 1991 The Criminal Minds music crew established their own label TCM records and independently released their first two Hip Hop records entitled "Guilty as charged" and "Tales from the wasteland". Shortly after the group began experimenting with the emerging Hardcore/Rave sound of the early 1990s and progressed to sign music to both White House Records and Labello Blanco Recordings. Chase One created and designed several record covers for the TCM releases during this period which can be viewed in the below slideshow.
TCM Record Covers by Chase One – 1990s.
During the 1990s Chase One progressed to become a full time professional graphic designer working in both the commercial and private sectors which involved relocating to London for several years. Chase One however has always maintained constant links to the Milton Keynes creative scene and regularly contributed his talents in graphics, event organisation, and DJing to numerous local projects. The below slide show contains examples of several flyers designed by Chase One for a series of Hip Hop events held in Milton Keynes during 2011-2012 entitled "Hip Hop owes me money".
"Hip Hop Owes me money" flyers by Chase One – Madcap Theatre, MK, 2011/12.
In recent times Chase One has returned to his graffiti art roots contributing to several community art projects organised by Arkade Graphics in locations around Milton Keynes. The below slideshow contains images of several collaborations painted by Chase One and Arkade who has been responsible for uniting and encouraging several of the city's pioneering graffiti artists to continue to showcase their work. The mural entitled "Pressure" was created in 2019 at the Tinkers Bridge Paint Jam that also featured artwork by other pioneering local graffiti artists.
"Chase", "Duck Rock", "Pressure" by Chase One, "Characters" by Arkade.
The final slideshow featured in this article contains images of some collaborative artwork created by Chase One and Arkade during 2021 in the Wolverton area of Milton Keynes. The piece entitled "MK12 TCM" saw Chase One pay homage to his Hip Hop roots by acknowledging pioneering Hip Hop collective The Criminal Minds (TCM). The images form part of a wider mural created to brighten up the Wolverton Agora shopping arcade which at the time of writing this article is located next to the main bus station in Wolverton town center.
"MK12″ by Arkade,"TCM" by Chase One – Wolverton, Milton Keynes.
For further info on Chase One please see:
To keep up to date with Break to the beat news, projects and events please follow our social media pages.