Crazy Options were a collective of Hip Hop practitioners based in Buckingham located on the outskirts of Milton Keynes. The members (Danny Cooli, DJ Halo, Kraze One, Mr Lusta) collaborated on several events, live performances, recordings and releases during the mid to late 1990s. The group name originated from a piece of artwork created by Mr Lusta that was displayed at the collectives first event held in a bar called Tudor Rock located on the Buckingham high street during the mid 1990s.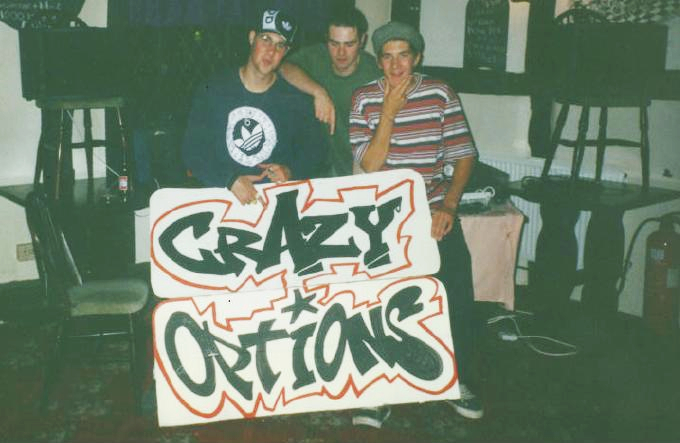 Crazy Options Crew – Tudor Rock, Buckingham 1995.
Crazy Options initially formed as a DJ collective during the summer of 1995. After organising and playing at several local events an opportunity to create a studio recording was presented which resulted in the group's first unofficial demo entitled "Take a look around". At the time of its creation Kraze One and Mr Lusta were studying sound recording part time at Audio lab studio located in Buckingham and as part of the course structure they were able to create a recording using the studio equipment.
Crazy Options "Take a look around" – Demo recording, 1995.
Crazy Options first recording was created in 1995 during a single recording session and featured rap vocals by Kraze One and Mr Lusta with scratches by Danny Cooli. The backing track used was a combination of pre-programmed DJ instrumentals that the rappers felt suited the lyrics they had written. Shortly after its creation the collective performed live at an event held at Buckingham university. The below footage was captured during the performance and also features dancer Lady Of Funk.
Crazy Options "Live performance" – Buckingham university, 1995.
The dynamic of Crazy Options changed shortly after the above performance as Mr Lusta relocated to study at Sunderland University. Towards the end of 1995 Kraze One began to work as a part time studio engineer for DJ Halo at Audio lab studio complex. As part of the role Kraze One was granted access to work on personal projects during studio down time and In 1996 together with Danny Cooli created the next two Crazy Options recordings.
Crazy Options "Funky people" – Unreleased studio recording, 1996.
The first recording entitled "Funky people" is a downtempo composition based around several vocal samples taken from a comedy sketch by actor\comedian Richard Prior. The second recording entitled "Crazy for feeling nothing" was created in contrast to be more up tempo and features a sample from recording artist Tracy Chapman's composition "Fast car". Although there was some label interest at the time of their creation neither recording was ever officially released. 
Crazy Options "Crazy for feeling nothing" – Unreleased studio recording, 1996.
During the same period Kraze One also began recreating the first Crazy Options recording "Take a look around" and during the summer of 1996 he and Mr Lusta recorded their rap vocals over the newly created backing track. "Take a look around" was eventually finished and released in 1997 by Kraze One on One On One Productions under the collective name of True Element. The rerecording featured scratches and cuts by DJ Maniphest.
True Element "Take a look around" – One on One Productionz, 1997.
By 1997 Danny Cooli had set up his own recording studio where he continued to record compositions as Crazy Optionz. Later in the year he and DJ Halo set up an independent record label called Gettin' Propz and together released the debut and only Crazy Optionz 12″ single to date entitled "Movin' silence/nebula". The 12" release contains two recordings in total the first "Movin' silence" created by DJ Halo and the second "Nebula" created by Danny Cooli.
Crazy Optionz "Movin' silence" – Gettin propz, 1997.
"Movin' silence" can be heard in the above youtube video and contains a vocal sample of rapper KRS One. The recording appears on Side A of the Crazy Optionz 12″ single and was also rereleased in 2001 when it formed part of the DJ Halo produced album "Widowmaker" by The Criminal Minds. "Nebula" appears on Side B of the Crazy Optionz 12″ single and is exclusive to the Gettin' Propz label release. The recording can be heard in the below youtube video:
Crazy Optionz "Nebula" – Gettin propz, 1997.
For further information on Crazy Options please see:
To keep up to date with Break to the beat news, projects and events please follow our social media pages.