The Criminal Minds (TCM) are one of a handful of pioneering Hip Hop crews from the UK that formed outside of London or any other major UK city. TCM's origins date back to a period during the early 1980s when UK citizens started to become participants in Hip Hop culture as it spread from the USA to the world. By the late 1980s TCM along with several other generational peers were pioneering a unique form of UK Hip Hop music that would later be defined as Britcore.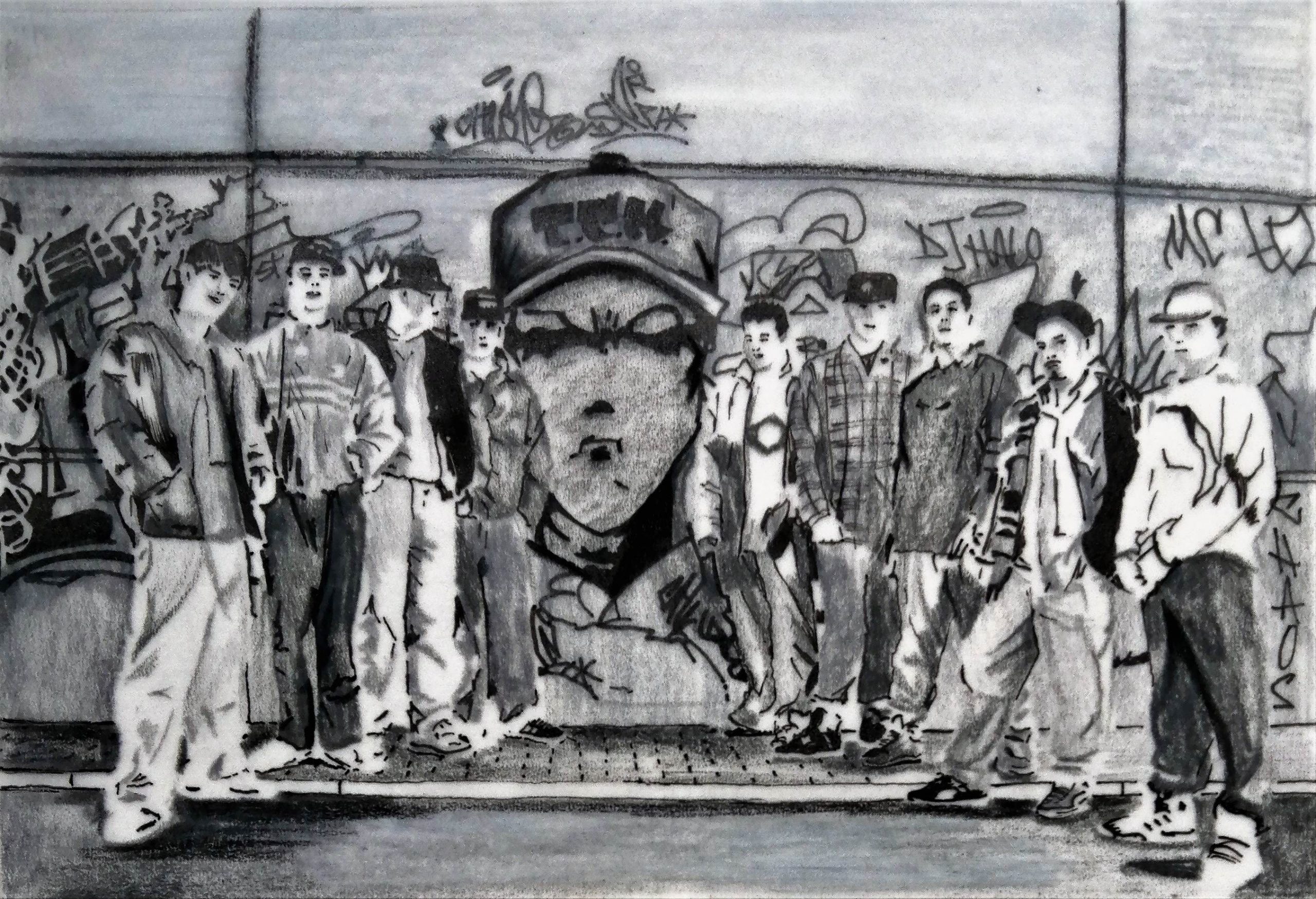 The Criminal Minds sketch – Claire Hawes, Mid 1990s.
By 1992 TCM evolved with the UK music scene and pioneered several Hardcore/Drum & Bass recordings releasing music on a selection of established record labels including Labello Blanco and White House. In the below series of articles we aim to document the history of the collective as well as pay homage to their achievements in both music and Hip Hop culture. Part one of the series will focus on the time period between 1985-1990 and conclude with the groups first official release "Guilty as charged".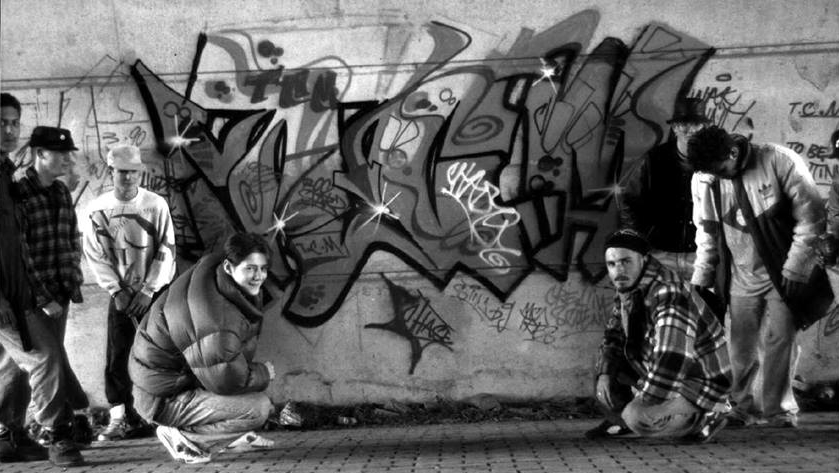 The Criminal Minds – Milton Keynes, 1990.
The Criminal Minds originated as a graffiti crew and were formed in 1985 by Chase One (then known as Sketch) and DJ Halo (then known as Impasto) in the small town of Buckingham located on the outskirts of the newly established city of Milton Keynes. TCM quickly expanded to include other local writers and taggers Chaos 2, Task 1, Sin 1, MC Tres, Jase, Quest, Demo, Phase and by the late 1980s had established a visual presence in and around their local area.
TCM graffiti art slideshow – Buckingham, 1988/1990.
As Chase One excelled at graffiti art he began collaborating with other pioneering artist from the area creating several murals and designing flyers for local events. DJ Halo began to master the element of scratching and developed a unique style which would eventually become an integral part of TCM's recording experience. The below scratch mix recorded during the 1980s is an example of the foundations of what would later evolve in to recordings such as "Section 12 paragraph zero" and "Halocaust".
DJ Halo – Demo recording, Late 1980s.
During TCM's early years in Buckingham DJ Halo began creating demo recordings with rapper MC Tres using breakbeats, a drum machine, and turntables. A cassette entitled "True Tres Trax" was circulated locally in the early years of TCM activity but we are yet to track down a copy and provide any examples of these recordings. It is our understanding that MC Tres progressed to record further materiel independent from TCM during the late 1980s/early 1990s.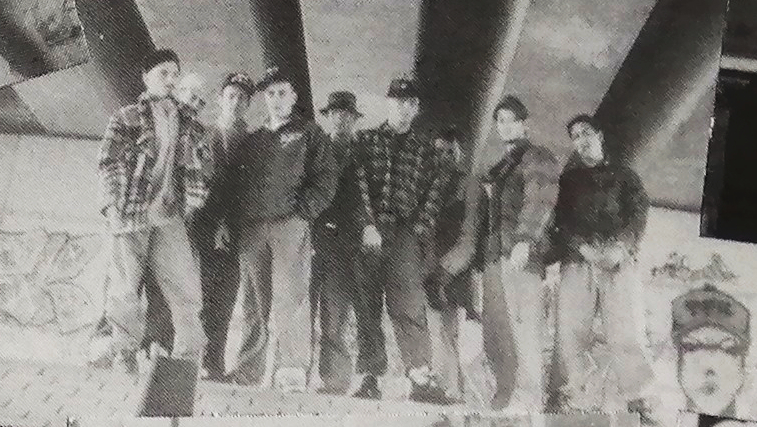 The Criminal Minds – Milton Keynes, 1990.
As the 1980s progressed DJ Halo and Chase One attended Bletchley collage where they connected with other participants in Hip Hop culture including rappers MC Iceski and Safe D. MC Iceski began rapping and writing lyrics while growing up as part of a similar small Hip Hop scene that evolved in Milton Keynes North. At the time of meeting, DJ Halo and MC Iceski had already mastered their crafts and quickly began collaborating to record TCM's early demos.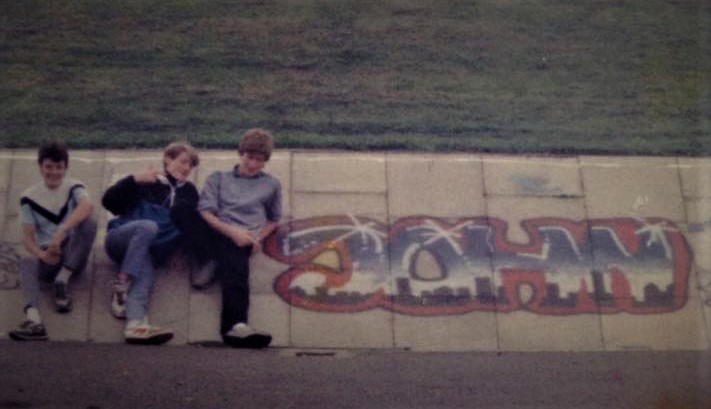 MC Iceski (Center) – Milton Keynes, Early 1980s.
The collaboration between MC Iceski and DJ Halo resulted in the creation of a TCM cassette tape containing four recordings (TCM the name of the possee, Our music is a mission, Ragga style, Prepare for the holocaust) with a cover designed by Chase One. Several of these early demo recordings would progress in to what would later become official TCM releases for their debut EP "Guilty as charged". The demo recording from the cassette tape can be heard in the below youtube playlist:
The Criminal Minds "Cassette tape playlist" – Demo recordings, Late 1980s.
TCM's musical foundations were completed when joining forces with Spatts whose production techniques and vision built on and transformed several of the early ideas in to studio quality recordings. MC Iceski and Spatts were from the same area and had become friends during the breakdance era when they were in rival B-Boy crews. At the time of connecting Spatts was part of Milton Keynes Hip Hop crew British dialect and in the below footage he elaborates on the musical formation of TCM.
DJ Spatts interview, 2015.
TCM followed a natural musical progression from creating and recording materiel to performing at live shows and local events alongside other Hip Hop artists and crews. Information of one of these early events called "Street beat '88" held on 27th August 1988 at The Roadmender Club in Northampton can be viewed in the below flyer that features TCM as part of the live line-up alongside several artists from Corby and Northampton.
"Street Beat 88" event flyer – Roadmender club, Northampton, 1988.
As a collective TCM excelled in all aspects of Hip Hop culture and by 1990 the group had helped pioneer and contribute to a flourishing local Hip Hop scene. The graffiti artists affiliated with TCM had expanded from Buckingham and in 1990 became some of the first local writers to piece Milton Keynes's network of trainline bridges and underpasses. The slide show below features several characters created by Chase One in Milton Keynes during 1990.
"Characters" by Chase One – Milton Keynes, 1990.
The next slideshow also contains two pieces of artwork created by TCM members in 1990 along the Milton Keynes train line. The first image entitled "Chaos" was painted by Chaos 2 and the second image is a throw up piece entitled "Sin One" by Sin 1. Further detailed examination of the images will reveal tags created by other TCM members during the same era. Some of the TCM tags and murals created in secluded locations remained visible for several years.
TCM graffiti art slideshow – Milton Keynes, 1990.
TCM were also progressing musically and by 1990 MC Iceski, DJ Halo and Spatts had developed several of the demo recordings from the "TCM cassette tape" into studio productions. TCM had also written and recorded new materiel some of which featured vocal performances by rappers CMD (later known as Grafik) and Safe D who would both eventually progress to complete TCM's musical line up. The below photo features MC Iceski, CMD, Spatts and DJ Halo.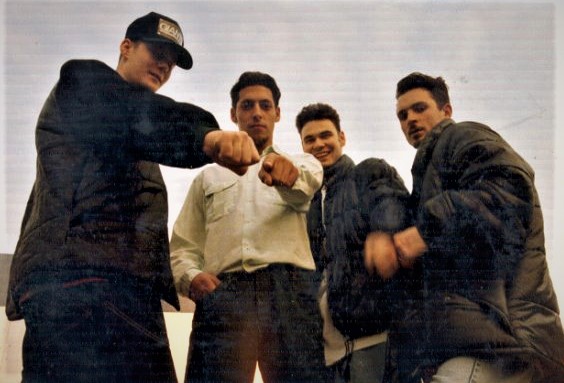 The Criminal Minds – Early 1990s. 
In late 1990 TCM released their debut EP entitled "Guilty as charged" independently on TCM Records which is now considered to be a critically acclaimed UK Hip Hop recording of its generation. The debut EP contains seven compositions (Urban warfare, Our music is a mission, A taste of armageddon, Police state, Section 12 paragraph 0, Ragga style, Respects) written and produced by MC Iceski, DJ Halo, Spatts and featuring vocal contributions by CMD and Safe D.
The Criminal Minds "Guilty as charged playlist" TCM Records, 1990.
The release of "Guilty as charged" which can be heard in the above youtube playlist concludes the first of our series of TCM articles. In 1990 at the time of its release TCM began independently promoting and selling copies of the EP locally and at live shows. As word spread "Guilty as charged" was featured in the local press and sold via the network of independent local record shops. Eventually the EP became one of the most sought-after UK Hip Hop releases which lead to it being repressed in 2016.
For further information on The Criminal Minds please see:
To keep up to date with Break to the beat news, projects and events please follow our social media pages.