Double Deff Chillers (DDC) evolved from several Milton Keynes Hip Hop practitioners uniting to enter a competition held in London during 1986 at an event called UK Fresh. The Double Deff Chillers consisted of DJ/Producer Mixmaster MSC, Rapper MDR (Initially know as 2 Fresh), Rapper/Beatboxer King Paul D, Producer G Whizz, and DJ Cutski. The collective were actively contributing to the Hip Hop scene until 1989 when the remaining active members regrouped as Science Revealed.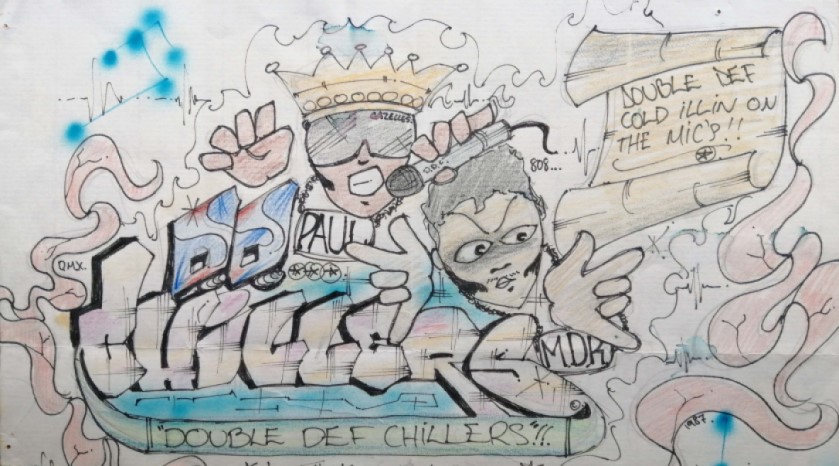 Double Deff Chillers artwork – Rolek One, 1987.
Although Double Deff Chillers formed in 1986 the groups evolution started several years prior as a result of DJ Mixmaster MSC and rapper 2 Fresh collaborating to produce several  demo recordings. In the first instance the duo were limited to using DJ Mixmaster MSC's turntables, microphone and cassette player to formulate their ideas. An example of one of these early recordings entitled "2 Fresh & MSC" can be heard in the below youtube insert:
Double Deff Chillers "2 Fresh & MSC" – Demo recording, 1985.
Shortly after rapper 2 Fresh and DJ Mixmaster MSC created their initial collection of demo recordings they were joined by rapper/beatboxer King Paul D and for a short period formed under the temporary group names of Magnum Force Rockers, then the Atomic Bomb Crew. During these founding years DJ Mixmaster MSC obtained a drum machine and began experimenting with early Hip Hop production. An example entitled "Release the deff beat" can be heard in the below youtube insert:
Double Deff Chillers "Release the def beat" – Demo recording, 1986.
Eventually in 1986 after connecting with producer G Whizz and DJ Cutski the collective formed and began recording/performing as the Double Deff Chillers. An example of one of the groups performances can be viewed in the below footage captured at The Point Club, Milton Keynes in 1987. Double Deff Chillers regularly performed at The Point Club during the late 1980s and supported several artists including UK Soul band Loose Ends and pioneering UK Hip Hop crew London Posse.
Double Deff Chillers "live performance" – The Point club, Milton Keynes, 1987.
In 1987 Rapper MDR connected with pioneering skateboarder and musician Steve Martin through a mutual friend and together with assistance from beatboxer King Paul D created a collection of studio recordings as the Double Deff Chillers. The below youtube playlist contains four unreleased recordings ("Bomber", "Servin' suckers", "Yo sucker", "Escapade to get paid") that were created by the trio during several studio sessions sometime in 1987.
Double Deff Chillers "Unreleased musical playlist" – Demo recordings, 1987.
During 1988 the Double Deff Chillers gradually disbanded as different members of the group progressed to pursue interests outside of music. The below slideshow contains a flyer for an event called "Gangster boogie" designed by graffiti artist Rolek One for one of the groups final performances in 1988 held at a venue called The Woughton Center, located in Milton Keynes. The second image is of a Double Deff Chillers logo created for the collective by artist Steve Sampson.
"Gangster Boogie" event flyer & "DDC" Logo.
In 1989 the remaining active members of the Double Deff Chillers were approached and asked to record materiel for a newly established Milton Keynes based record label called Back Beat Records. The label was set up by local entrepreneur Lee Scriven and it was at this point that the remaining active members MDR (Martin) King Paul D (Paul) and G Whizz (Gary) reformed as Science Revealed. In 1989 Science Revealed recorded and released two composition for Back Beat Records.
For further information on Double Deff Chillers please see:
To keep up to date with Break to the beat news, projects and events please follow our social media pages.