Phase 4 formed in 1994 and consisted of four rappers Mr Lusta, Kraze One, Lady Of Funk and Mr Delta. The group formed as a result of a studio jam session while studying a part time sound recording course at Audio lab recording studio that was located in Buckingham during the 1990s. The demo caught the ear of DJ Halo during a mastering session at the same studio which resulted in an opportunity for the students to develop the recording further with studio engineer and mentor Nigel Neil.

"Phase 4" logo by Desire – 1995.
Previous to the formation of Phase 4 all members were actively participating in local Hip Hop culture and were keen to explore sound recording as a means to develop their musical creativity. Lady Of Funk was already a respected street dancer who regularly danced alongside many of the local Hip Hop artists and DJs during their live shows. Kraze One, Mr Lusta and Mr Delta had all previously been members of Buckingham Hip Hop collective UnderCover Prophecy. 
Phase 4 Crew – Buckingham, 1995.
Phase 4's original demo recording was created in November 1994 as a result of the four students practicing the recording techniques that they had learnt while studying sound. DJ Halo offered to release the recording on a compilation album he was collating as long as it was developed and mastered to a professional standard. Phase 4 and studio engineer Nigel Neil produced and developed the track further during the early months of 1995.
Phase 4 "Positive Freestylin'" – Redshaw, 1995.
Production and arrangement of the recording was a joint effort. Each rapper wrote, performed and arranged their section of the track and all members provided samples and sounds by making use of the various pieces of studio equipment. Nigel Neil performed keyboards on the finished version of the recording and Mr Myth joined Phase 4 in the vocal booth to record the outro. The below photo was taken at Audio lab studio in 1995 during the "Widow maker" mastering session.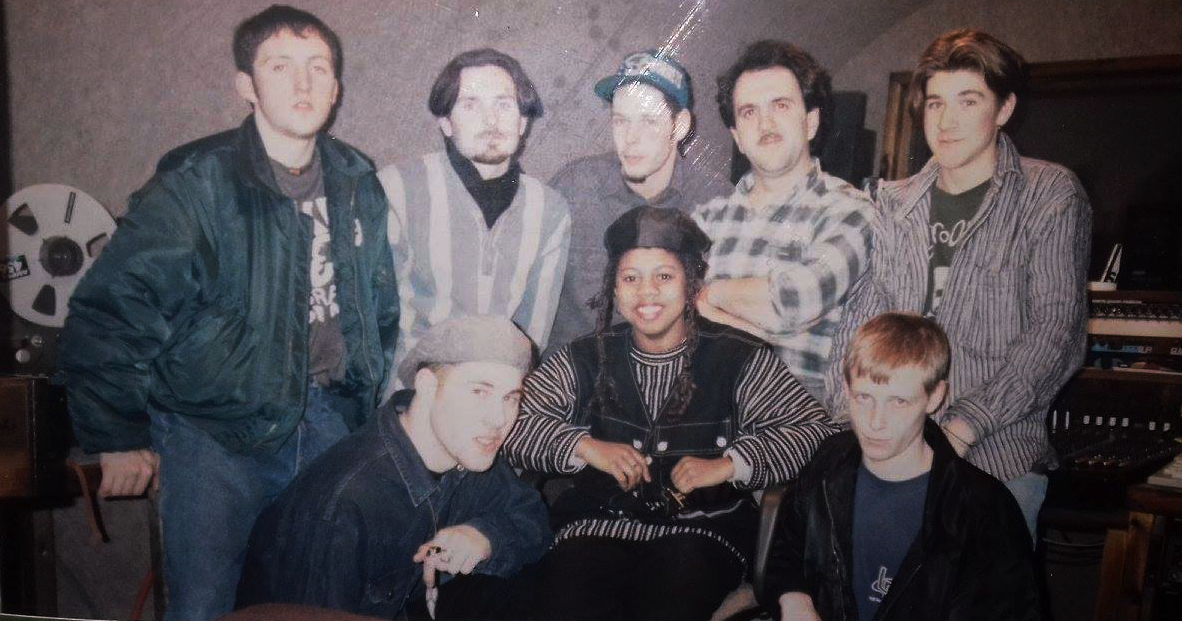 Phase 4, Mr Myth, DJ Halo, Nigel Neil, DJ Trail – Audio Lab studio, 1995.
"Positive freestylin'" by Phase 4 was released in March 1995 as part of DJ Halo's compilation cassette album entitled "Widowmaker" on Redshaw recordings. The group name and title for the track were decided a few weeks prior to the release by the four rappers in the group. "Positive freestylin'" appears on Side B track position 3 of the cassette which also features recordings by Halo, Iceski, Glen Woods, Kraze 1, Toneade, TNT and DJ Trail.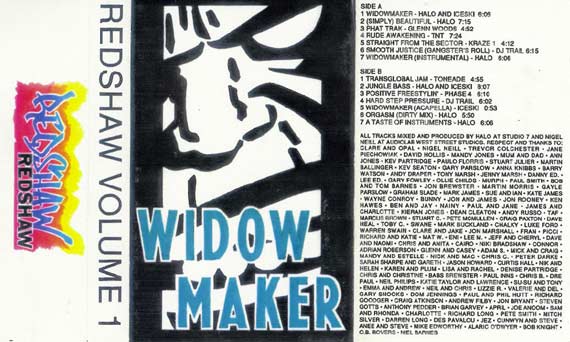 "Widow maker" – Redshaw recordings, 1995.
"Positive freestylin'" was the only recording created by Phase 4. The members performed the track live at an album launch party for the "Widow maker" project in March 1995 and then resumed to pursue individual interests both in and outside of music. Kraze One, Lady Of Funk and Mr Lusta continued to study sound recording at Audio lab studio and collaborated further as part of crew called Crazy Options with Danny Cooli during the summer of 1995. 
Crazy Options live performance – Buckingham university, 1995.
For further information on Phase 4 please see:
To keep up to date with Break to the beat news, projects and events please follow our social media pages.