Break to the beat recently caught up with Paranoia MC to discuss Hip Hop's founding years and his involvement with the culture in his home City of Milton Keynes, England. During the early 1990's Paranoia MC (Then known at Jack The Ripper) formed Death Before Dishonour with DJ Roughcut and several others local pioneering rappers. Paranoia has been a participant in Hip Hop culture since the early 1990s and has collaborated with many of the cities pioneering local artists including JAYEL, Unstopable Nature, True Element, The Criminal Minds and Rezon.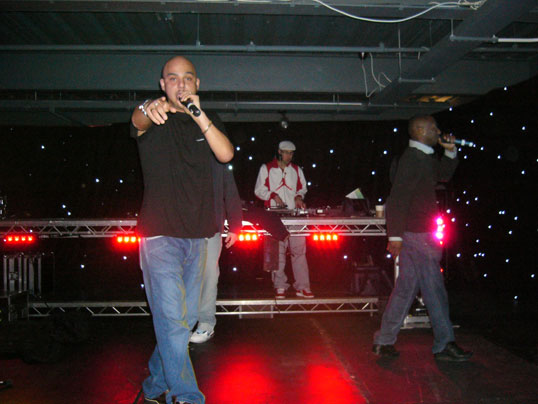 Rezon & Paranoia – Xscape, Milton Keynes, 2007.
How and when did you discover hip hop?
Well straight to the point, I discovered Hip Hop when I was little! My friends and all around me used to listen to chart pop! And I was in to rap!!! I think it started around or a little before the film Breakdance, I couldn't get enough of it, and had a copy on VHS!! (old school). I remember a bit in it that involved Ice T, he was bussin flows whilst b-boys did there thing!!, I loved it!!! I was hooked!! People and my peers all had something to say about my music choice!!! But I didn't listen………. I was feeling it too much man.
What inspired you to start rapping/writing lyrics?
My inspiration started from around the same time as the film Breakdance…. When I saw Ice T rapping I used to sing along with it all the time!!!, I then thought…….. I can do this!, I was pretty good at it to!!!…, so when my mates used to come round I used to put the film on and bust rhymes to them over the music on it…… Weather lying or not (lol) they all said I sounded good……. So that was the start of my rhyming!……. From then I used my school books to write my verses……. My collection grew and grew……. So I had lots of lyrics!!!, just needed a beat!, my best mate at the time Mike "The Omen" Symeon used to beat box, so I put 2 and 2 together and asked him to drop a beat so I could rap over it…… So!!! He did!!! From then the mc was born!!!, I used to rap at people at parties, school, on the bus in fact any chance I had!!! I thought I needed a name, after a lot of thinking I came out with J.T.R which stood for Jack The Ripper!!! A really good tune that LL Cool J dropped around the time!
Jack The Ripper – Milton Keynes, Early 1990s.
Who were your influences at the time?
Some may call me old school (which I am I suppose) but I love new school too…….. I'll list you what I can remember in order. The Fat Boys, Beastie Boys, LL Cool J, BDP, Public Enemy, Big Daddy Kane (One of my favourite of all time)…… To EPMD, DAS EFX, HOUSE OF PAIN,………. I basically loved it all…… Groups, Crews MC's B-Boys!……… And I loved scratching and beat boxing (I'm a beat boxer too) inspiration for that was Doug-E-Fresh!!!! He was great along with Biz Markie (also a mc and beat boxer) Eric B & Rakim were great……. I loved it all!!!! People had lots to say about my music choice an how shit it was……… But I knew it would take over the world one day!!!! Lol I really did man……
How did the crew DBD (Death Before Dishonour) form?
Well you know I dropped rhymes!!!, and beat box!, but 1991 was a time when myself and a few mates 1) Chris "The Atom" Knight, 2) Mike "The Omen" Symeon 3) Dave "Parafin MC" Thomas and 4) Anton "Hi-way man" Bates all got togetha to go to a club at the point! I think it was called CONNECTION 16 under 16s club!! Whilst we were there we bucked up with the DJ there at the time…… Keith "DJ Roughcut" Hurley….. It was a normal night!!, but they were having an open mic at the time……. I remember saying to my friends "c'mon let's do this"???????, they all said yea!!…… We got up there and dropped bombs!!! No one really done live rap them times, well they did, but not so much in Milton Keynes…….. We were fantastic!!! DJ ROUGHTCUT was cutting it up any given time over our flows!!! And so DBD (death before dishonour) was born……
Death Before Dishonour "Martial Law" – Demo recording, 1991.
While working with DJ Roughcut DBD recorded several tracks –  was anything ever released?
Whilst we (DBD) worked with DJ ROUGHCUT (2yrs) we recorded about 2 albums and a few remixes worth of music, we'd been on radio, and performed at numerous places along with WIZE, there wasn't really a hip-hop mega following then so the people who liked us were somewhat fans of DBD!, it was very different then ( not like it is now ) we were all school kids then so were growing up, some of us moved away, got girlfriends, and just did different things….
Death Before Dishonour "S.H.C" – Demo recording, 1991.
DBD also performed with a live band – something that was pioneering for its time considering it was 1992. Who was the band? Or did you guys play instruments as well?
DBD was a sample (loops) group!!, but we could hold our own on live instruments, Mike "The Omen" Symeon could play the drums (pretty good to) Chris "Atom" Knight could play the keyboard (also good) and at a hall we used to practice in there were other musicians there playing what they played….. I remember we went to practice one time an I asked a bass player and a guitar player if they could play over the drums whilst we practiced our lyrics!!…… It was the start of a couple of things to come, it really sounded good!! Us all rapping on live beats…… Sounded badass!!! I think we all loved how it was turning out sound wise, along with the DJ cutting it up!! WOOW!!!!! Was brilliant!!!, We performed a few places, an gained EVEN more respect cos we were doing our thing live!!!……. It's so long ago now, but that's how it got started live……. It became a bit of a hassle all meeting up at the practice hall, as the bass man and guitar player were family guys, so couldn't always be there when needed!, but it was fun while it lasted, and it honestly sounded wicked!!!!……..
Death Before Dishonour "Drop the bass" – Demo recording, 1991.
What other local crews do you remember hearing at the time?
Back then the playas were TCM (The Criminal Minds), WIZE (a male MC, a female MC!, and 2 dancers!!!, Wize also done bits with ROUGHCUT!!, plus another crew called KLASS DISMISSED!!, who like DBD was a collection of MC's similar to us man…… As far as I remember!! These were the urban hip hoppers at the time…… We all knew each other as crews…..
Colourz was a cloths/record shop based in Newport Pagnell that used to sell Wize and DBD Merchandise. How did the deal with colourz come about?
DJ ROUGHCUT knew the owners of Colourz , which put our foot in the door!, I remember going in to it with the boys thinking wooooh!!!, this is good man, Mike was a bit of an artist and I think the conversation was about TCM and how they got there t-shirts printed……ROUGHCUT began talking to the owner who knew us, about getting some t-shirts printed up…. That's exactly what happened. Mike came up with a design, we gave it to the shop owner and they got printed and sold in the shop!!, a few times I was walking through the city center, I saw people wearing the DBD t-shirts…… Was strange but great to see it thow, also when we had jams we'd shot them out after to the crowd!!!, people loved Mikes DBD logo so bought it cos it looked good as well as to support us!!! (Good times)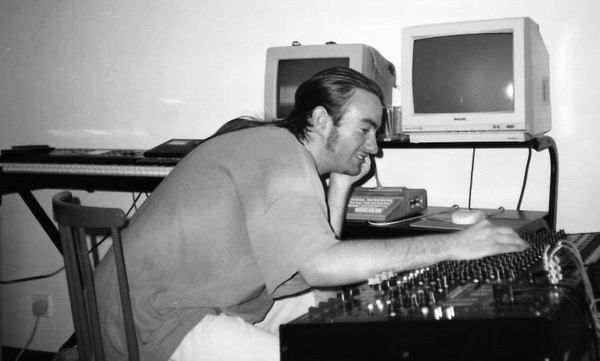 DJ Roughcut – Milton Keynes, Early 1990s.
What happened after the DBD crew disbanded in the early 90s?
After DBD I knew in my heart that that was what I was meant to do….. Be a mc!!, someone who was in the game!, so every chance I got, I used to rhyme with different people!, all knew I could rhyme so weather it was a bedroom studio, to a proper set up, weather at clubs or just chilling in my house with other mates/rappers! With a set of turntables just playing instrumentals with some DJ scratching it apart….. I was here!!! And here to stay!!
Jack The Ripper (J.T.R) – Demo recordings playlist, 1993.
I was friends with JAYEL who rapped and made beats, we both could rhyme. So at a club mic night we both got on stage and blew the place apart…… We then got DJ FURIOUS STYLES Involved. We were the back bone and many rappers used to drop in and out our mic sessions…… Honestly we formed a joke group called THE PORNOMASTERS which was a joke hobbie!!, but the public loved us and such tunes as I WANA SPUNK IN UR EYE and SPUNKY CHAMPAINE……. we performed a few places but then I moved on to work with USN.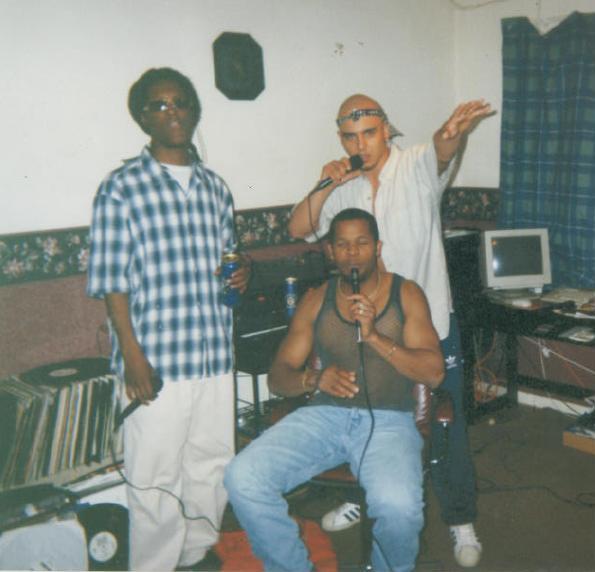 DJ Furious Styles, Jayel, Paranoia – Milton Keynes, Late 1990s.
A few years later you were all involved in the creation of Da Burna Mentality album with USN (UnStopable Nature). you featured on the project as both a rapper and a beat boxer, how did you become involved in this project?
AksUSN was my friend since he moved to England !, I think I was the 1st person he met when he came, we chatted an chatted and chatted, mostly bout Hip-Hop, but that's when I knew he was a hip-hopper/ break-dancer/ graff artist!! We bonded as good mates….. When we used to have mic sessions, I used to say to him "c'mon bust ur shit", he never did until one day to my surprise he exploded!!! And dropped deep rhymes man…….. Honest he's lyrics are deep and really thought out……. Anyway it was his dream for USN to record an album, a hip-hop album of course……. As time went buy I had a couple of operations so was out of the picture TILL!!!, AKS came to my yard and said the crew was recording an album, and since it was both of our dreams he asked me to drop some bars on 4 of the trax and do a beat box skit as well!!!, I didn't hesitate at all, and said of course I would!! We spent some time in the studio recording this and that but eventually it was sounding serious!!!!! HONESTLY!!! it's a real good album … Real underground hip-hop with a beat boxer an a scratch dj, that was the dream!!! …. And it was all done to a professional standard!!! (big up AKS) I was featured on tracks "1) "I see ur eyes on me" 2) "you see me" a paranoia beat box skit and 3) "DA BURNA MENTALITY"  to doing sound efx on the track 4th degree produced by JAYEL!!!!, I enjoyed the whole experience, and defo loved the album!!!!! I'm very proud to be on it!!!!………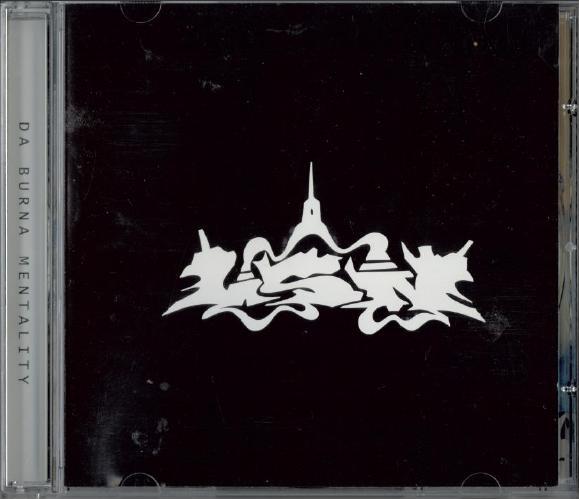 USN "Da burna mentality" – 2005.
You have also worked closely with another rapper/beat boxer Rezon performing at some of the local festivals and venues as well as supporting some established artists like N-dubz when they performed in Milton Keynes. How did you link up and start working with Rezon?
Rezon is probably the 1st person I met in England when I moved here many years ago, also we were neighbours as kids, and went to the same school….. We were both in 2 music an both love Hip-Hop!!, I also taught him a few bits on how to beat box, as the years passed he's become somewhat of an expert!!!!, I hadn't seen him for a long time because of issues I was going through, but one day I was in Bradville shop, and to my amazement he came in…… We focused on each other, greeted an had a chat about what he was doing, what I was doing, and that we needed to hook up!!! We exchanged numbers and that's how REZON AND PARANOIA was born…… We've got a good chemistry together as mcs, and as beat boxers!!! We incorporate beat box in our sets when we do our thing!!! Not many mc's(I'm sure they do thow) do that……. People love to watch and listen to put music, I like working with him, he's a good guy, as well as my childhood mate!! (big up rez)
Rezon & Paranoia "Music 4 U Festival" – Milton Keynes, 2006.
While performing on the local gig circit at events like The Pound and The Session in the mid Noughties Rezon & Paranoia joined forces with Soul Urban Poet, DJ Kraze One and rapper Justice to form the Raw Pride Collective. Together you guys went on to perform with Canadian hip hop act Abs N Faze, Skinnyman & Genisis Elijah What was your involvement in the Raw Pride Collective?
In raw pride I was and mc as well as a beat boxer, an along with rezon who was the same…. The rest of the crew were mc's, Kraze one was and mc and a DJ (scratch DJ) and when we jammed it went down very good man!!! We'd have Kraze beat juggling the records, an the crew used to rap over…… Again was very professional!!!! I loved the raw pride collective!!! All rappers were heavy man…… And the DJ was the icing on the cake!!!! yeah we supported a few big names and went down well….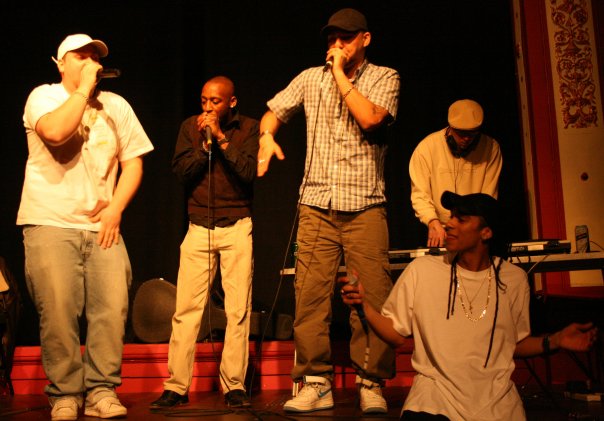 Raw Pride Collective – Madcap Theatre, Wolverton, 2007.
During the time with Raw Pride you and DJ Kraze One recorded and released a single "The Main Topic/Can you flow? on Raw Pride records. The single also featured singer "Jaded Eye" How did this collaboration come about?
Me and Kraze are the same age and have known of each other for years, but through Raw Pride, we could both feel the chemistry we had together real good vibes), I think I might have suggested if he had any spare beats as he was a DJ and a dope producer, he said yeah he had, he gave me a cd with a few beats on it……. I took it home, wrote bangaz to it ,I needed a singer on one of the tracks (can u flow??) for a different feel, so got my mate JADED EYE on the case , me and Kraze went to his studio to record the 1st take of it…. It went well, so we took a copy home, revised it to the fullest, and when ready we took it to the proper studio to record it properly!!, because we'd learned it so deep!!!, it turned out to be a BANGA!!!!!…… after that we did a track called THE MAIN TOPIC the finished product sounded very very good and very professional, which was the dream!!!, ever since then an what we did (Me and Kraze) I've been working with him, like rezon, he's a good man to…. And like rezon, I love working on projects with him!!!!………( big up Kraze), can't wait till we finish our next project man……..
Paranoia MC "The main topic (Cold School Remix)" 2007.
In 2008 you started to work with the True Element Collective who are a live hip hop band based in Milton Keynes. How was the experience of working with live musicians again after all these years? 
Yes 2008 was the start of my involvement with TRUE ELEMENT who have been going just as long as me, the experience working with the crew was/is great man!!, alongside KRAZE ONE, who like iv said is the same age as me, were in to the same type/stlye of hip-hop music….. We've done well working together (it's probably my favourite of all my musical projects to date)!!!, and the public sure do know we can blow up the spot!!!! With a BANG!!!!….. Everything i could ever want in a crew from a dope scratch DJ (DJ BOOTHY) who's is superb at cutting it up……to a full live band (that's no joke man), we all get on (which makes it better), I love working with TRUE ELEMENT!!! keep ur eyes peeled public!, I'm sure ul love what we do…….. It's real hip-hop with a difference to sample loops…… (BIG UP THE TE POSSE)
True Element Collective "Live performance" – The Cannon, Newport Pagnell, 2008.
Moving on to More recent events over the past year you have been working with producer DJ Spatts from The Criminal Minds on a project that has involved the True Element MCs as well as rappers from TCM and musicians from the former band the Shadow Puppets. DJ Spatts recently released a double CD Called the "The Secret Screens" Parts 1 & 2. Which featured yourself as a vocalist. The tracks with DJ Spatts are very Britcore/Hardcore UK Hip Hop Sounding reminiscent of artists like Gunshot, Hijack and Hardnoise. How was the experience of working on the secret screens project? and how much of an influence was the Britcore UK hip hop sound of the late 80s/Early 90s on you as an MC?
Well working with DJ SPATTS was/is wicked, when I was younger, the crew I used to look up to was THE CRIMINAL MINDS, I loved everything they have done from then till now! So to work with SPATTS was great (he really knows the score of hardcore/britcore hip-hop which is where my hearts at), working with him is dope because he's a long time player in the music game, and as I used to follow TCMs moves, it just made sense to work with him on his project!! Britcore hip-hop was the same as grime now days, but proper uncut hardcore DOPE!!! English hip-hop….. Which to the youth now, they may not know it, but to the older generation of hip-hop lovers (English) will defiantly know the sound and style…….. Yes!!! I was well in to GUNSHOT, MC DUKE, HIJACK, HARDNOISE,THE CRIMINAL MINDS, SON OF NOISE, KATCH22, DEMON BOYZ, LONDON POSSIE,OVERLORD X…….etc ( all British mcs and crews were a big influence on me) It was my favourite type of hip-hop, because of the scratch DJs involved!!! (I love a bit of scratching), yeah we did SPATTS SECRET SCREENS ALBUM!!!, very very professional infact!!!! As good as anything u would hear on the radio!!! And working with TCM WOOOOW!!!! the dream….. People my age will know where I'm coming from saying that …… But it's so true!!! We recorded 5 tunes with SPATTS an DJ BOOTHY……. it don't get better than that if ur in to BRITCORE!! (4 real man) the beats are hard!!!!, the scratching on point!!!!……. Just what the doctor ordered!!! Haaaaahaaaaa!!!!…….. And I was sick!!! Haahaa!!! (BIG UP DJ SPATTS)
Word on the street is that DJ Spatts and The Criminal Minds have a new Project ready to drop called "To the core" that features Yourself along with the True Element MCs, Krome & Ill Inspired, MC Diceman and a whole bunch of other MCs & Scratch DJs from the UK and Europe. What can you tell us about the "To the core" project?
TO THE CORE!!!, means a lot to me as it's a mc gathering that is unsurpassed!!!, the tune is SO DOPE!!! it's gonna put dope dealers out of bissness man (lol), WOOOOOOH!!!, Look at the menu!!! All these mcs are killerz!!!(HONEST!!) real bad boy rhymers an lyricists from different endz!!…… It's really REALLY good man!!!… And I'm not just sayin that!!!!, it's true man!!….. A real classic!!!! A real BANGA!!!!!…. Wait till it's out there!!!! U got to check it when u get the chance……….
32 Troop "To the core" – Fat Hop, 2012.
Finally how do you feel now knowing that hip hop finally did take over the world? What has it been like to be involved in the culture since the break dance days in the early 80s right through to present day hip hop movement? 
(DEEP WORDS AND THOUGHT NOW PEOPLE FROM THE HEART) yeah I knew it then, it would take over the world despite what anyone said!!!, I love the fact that i've been in the game for as long as I know……. Yes from the breakdance days (but it went on before that, just what I know man) till now!!! It's great!!!, I think if I'm honest though my favourite times …… Was the golden age!! The 90s……… But I love hip-hop music from all times, I wouldn't be the person I am now!!! I LOVE U HIPHOP!!!….. it's my favourite thing, and from what I'm seeing now!!, not just me and mine, plus I'm still doing my thing now!… Still spitting, still beat boxing …… It's what I'm about since the age of 10, I hate to say that I'm old school (makes me feel old) but I am!! I've been, seen, and done all I can with the music that i've seen grow from nothing, but a few dope rhymes and a beat, to taking over the world, even on xfactor there's people rapping, THAT WOULD NOT HAPPEN BACK THEN!!SO BIG UP EVERYONE THATS GOT ANYTHING TO DO WITH THE MOVEMENT AND CULTURE!!!! Thanks for having me BREAKTOTHEBEAT.com it was a pleasure telling my story!!!!……… BLESS!!! PARANOIA OUT!!!………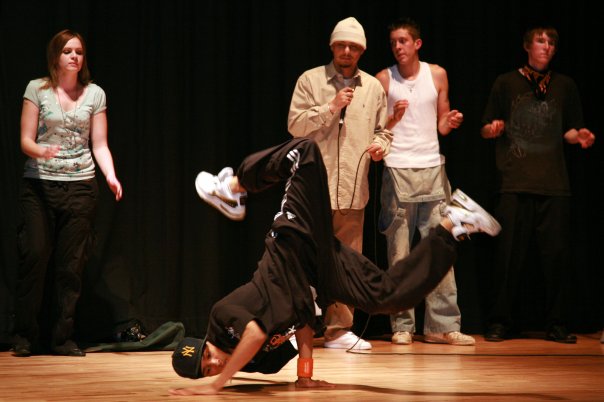 B-Boy JMC, Paranoia MC & Crew – Milton Keynes, 2009.
Break to the beat would like to thank Paranoia MC for breaking down some of the local Hip Hop history.
For further info on Paranoia MC please see:
*Special thanks to GU of USN for the pics.
To keep up to date with Break to the beat news, projects and events please follow our social media pages.