True Element was a project that ran between 1997 and 2014 and involved a substantial amount of rappers, DJs, singers, and musicians from Milton Keynes and the surrounding area. The True Element story consists of four significant parts all of which involved different members who's presence in the collective brought various unique elements to the overall sound, style, direction and vibe of the collective. In part one of what will eventually become a four part series of articles Breaktothebeat are going to look in to and document the foundations that lead to the creation of True Element, their early recordings, independent releases and their journey towards establishing themselves as a live Hip Hop crew.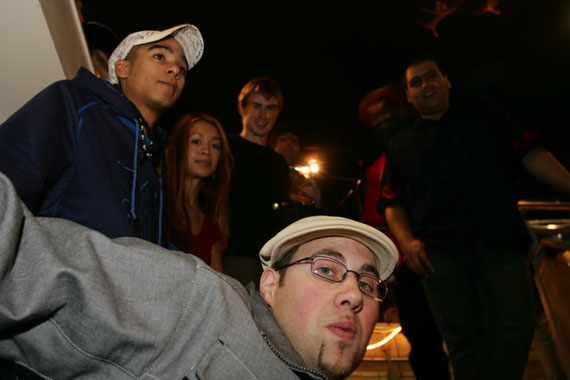 True Element Collective 2005 Xscape Milton Keynes.
The True Element story begins in Buckingham and was the brain child of DJ Kraze One who had already been contributing to all aspects of local Hip Hop culture since 1991. Kraze One had been a fan of Hip Hop since the early 1980's and had witnessed the transition from Electro to golden age Hip Hop which is what really captivated his attention and inspired him to start practising the Street dance and Graffiti art aspects of Hip Hop culture. In 1991 Kraze One co-founded Hip Hop collective UnderCover Prophecy (UCP) with DJ Trail One and DJ Delta. UCP is where Kraze One started to explore the element of Emceeing and began to concentrate on writing lyrics and recording early demos. Working with UCP is also where Kraze One witnessed the process of producing Hip Hop backing tracks using samples and break beats.
UnderCover Prophecy "The final assault" (Unreleased demo 1992).
By 1993 Kraze One co-founded a second Hip Hop crew Justice Element with MC Killa Joul and DJ Crime Plate. Justice Element quickly put together a cassette demo and began performing on the local live circuit. During his time working with Justice Element, Kraze One began to select samples and breaks and worked with studio engineers to develop a more professional set of demos.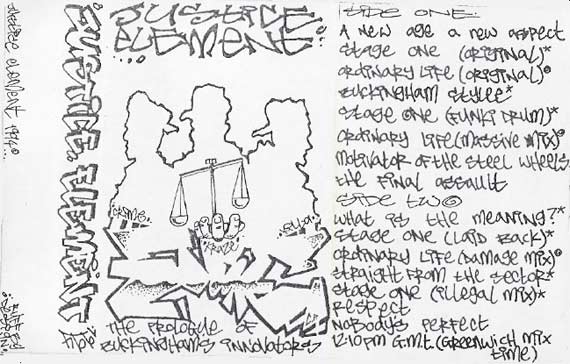 Justice Element "The prologue of Buckingham's innovators" 1994.
During 1994 while working with Justice Element, Kraze One began studying sound recording part time at Audio Lab studio in Buckingham with fellow students Mr Lusta, Mr Delta and The Lady Of Funk. The four students were able to use the studio to construct a track for their end of term project which caught the attention of DJ Halo who released it in 1995 as part of his Widow Maker compilation that featured DJs and local artists. The crew decided on group name Phase 4 and the track was entitled "Positive Freestylin'".
Phase 4 "Positive freestylin'".
The Widow maker compilation also featured a reworked version of one of the Justice Element tracks that Kraze One had written & produced entitled "Straight from the sector". This release was the first professional offering that featured music by DJ Kraze One and inspired him to keep pushing forward and seeking further opportunities with music.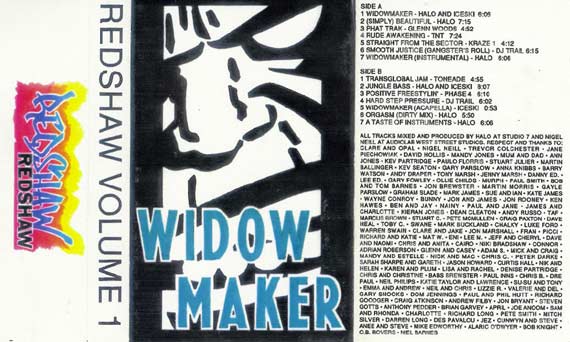 Redshaw vol 1 Widow Maker 1995.
Kraze One & Mr Lusta continued to pursue sound recording during 1995 and shortly after the Widow Maker release had established the Crazy Options DJ Collective with Danny Kooley. During their final stages of study Kraze One & Mr Lusta got a second opportunity to use the studio and recorded a live session with DJ Danny Kooley. Although musically the live session was not an original track it would eventually become the blue print for the first True Element single "Take a look around".
Audio Lab live session 1995.
In 1996 Kraze One began assisting recording sessions as an engineer in a newly formed midi studio at Audio Lab. During studio down time Kraze One was able to  construct his first beats using samples and break beats and started working on an album also entitled "straight from the sector". The project was rooted in Kraze One's insolvent in Hip Hop culture up until this point. Kraze One carried over ideas and elements from previous projects and aimed to put together an album that reflected the local scene. Killa Joul, Mr Lusta, and Danny Kooley were all featured on the project that due to the sudden closure of the midi studio was never finished.
In 1996 Kraze One salvaged what he could of the project and released a cassette EP. Below is one of the tracks from the unfinished project.
Kraze One "Positive vibezin'". 
"Straight from the sector" is where Kraze One gained his first experience of putting together and releasing a product and all the responsibilities and costs that come with it. The experience gained would lay the foundations of what would become the debut True Element release.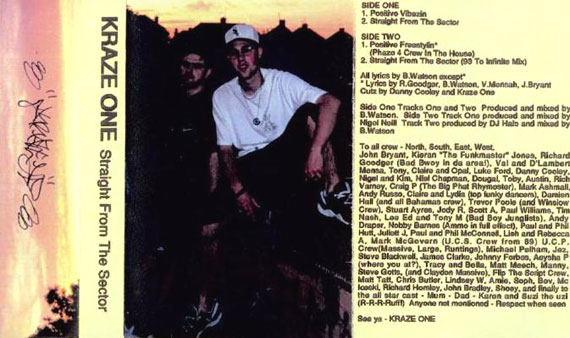 Kraze One "Straight from the sector EP" One On One Productionz 1996.
Although the second midi studio had closed down Kraze One was still hustling and trying to create opportunities to progress within music. During the summer of 1996 while Mr Lusta was back from University they negotiated a studio session where both rappers were able to record their vocals on a backing track specifically created by DJ Kraze One while working on his "Straight from the sector" project. The backing track was based around the live session documented earlier in the article with DJ Danny Kooley.
Shortly after Kraze One met DJ Maniphest at a local event where they were both on the same line up. DJ Maniphest and DJ Kraze One shared a similar taste not just in music but also in the type of Hip Hop music which is now referred to as underground and more reflective of Hip Hop culture. In 1997 just before the release of the debut single Kraze One hired Audio Lab studio for DJ Maniphest to add the scratches & cuts which completed the recording process of the title track for the first True Element single "Take a look around".
True Element "Take a look around" One On One Productionz 1997.
During the early part of 1997 DJ Kraze One was able to continue producing beats using DJ Halo's sampler and set up in his home studio. Working this way allowed DJ Kraze One to rework another of the tracks from a previous project entitled "Detonate the funk". Like "Take a look around" the original version was started during the 1996 "Straight from the sector" project but was never completed. "Detonate the funk" became B-side of the debut True Element single.
True Element "Detonate the funk" One On One Productionz 1997.
So far we have documented the circumstances and processes that went in to recording the first True Element release and it's various roots in previous projects involving DJ Kraze One.
DJ Kraze One's vision and overall aim for the project was to establish a Hip Hop crew that embraced and represented their locality and that would eventually be able to take the project on the road and perform live. The hope was that by initiating the process of an independent release True Element would grow in to a collective of individuals with a similar vision.
Graphic designer and friend Matt Meech was the first like minded individual to get behind DJ Kraze One's vision and contributed to the True Element project by designing the artwork for the first release. Everyone involved in the project was connected in some way via the Milton Keynes music scene and were frequenting a handful of small club nights such as Flip the script, Project B, Beat non stop, Xscursions, etc that catered for the Jazz-funk, Hip Hop, Break beat, Soul crowd. It just seem a natural thing to do to use the MK landscape as a backdrop for the releases.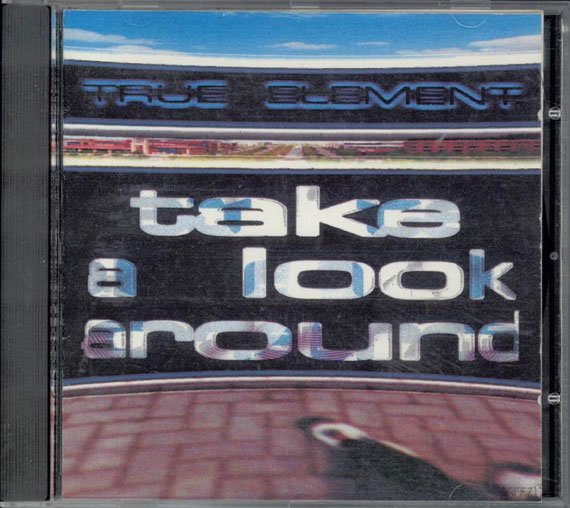 True Element "Take a look around" cover art by Matt Meech.
The official "Take a look around/Detonate the funk" release was a cassette single that contained only these two recordings. DJ Kraze One sold copies on the streets of Milton Keynes and at local events from a back pack and using a walkman to play the cassette's to people. Several copies were also sent out for promotion to local newspapers which generally gave positive responses such as in the article below.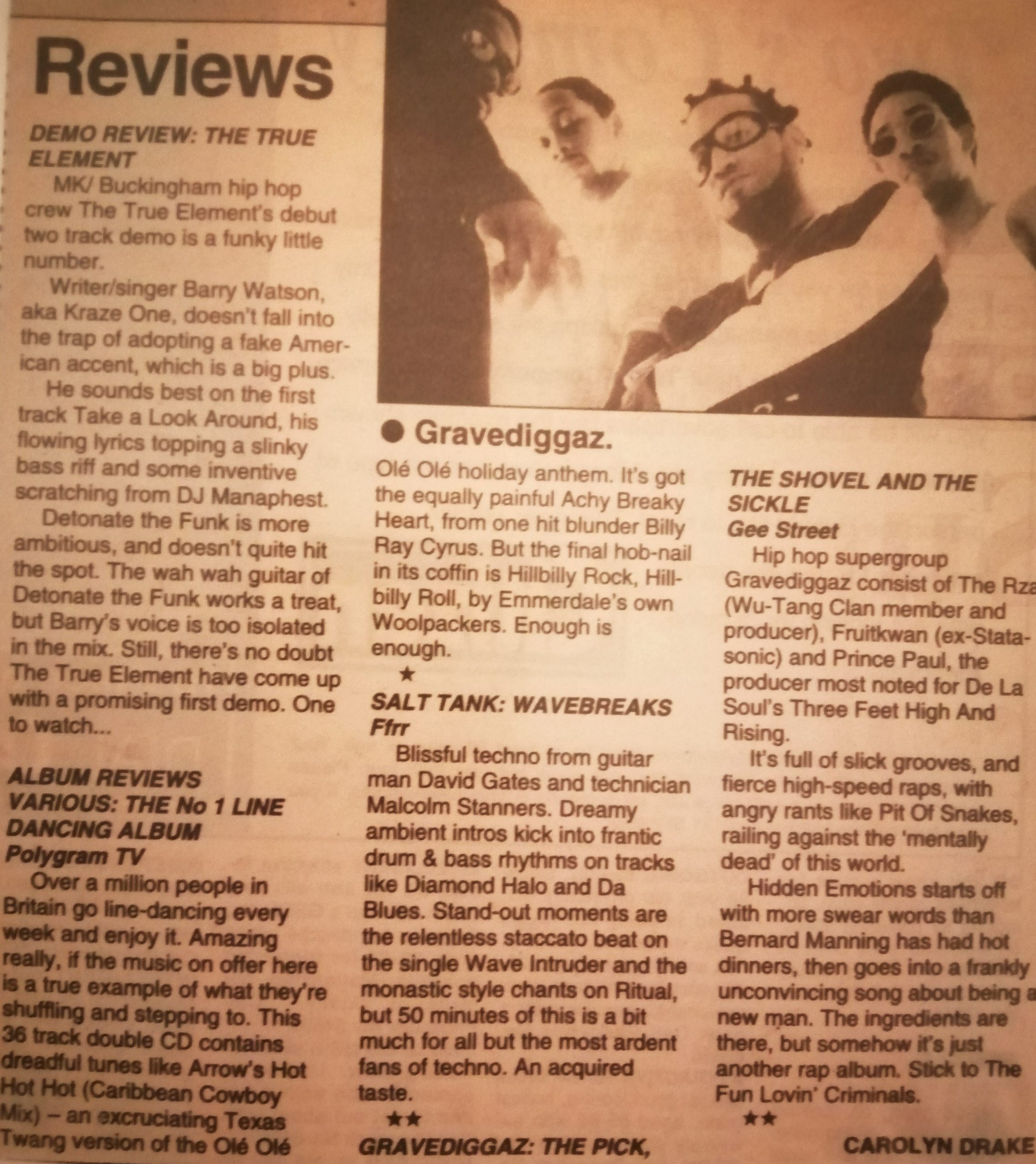 True Element "Take a look around" single review by MK Citizen 1997.
As well as the 200 or so cassette singles there were also a limited amount of CD copies (about 25 in total) that were put together as a special edition short run of the project. The CDs also contained three extra tracks by DJ Kraze One, Crazy Options and Phase 4 and represented more of what DJ Kraze One was aiming to achieve with the True Element release. "Take a look around" was created to give an impression of True Element already being an established Hip Hop crew but at this stage the project was still developing. The first True Element photo shoot only involved DJ Kraze One and Matt Meech (Who took the photos) and was of the Milton Keynes skyline in 1997 as seen from the Multi story car park at Milton Keynes Central rail station.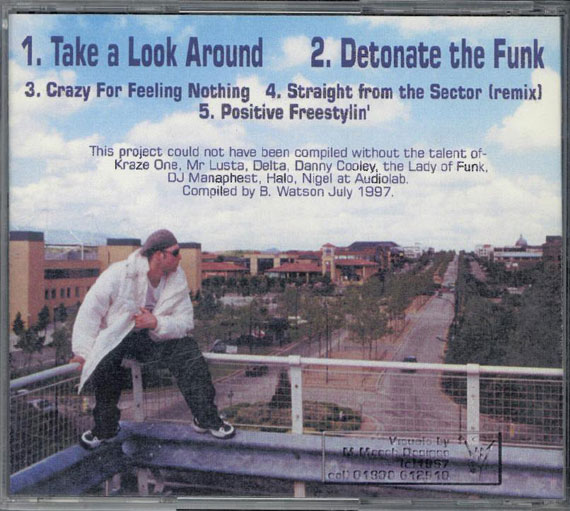 True Element "Take a look around" cover art by Matt Meech.
With the True Element project now established DJ Kraze One set about producing and recording a follow up release.
The first recording and title track "True Elementalz" featured MC Killa Joul (who Kraze One had previously worked with in the Justice Element crew) and DJ Maniphest who again provided the scratches & cuts. "True Elementalz" was recorded in summer 1997 shortly after the release of "Take a look around".
True Element "True Elementalz" One On One Productionz 1998.
During the same period of summer 1997 DJ Kraze One recorded a second track entitled "The grim reality" with singer Hysko who Kraze One had also previously worked with during the UnderCover Prophecy project from the early 1990's. "The grim reality" was written as a part 2 to the first single "Take a look around", Kraze One was hoping to include MR Lusta to keep consistency with the first single but unfortunately the schedules did not work out and so Kraze One had to cover both rap verses.
True Element "The grim reality" One On One Productionz 1998.
A third instrumental track entitled "Break loose" was also constructed during the later part of 1997 and the initial plan was to try and release a cassette single that also included "Take a look around" as there was no budget at the time to record a fourth track. Kraze One was also keen to keep Mr Lusta as part of the project and was trying to encourage him to contribute further. Graphic designer Matt Meech put together a second set of artwork that was also based on the Milton Keynes skyline but the cassette was put on hold in favour of trying to put together a CD release.
Below is the original cassette art work by Matt Meech.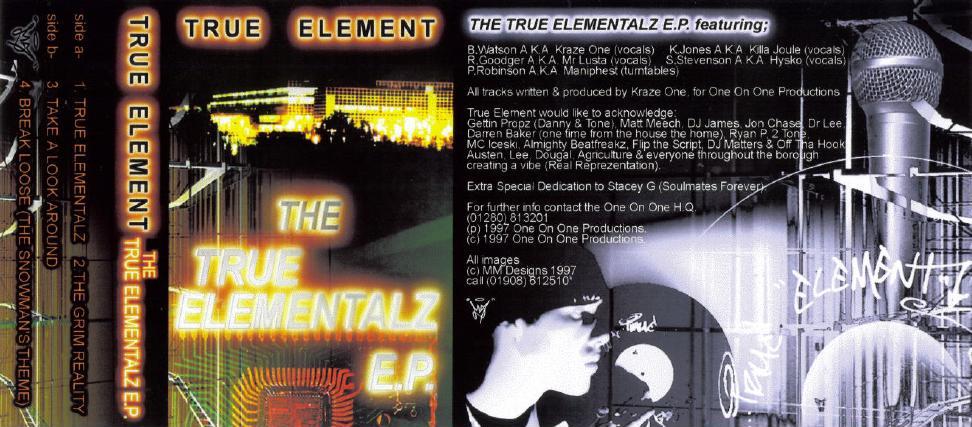 True Elementalz unreleased cassette artwork by Matt Meech 1997.
DJ Kraze One had secured funding for the release in the way of a bank loan. The plan was to press up 500 CD singles and recoup the money by sales. There had been a slight change in that DJ maniphest would remix "True Elementalz" which would replace "Take a look around" as the third track from the EP giving potential customers four brand new tracks. The funding had already been secured and work had already started on the remix but DJ Halo had decided to sell off his equipment which had become a creative outlet for DJ Kraze One and the True Element project. DJ Kraze One was faced with a dilemma of either to go ahead with the release or use the money to purchase the sampling equipment and set up independently. Once again Matt Meech had come through with the artwork for the CD single.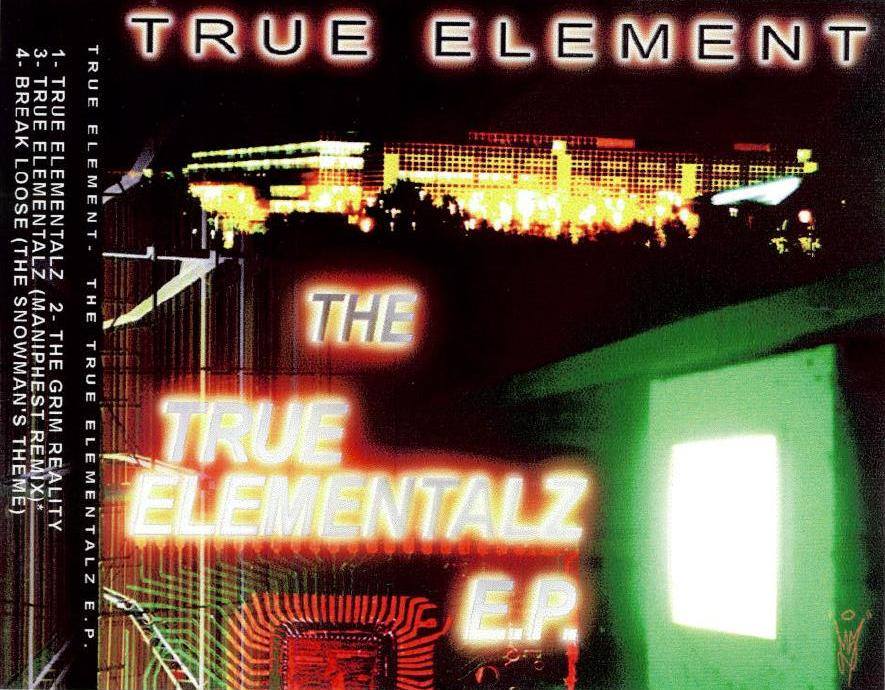 True Elementalz unreleased CD single artwork by Matt Meech 1997.
DJ Kraze One decided to purchase the equipment which would mean that the release would be delayed for just over a year.
By the time "The True Elementalz EP" was released DJ Kraze One had relocated to Milton Keynes and had set up his own studio where he was able to continue constructing beats. Unfortunately due to the delay DJ Kraze One was unable to capitalise on any buzz created with the first True Element release back in 1997.
For a while DJ Kraze One worked alone on the project creating two new tracks "Dedication vs insanity" and "Kraze One most lyrical". A third track "Whoz comin thru?" was in the process of being recorded when Kraze One was approached by rapper Tony Mac who was enthusiastic about getting involved as a vocalist. Tony Mac was a freestyle rapper and performed completely off the top of the head as opposed to Kraze One who would write and practice lyrics first. Tony Mac and Kraze One rapped at a few open mic's and shortly after recorded the final track for The True Elementalz EP entitled "Whoz comin' through?" with DJ Maniphest providing scratches & cuts.
True Element "Whoz comin' thru?"
In June 1998 a few months before the True Elementalz EP was released. True Element performed live for the first time on CRMK (Cable Radio Milton Keynes) for DJ Anthony Beattie's Soul/Hip Hop show. By this point all the tracks for the True Elementalz EP had been recorded but had not yet been released. Kraze One, Tony Mac, Mr Lusta, and singer Hysko put together two short sets that featured music from "The True Elementalz EP" and "Take a look around". Some of the performance contained the written vocals but about 50% was free style off the top of the head.
True Element live CRMK 1998 (Part one).
True Element live CRMK 1998 (Part two).
This marked the start of a positive relationship between True Element and CRMK with DJs Anthony Beattie and Shane Quinten both regularly playing True Element's music on their live shows.
The "True Elementalz EP" was finally released in the later part of 1998. Graphic designer Matt Meech reworked his previous artwork designs and DJ Kraze One sold and promoted the album locally through street sales, local radio, and local press.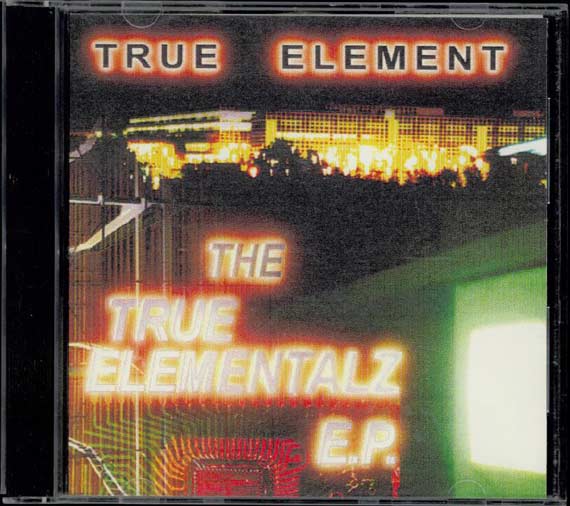 By the end of 1998 True Element had established themselves on the local music scene and managed to creep in to the Top 20 local artist chart.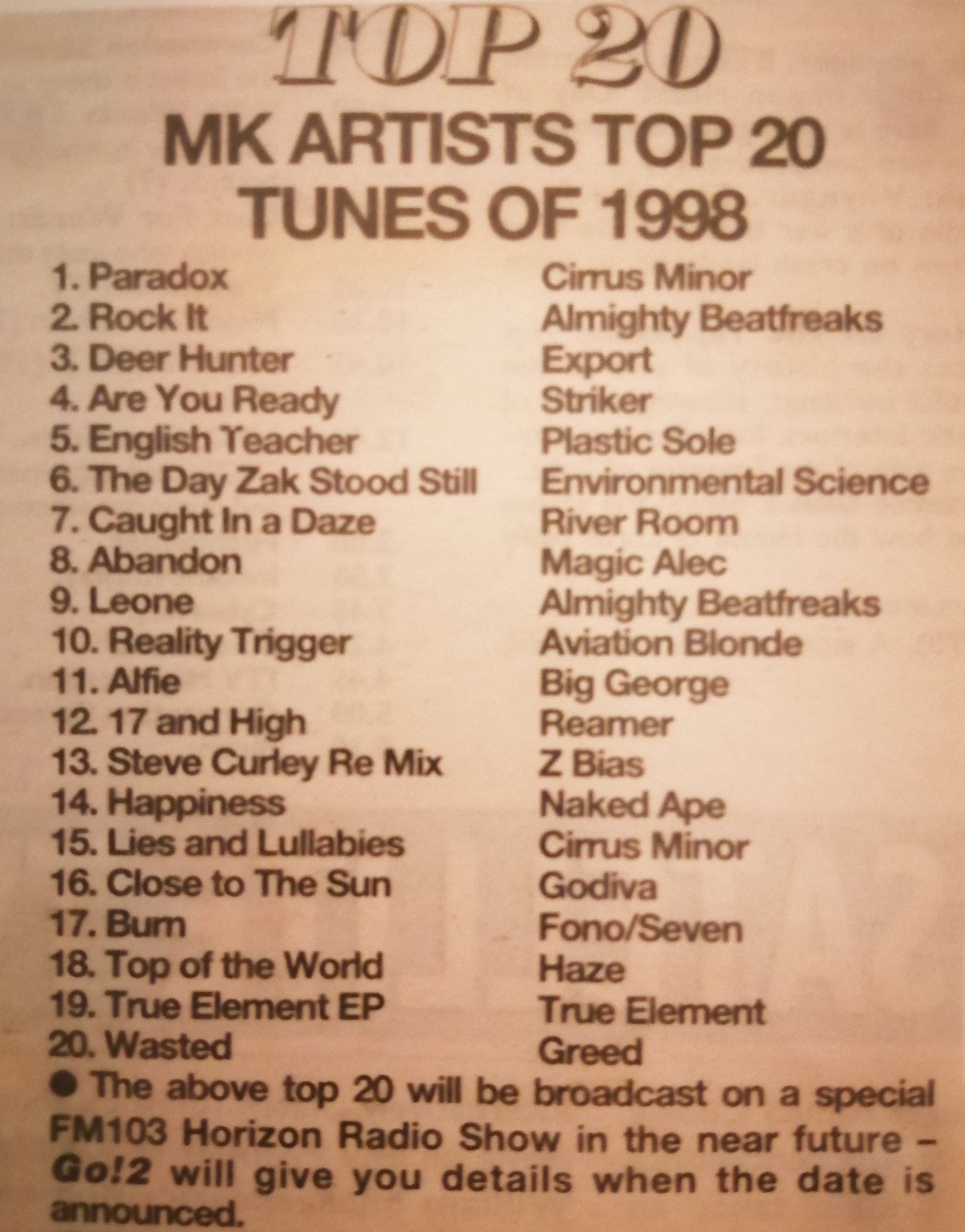 This concludes the first chapter of the True Element story. To read chapter 2 please visit: True Element (Chapter 2).
For further information on True Element please visit True Element on Sound Cloud and True Element on Facebook.
To keep up to date with Break to the beat news, projects and events please follow our social media pages.