PXTN is a local artist that helped pioneer graffiti art during the early 1990s in and around his hometown of Buckingham located on the outskirts of Milton Keynes. Throughout the 1990s PXTN worked under several aliases to create a combination of local murals, flyers, posters, cassette covers and items of clothing that were all inspired by Hip Hop's element of graffiti art. PXTN also experimented with other elements of Hip Hop culture including scratch DJing and Emceeing.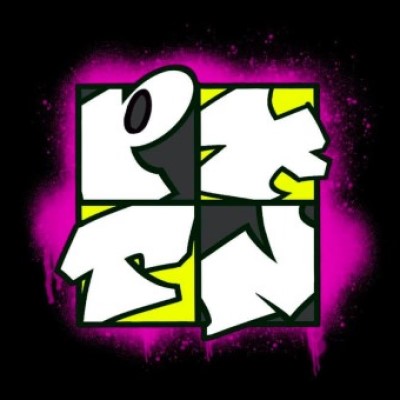 "PXTN logo" – PXTN, 2020.
PXTN discovered Hip Hop music and culture during the 1980s as a child and by 1990 at around age 14 began to create his first pieces of artwork using spray paint. Although PXTN created several murals previous to the "Risk" image shown below this photograph taken in 1990 is the first evidence we have of PXTN's early work. The below "Risk" piece was painted along the old railway line in Buckingham when PXTN was using the alias Risk One.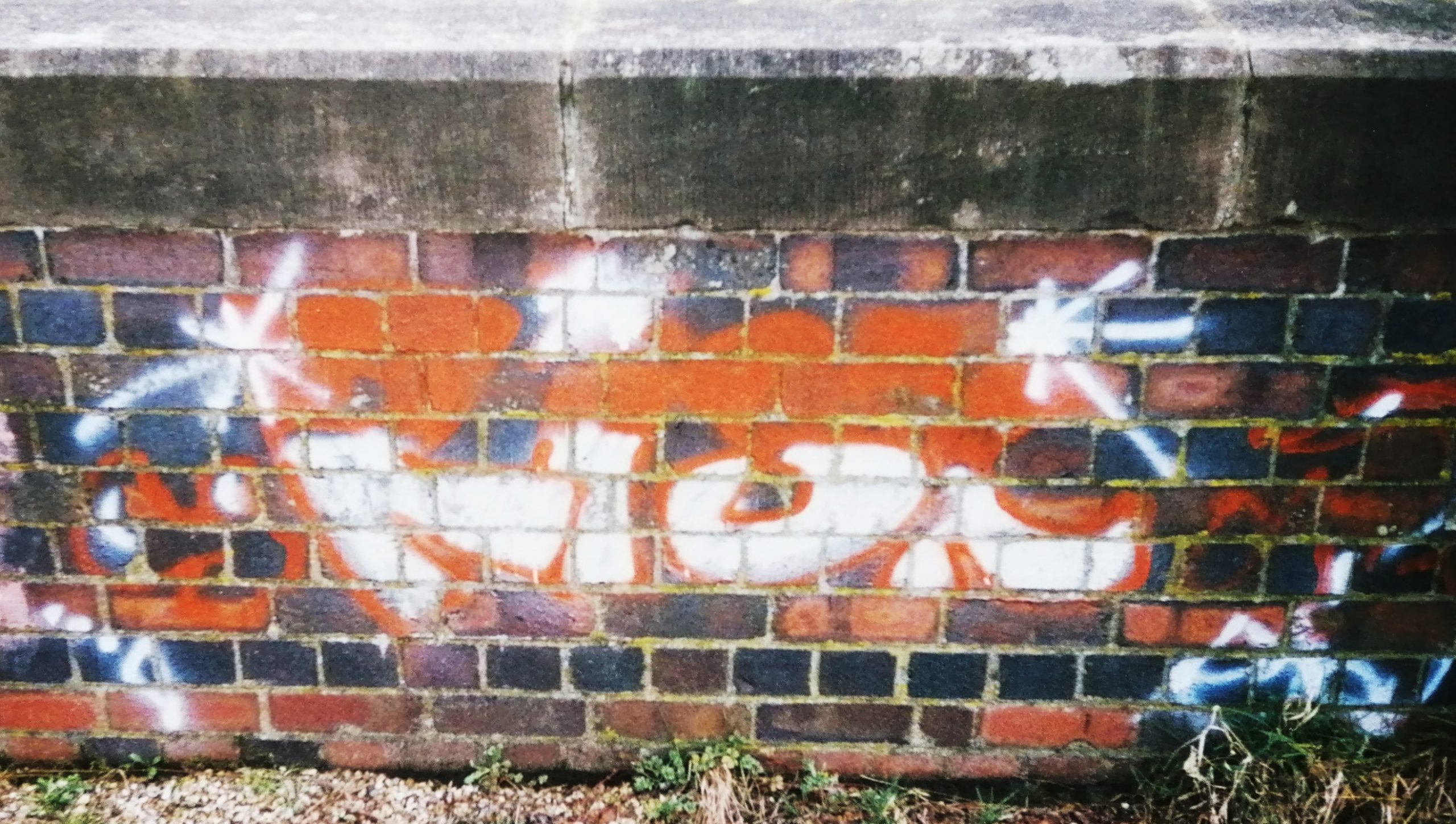 "Risk" by Risk One – Buckingham, 1990.
Towards the end of 1991 PXTN was invited to join Hip Hop collective UnderCover Prophecy (UCP) by childhood friend Kraze One. The collective formed during the summer of 1991 and had already begun the process of establishing themselves as part of the local Hip Hop scene. PXTN joined UCP as a graffiti artist using the alias Krome Two and collaborated with the other writers of the collective to create several murals in and around Buckingham.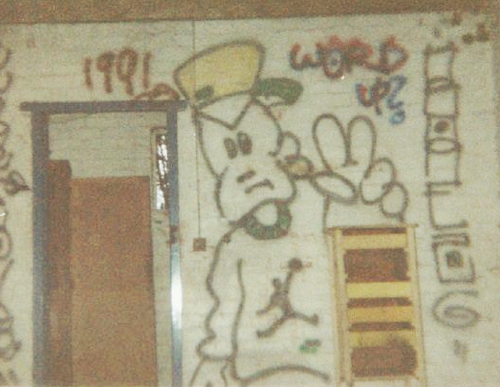 "Character" by Krome Two – Buckingham, 1991.
During 1992 UCP's Hip Hop journey progressed to include the creation of several demo recordings. It had always been the focus of the founding DJs Trail One and Delta to establish a music crew and eventually as more demo recordings were created Krome Two was enlisted to construct a cassette cover to make them look more presentable. The below design was hand drawn in 1992 and copies of the "UCP cassette" were circulated to friends and members of the collective.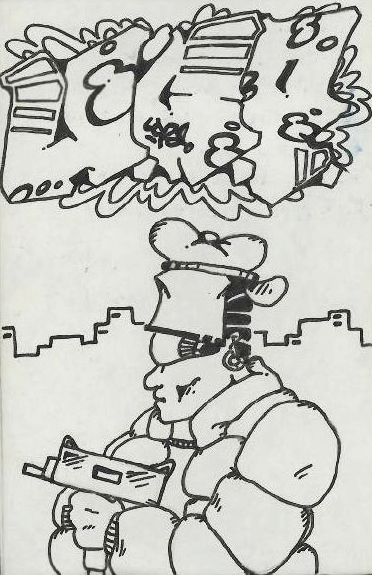 "UCP Cassette" by Krome 2 – 1992.
UCP remained actively involved in all aspects of Hip Hop culture throughout most of 1992 and at its peak had around 15 members and associates. The collective disbanded gradually at the end of the summer when most of its members left full time education and began to pursue different career paths. While UCP remained active PXTN continued to contribute and create graffiti artwork, images and designs with the collective.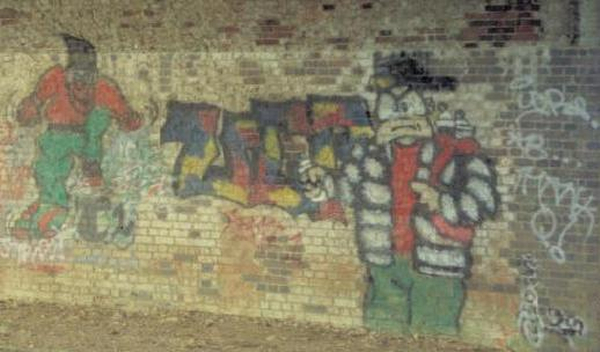 "UCP" by Trail One, Kraze One, Krome 2 – Buckingham, 1992.
Towards the end of 1992 which coincided with the explosion of the UK Rave scene PXTN and several members of UCP formed a Rave crew and began to perform at local parties and events. The crew consisted of DJ Delta with MCs Dedo (formally known as MC Assault) and PXTN who during this period used the alias MC Bizee and contributed to the project as both an MC and an artist. During this period PXTN's focus shifted from street art to commissioned murals and flyer designs.

"Eclipse" by Bizee – Buckingham school, 1992.
As the 1990s progressed further and the Rave scene split into several subgenera's such as Jungle and Happy hardcore PXTN began to explore the musical artform of Deejaying and in 1994 obtained his own Technics SL1210 turntables. During this period PXTN's performed as a Happy Hardcore DJ using the alias DJ Desire and contributed to various local events as both a DJ and an artwork designer. The below slideshow contains several flyer designs created by Desire during this period:
"Poster designs" by Desire – 1994/5
As a side project PXTN formed Hip Hop crew Justice Element with MC Killa Joul and Kraze One while studying at Buckingham sixth form collage. PXTN used the alias DJ Crime Plate and performed as part of the Justice Element line up as a scratch DJ before contributing to the creation of several demo recordings that were released during 1994 as a self-funded cassette project entitled "The prologue of Buckingham's innovators".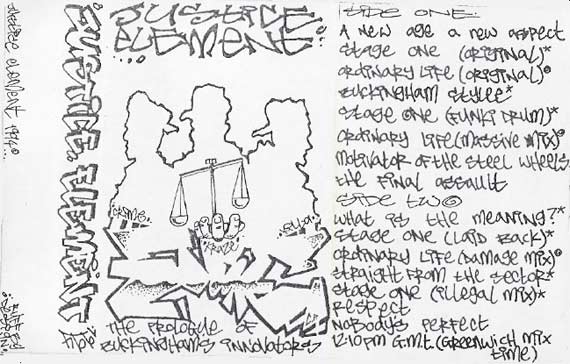 Justice Element "Prologue of Buckingham's innovators" – PXTN, 1994.
PXTN created and designed the cassette artwork and several flyers for the Justice Element project that eventually progressed to record in a professional studio. The recordings that were released however were created live using instrumentals, turntables, a microphone, and a cassette recorder. Justice Element disbanded naturally towards the end of 1994 as the members finished studying and focused on interests outside of the group.
Justice Element "The prologue of Buckingham's innovators" – Demo recordings, 1994. 
During 1995 PXTN using the alias DJ Desire pursued several opportunities which led to performances at various local events and venues playing Happy hardcore music alongside many of the areas upcoming dance DJs and MCs. PXTN also created several flyers, logos, artwork and images for local recording artists during this period. A small selection of these designs that were created for Kraze One and Phase 4 can be viewed below:

"Phase 4 characters" – Desire, 1995.
logos – Desire, 1995.
As an artist and designer PXTN also explored clothing and fashion as a creative outlet for his artwork. These designs date back to 1992 when PXTN created several t-shirts using a cardboard stencil and spray paint for Hip Hop collective UnderCover Prophecy (UCP). Several years later PXTN's designs were being used to create clothing for local entrepreneurs such as the jackets displayed in the below image for music promotions company DMS Promotions.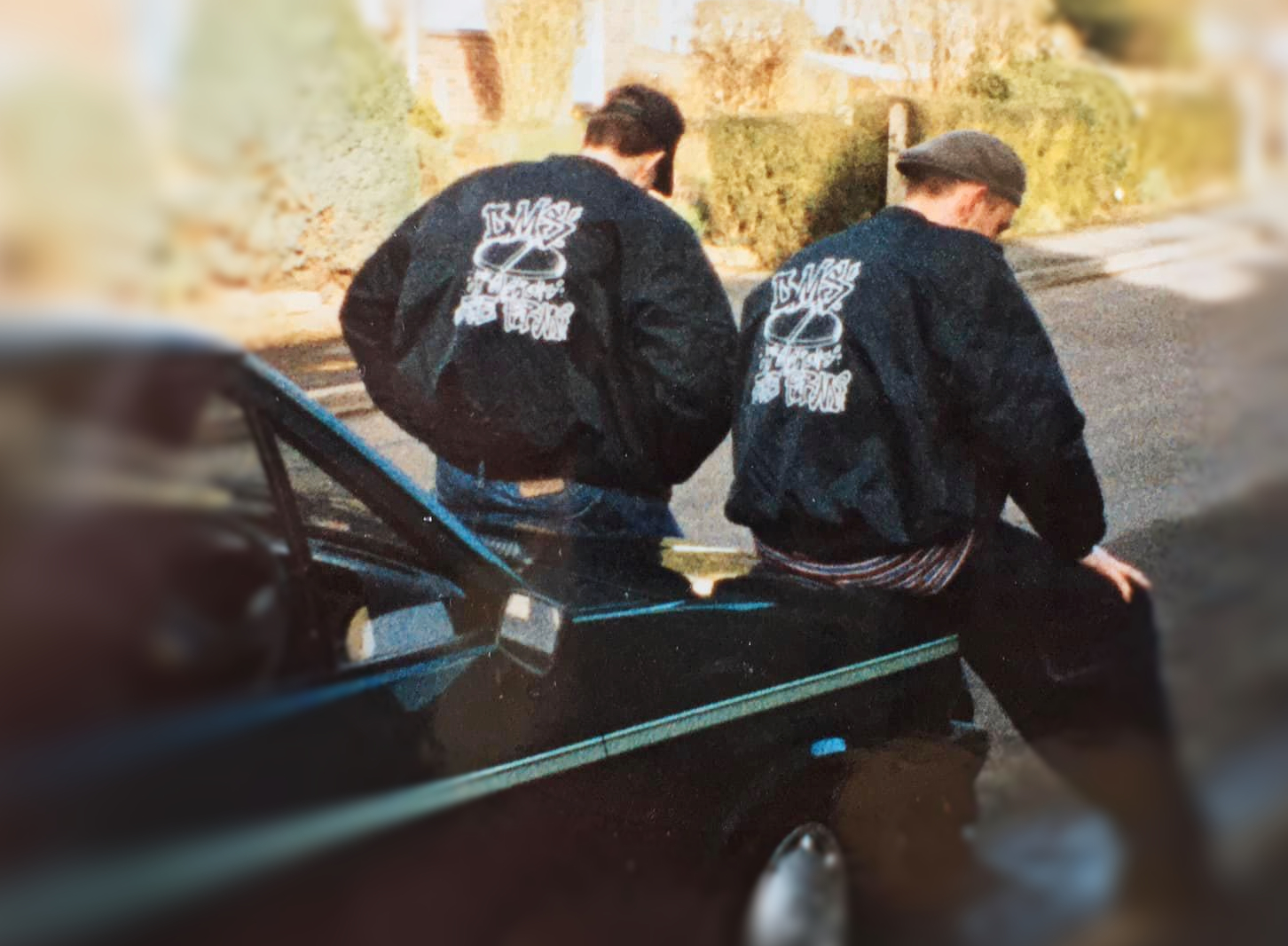 "DMS Promotions jackets" – Desire, mid 1990s.
Throughout much of the 1990s PXTN remained an active member of the local community of musicians and artists that resided in Buckingham and where possible would contribute to events as both a DJ and a designer. PXTN like many other young people from the area began to travel outside of the local boundaries to experience and attend events and festivals further afield. The below photo was taken during the mid-1990s and captures PXTN (front) and several of the Buckingham ravers.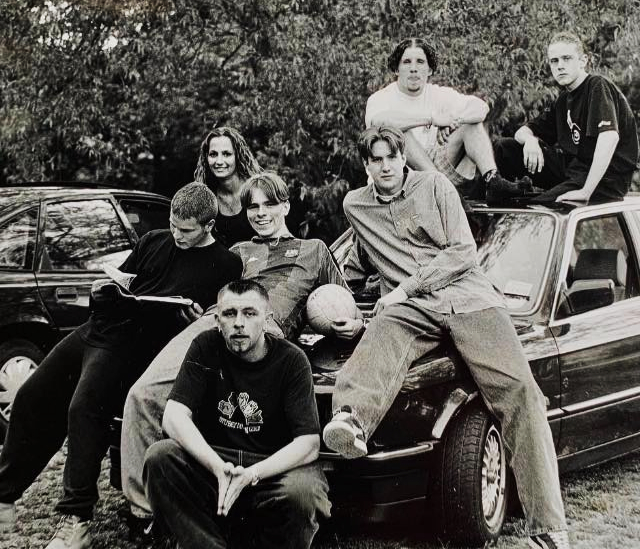 DJ Desire & The Buckingham Ravers – Buckingham, Mid 90s.
As the 1990s progressed to the 2000s PXTN took as step back from music and the arts to focus on work and family commitments. Artwork and design however has always remained a passion and pastime for PXTN who in 2018 began to create new designs using procreate pocket software on a mobile device. Several of the new designs such as the images displayed below were uploaded to PXTN's social media accounts for viewing.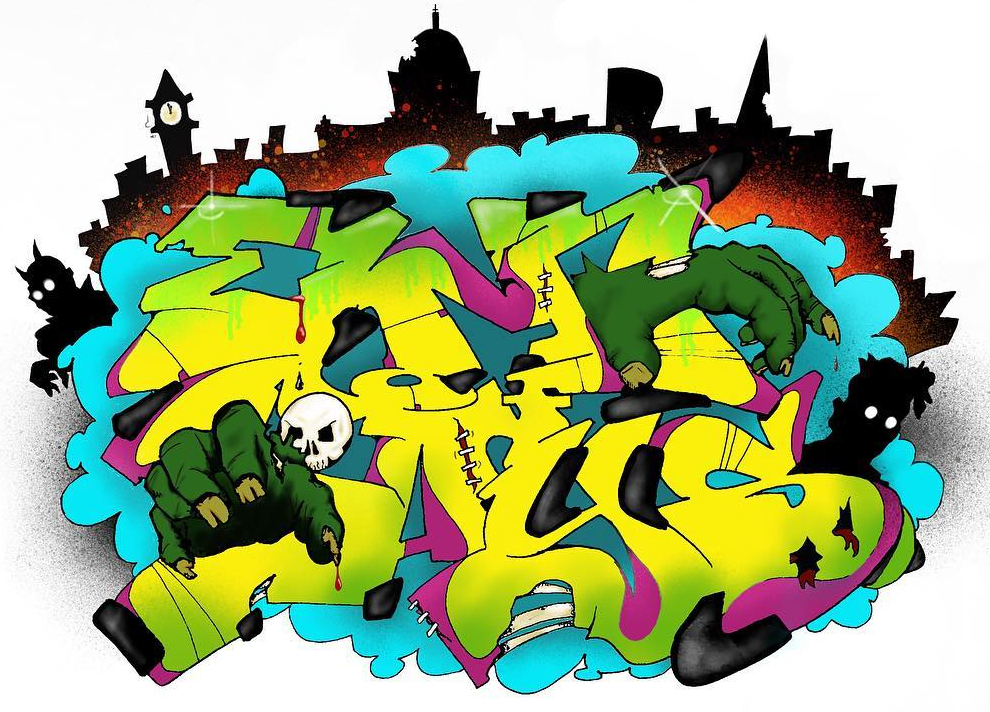 "End of days" – PXTN, 2018.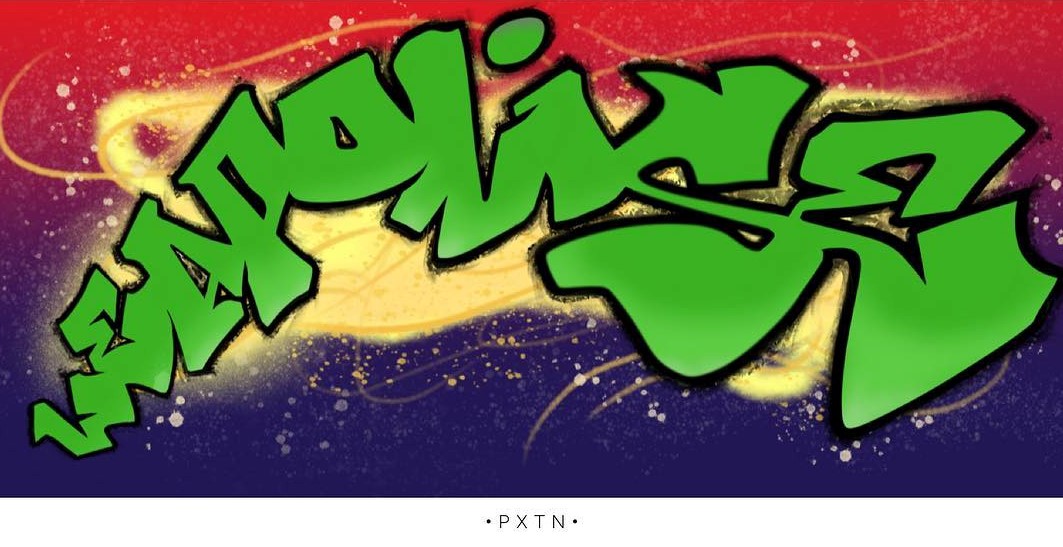 "Weaponise" – PXTN, 2018.
At the time of writing this article PXTN is currently using his design and creative skills to work on a personalised clothing line that is available to view and purchase via an online shop called PXTN Design. The clothing designs range from personalised name displays to a variety of unique characters and lettering that draws inspiration from PXTNs early work as a graffiti artist and logo designer. An example of PXTN's recent work is shown in the below image: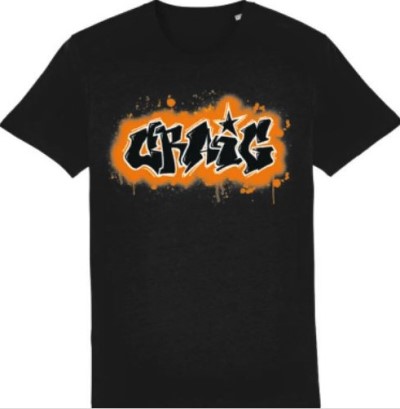 "t-shirt" – PXTN Design, 2021.
For further information on PXTN please see:
To keep up to date with Break to the beat news, projects and events please follow our social media pages.