Mr Lusta discovered Hip Hop music and culture during the 1980s and became a participant in several of its elements throughout the 1990s. in 1991 while attending Buckingham secondary school Mr Lusta (then known as Escape) joined Buckingham Hip Hop collective UnderCover Prophecy (UCP). As the 1990s progressed Mr Lusta studied sound recording and co wrote\produced music for local Hip Hop crews Phase 4, Crazy Options and True Element.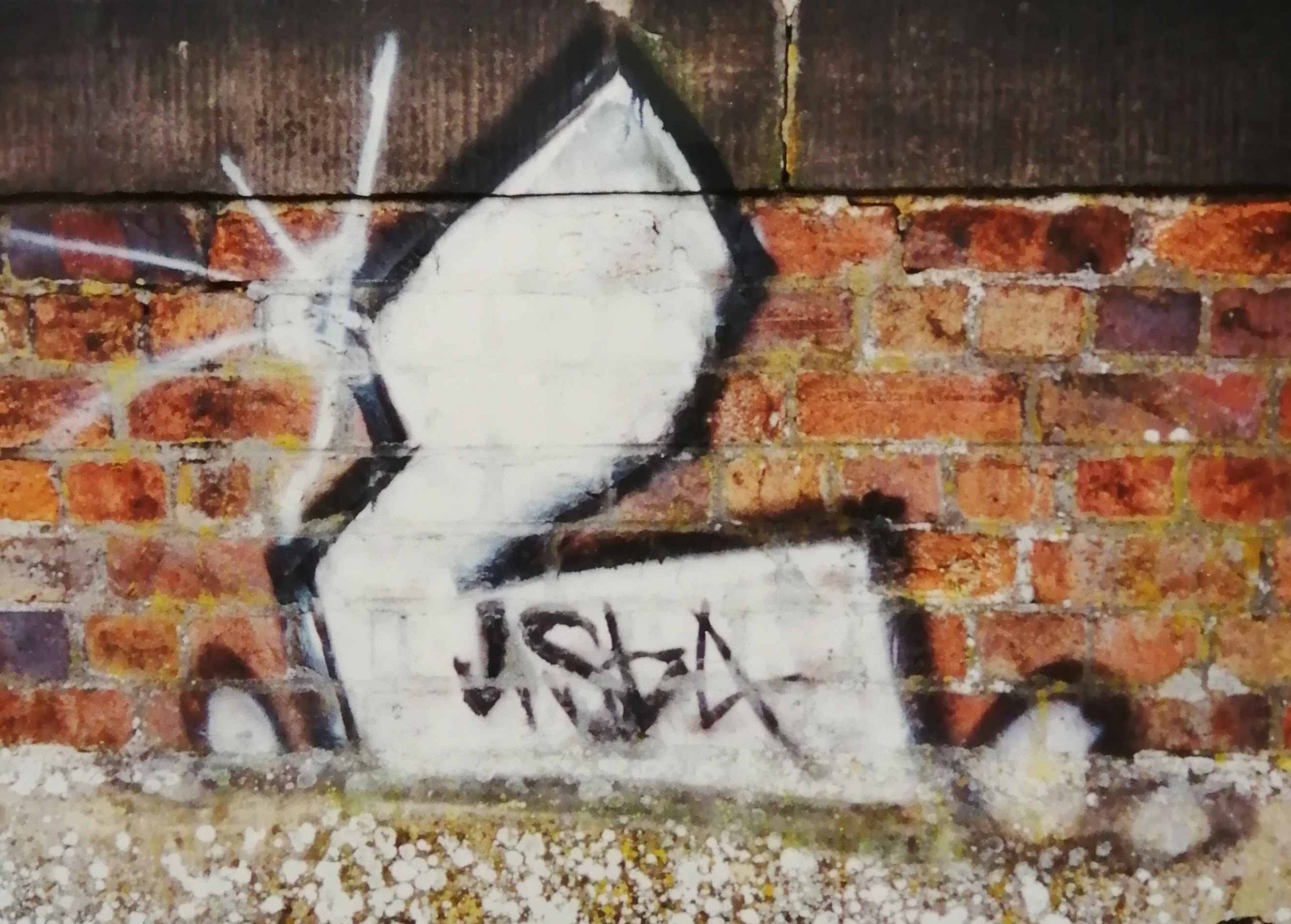 "Lusta" by Mr Lusta – Buckingham, 1994.
By the early 1990s Mr Lusta who at the time was using the name tag Escape had already begun experimenting with graffiti art, street dancing and rapping. Kraze One approached Mr Lusta shortly after UCP formed and invited him to contribute to the project. UCP were primarily a street dance and graffiti collective that evolved to incorporate the creation of Hip Hop music. Mr Lusta contributed to the establishment of UCP as a local Hip Hop crew.

"Dub" by Lusta – Buckingham, 1994.
UCP gradually disbanded towards the end of 1992 as most of the members left full time education. Mr Lusta remained an active graffiti artist throughout the early-mid 1990s regularly creating murals for local events as well as painting in and around Buckingham. In 1994 at age 18 Mr Lusta undertook a part time sound recording course at Audio lab studio that lead to the creation and release of his debut recording as part of Hip Hop crew Phase 4.
"Graffiti artwork" by Mr Lusta – Buckingham, 1994/5.
Phase 4 formed in 1994 as a result of a recording created by part time students Mr Lusta, Kraze One, Lady Of Funk and Mr Delta while studying sound recording at Audio lab studio located in Buckingham. The demo recording was overheard by DJ Halo who expressed an interest in releasing the track while using Audio lab for a mastering session. In 1995 Phase 4 developed their composition entitled "Positive freestylin'" further with studio engineer and mentor Nigel Neil.
"Positive freestylin'" Phase 4 – Redshaw, 1995.
"Positive freestylin'" by Phase 4 was released in March 1995 on Redshaw recordings and formed part of a compilation cassette compiled by DJ Halo entitled "Window maker". The composition appears on Side B track position 3 of the cassette tape and was written, produced and arranged by Mr Lusta and Phase 4. The "Widow maker" cassette tape also featured recordings by Halo, Iceski, Glen Woods, Kraze 1, Toneade, TNT, and DJ Trail.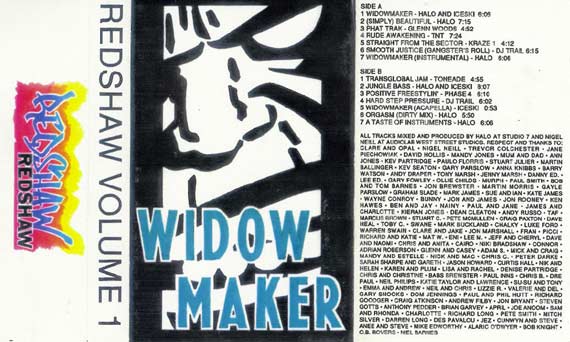 Widow maker cassette – Redshaw, 1995.
Phase 4 only created a single recording and shortly after its release some of the members began to pursue interests outside of making music. Mr Lusta continued to study sound recording and during the summer of 1995 formed Crazy Options with Kraze One and Danny Cooli. The collective was initially formed by hosting a DJ event in one of Buckingham's high street bars called Tudor rock which led to other opportunities to play at local events throughout the summer.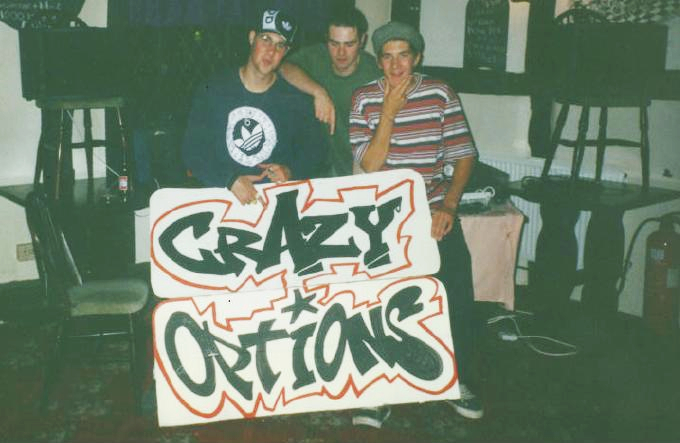 Crazy Options Crew – Tudor Rock, Buckingham, 1995.
Crazy Options also got the opportunity to create a basic demo as part of the sound recording course that Mr Lusta and Kraze One were still undertaking. The process started as a jam using a pre produced breakbeat instrumental with Kraze One and Mr Lusta performing some new lyrics over the top. Danny Cooli then added additional break beats, scratches and cuts using turntables. The recording would later become the blue print for a Kraze One produced composition entitled "Take a look around".
Crazy Options "Take a look around" – Demo recording, 1995. 
Crazy Options were invited to perform live at a music and dance event held at Buckingham university in September 1995 which provided the group with an opportunity to perform their new materiel. Crazy Options were joined by Lady Of Funk who also performed as a dancer and a rap vocalist during the show. The below footage was captured during the event that was hosed in a venue called the Radcliff center located in Church street, Buckingham.
Crazy Options "Live performance" – Buckingham University, 1995.
Shortly after the above performance was filmed Mr Lusta left Buckingham to attend Sunderland university where he began to study a degree in media. Between 1995 and 1996 Kraze One began to explore Hip Hop production which led to the creation of an original backing track for the Crazy Options recording mentioned earlier in this article. Mr Lusta re-recorded his vocals on the new backing track during the summer of 1996 after completing his first year of university.
Mr Lusta & friends – Buckingham, 1996.
Mr Lusta and Kraze One DJed and performed live together several times during 1996 but the recording was not completed and released until 1997 when DJ Maniphest added the scratches and cuts. Kraze One independently released the recording entitled "Take a look around" as a cassette and CD single in May 1997 under the collective name of True Element via One On One Productionz. The recording can be heard in the below insert:
True Element "Take a look around" – One on one productionz, 1997.
"Take a look around" by True Element was the last musical release created by Mr Lusta to date. Mr Lusta contributed to several of the early True Element live performances during a time when the project was expanding to incorporate live shows and increase awareness of their presence on the local music scene. In the late 1990s Mr Lusta graduated from Sunderland university and relocated to London to work in the media industry where he continues to explore art and media as a creative outlet.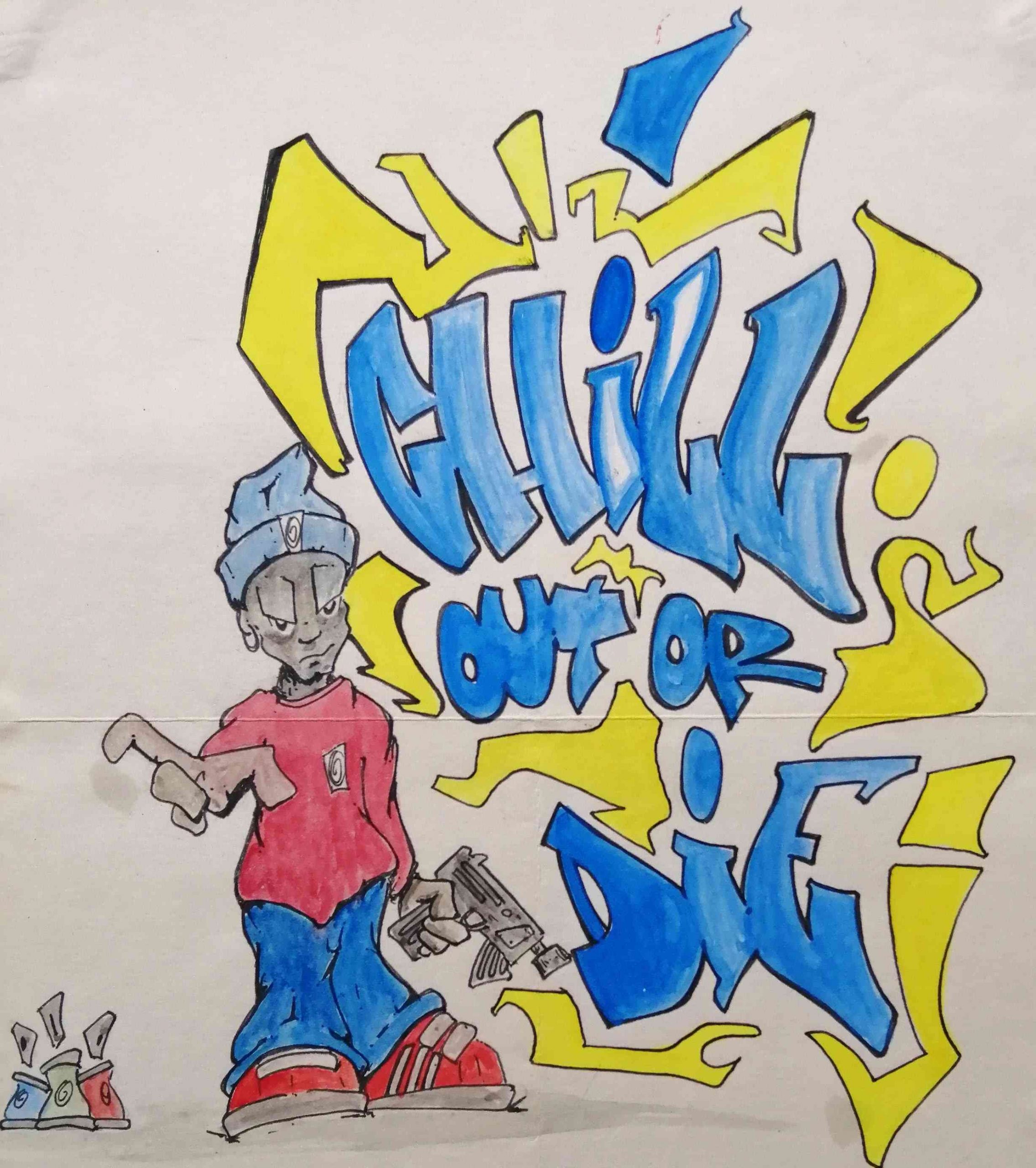 "Chill out or die" painting by Mr Lusta, Late 1990s.
For further information on Mr Lusta please see:
To keep up to date with Break to the beat news, projects and events please follow our social media pages.