For those that don't know The Criminal Minds are a hip hop crew from Milton Keynes, England consisting of rappers Iceski, Safe-D, Grafik and DJs Spatts and Halo. Following the release of their recent "Regroup the loops" EP I caught up with MC Iceski to find out about how TCM contributed to and helped pioneer the British and local hip hop scene.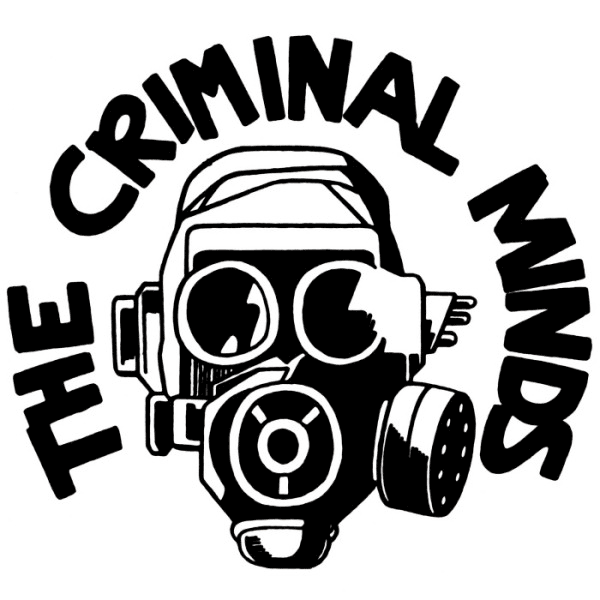 So tell us how The Criminal Minds crew formed. 
Well, this is well documented, but the short version was that I met HALO at Bletchley college where SAFED was also studying.  We hooked up, started writing together & TCM was born as a rap crew, previously being a Graffiti outfit in Buckingham.   I used to hang with Spatts from the breakdancin' days & we all got together & the rest is history.  My brother Warren (Grafik) was always there & it was great to have him as part of the crew from the early days.
What inspired you to start rapping/writing lyrics and how old were you when you discovered hip hop?
I got into Hip hop in the mid 80's, it started with break-dance', and I remember the whole New York scene and culture at the time just blew me away.  Graffiti, Break-dance', Hip Hop music, the clothing, DJ's scratching, Mc's, man I was totally hooked.  At first it was purely the dancing, breaking out the cardboard and forming crews to battle.  As time progressed I got more and more into the music, listening to Mike Allen and taping everything I could to play on my stereo.  Soon I started writing my own lyrics and producing beats from drum loops using my trusted tape recorder.  We used to spend Sunday night recording live tracks over and over again, with me scratching' on an old turntable I had with my good friend John Rouse.  We used to call ourselves the "Supreme City Rockers", ha ha, that gives you a flavour of the time…
Were you influenced by any other rappers?
Yeah listening to my style and the sound I project when I MC I was very influenced by the times.  PE were a big influence, Eric B & Rakim, LL Cool J (early stuff only), Mantronix, KRS1, and the list goes on.  I guess I always had that hard edge to my voice, nasal and high pitched as we always did tracks that were fast and firin', like Hip Hop in it's early days.  Did I imitate an American voice? I used to think that maybe I did but now looking back I am not so sure, a sound of the time maybe?
To be honest many MC's influence me, Safe D used to blow me away with the lyrics he would write and that would spurn me on to write better ones, with a harder flow, that was faster.  Even now when I write I listen to lots of other MC's as this inspires me to write that better line..
As well as the music, The TCM posse were also a collective of Graffiti writers. I remember seeing pieces by Chaos, Chase and Halo around my local area.  Did you ever get involved in the writing side of the hip hop culture at all?
Yep – like us all I explored all elements of Hip Hop & was regularly doing pieces in MK, in the parks & underpasses.  Chase was the master though, a real talent who designed a number of TCM covers.
BETA – By Chase – Buckingham – Late 80′s
CHAOS – By Chaos 2 – Milton Keynes – Early 90s
TCM – By Chaos 2 – Buckingham – Early 90s
DJ Halo used to work with a rapper called MC Tres and they released a cassette called "True Tres Trax" around 88/89. Also I remember DJ Spatts working with a crew called British Dialect. Was this prior to TCM forming or was there a cross over point where you all worked together?
Well Tres was a cool dude from Buckingham & had been working with Halo as you know.  We did work together at one stage and we recorded one track in about 1989, me Tres & Halo.  It was a wicked track, long lost now and used the hook from "Boogie Down Bronx" by Man Parrish.
As for British Dialect they were a crew Spatts was working with, there was a very talented MC with a very fast flow & firin' lyrics.  This was Spatts side project & they pulled together a number of strong tracks.  We were planning to do a live show with them early 90's but it never happened in the end…
Before the official release of "Guilty as Charged" there was a tape circulating Milton Keynes area that contained several of the tracks that would later make the final EP, Did TCM ever send any copies of the demo tape to record labels prior to the release of "Guilty as charged?  Or was the aim to set up a record label independently from the start?
Well the tape was the forerunner for "Guilty As Charged", me & HALO were getting serious with the music and wanted to take it a step further.  Copies of the tape were very limited, with a cover by Chase 1 it was the first taste of TCM.  A 4 track tape with TCM – The Name Of The Posse, Our Music Is a Mission, Ragga Style and Prepare For The Halocaust.  I don't recall any demo's being sent off but you never know it was a long time ago.  We want to get a copy & clean it up & see what it sounds like, would be great to hear those old tracks.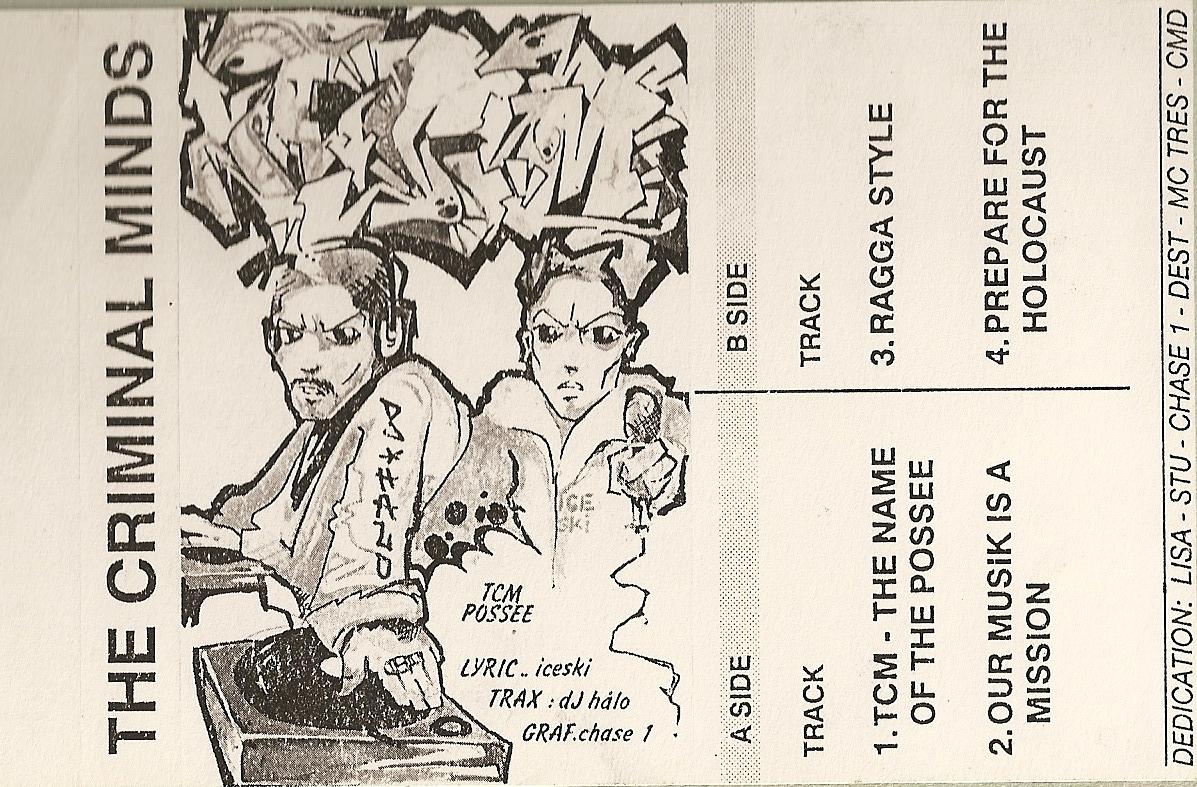 So "Guilty as Charged" was released in 1990 on TCM Records. Did you manage to get any wider distribution deals with the EP other than selling copies yourselves?
To be honest we did work with Assassin Records to distribute Guilty As Charged and in the end we managed to shift all the copies we had & made enough to fund the next release.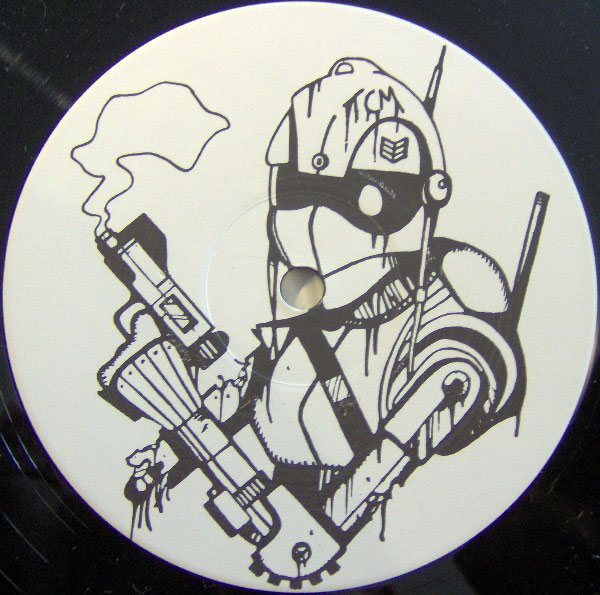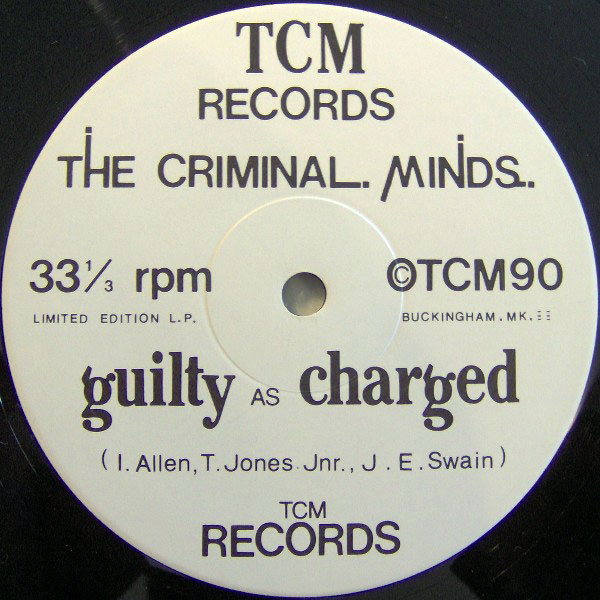 At the time "Guily As Charged" was released there was a bit of a backlash from the media and the music industry towards hip hop and how it was'nt proper music. How did this effect getting gigs/Radio airplay?
We never got any airplay anyway so didn't need to worry.  TCM was never about acceptance or mainstream, just a small town crew doing their own thing & having fun with it.  I do recall at the time there was a huge backlash on sampling with the media making a huge deal of it.  Some top Hip Hop artists of the time were taken to court and there was a real focus on protection of rights, man we just went ahead & did our thing anyway.
Safe D and Grafik (CMD) both  made cameo appearances on "Guilty as charged" but featured a lot more on "Tales from the wasteland" was there a group decision made to incorporate more vocalists or did this just happen naturally?
It happened naturally.  Both Grafik & SafeD has been involved in the early days of TCM & were always part of the crew.  However, in TFTW we had the chance to showcase what they could do & the result was awesome.  TFTW was a great fun to make, we were really rollin by then & Systems Overload just blew me away at the time.
The Criminal Minds "Systems overload"

So when and where was your first gig? And was this with TCM?
Hmmm to be honest I cannot remember our first gig, must have been mid 80's.  The gig we did at "May Daze" 1991 stands out as one of my favourites from the early days.  That was the first time we played at a big event & it was amazing, we got mad props & the live set was a killa!
Queen Latifa performed at Rozells in Bletchley at some point in the late 80s before she was an international superstar. Also uk hip hop pioneers the Sin-De-Cut recorded their first two 12" records  in Bletchley with Evil Eddie Richards in 87/88. Was there much of a local hip hop scene in Milton Keynes in the mid-late 80s?
Well there was a good vibe going on in UK Hip Hop in those early days but the scene in MK has always been a struggle.  There were a few outlets for music but most of what we did we had to put on ourselves.  I guess that way we also had total control.
Do you remember hearing any other crews from the local scene /area?
We did hang out with a crew from Northampton for a while, Rhyme & Reason – two Mc's who had a really unique sound.  They ended up recording the lyrics on "Make It Mine" by The Shamen also involving Eddie Richards.
In the mid to late 80s turntableism and scratching were both prominent features in hip hop records on both sides of the Atlantic. I felt that hip hop from the UK focused a lot more on turntable skills and the DJ was very much at the forefront with the MC of the overall product in the late 80s/Early 90s with the likes of Hijack, Hardnoise, Gunshot, Blade, MC Mello, Black Radical Mk2, Katch 22, Etc.
Why do you think scratching excelled in the Britcore/Hardcore UK hip hop scene as opposed to in the US/East coast scene?
The DJ's were just as important as the MC's.  Scratchin' was a key element of the sound and fused with the beats & lyrics.  Halo was an awesome scrath DJ, I had huge respect for him & he was layering scratches long before anyone else, who else put out a track like "Section 12 Paragraph Zero".  Pure scratch indulgence & something we still love today.
The Criminal Minds "Section 12 Paragraph 0″

So after Tales from the wasteland came "Dance of the parasites" which started a natural progression towards the emerging rave scene which TCM also played a big part in. Due to the nature of dance music the MC's and vocalists are not naturally at the forefront like they are in hip hop music. What Role did you and the other rappers play in the rave scene if any?
Well it was a time of real change for us.  We had written some strong TCM tracks, "Shades Of My Ruffness" being one but we got hooked into the Jungle scene pretty quickly.  Before long the whole dynamic of the group had changed & this did cause us some problems at the time.  The DJ's became the prominent force with the MC's being primarily used for the live sets.  That said it was an amazing time, it was a shame we stopped recording the Hip Hop tunes then as we were peaking, but hey we have no regrets.
During the mid 90s I remember you and DJ Halo recording several tracks together one of which was Widow maker. This became the title track for a project that involved DJs, Rappers and producers from Buckingham and MK. I also remember an early version of "Diary of a madman" that was tagged on to another one of DJ Halos projects a few years later. Are there any other hidden gems from those days that people are yet to hear?
Well there was yes but the bad news is they never got recorded.  I produced some of the best lyrics I have ever written during that time.  One song in particular really stood out lyrically but then disaster struck.  After a session at Halo's I left a batch of hand written lyrics round his house & by accident he threw then away.  We spent ages looking for them but they never reappeared!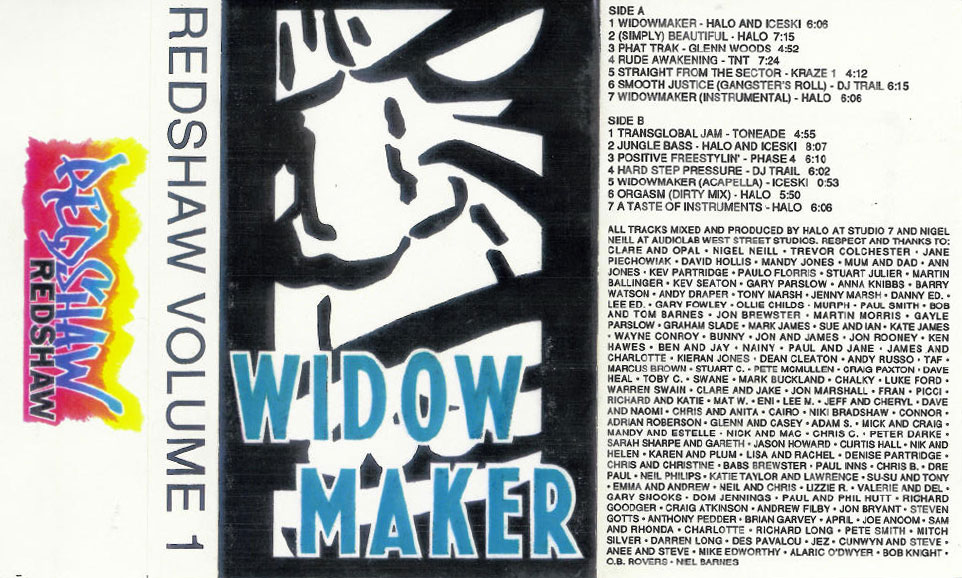 In 2001 the TCM rappers regrouped with DJ Halo to make the "Widow Maker" full length LP shortly followed by the "Break Shit Up" EP. This lead to further popularity in Europe, and live shows in Germany and Sweden. How was the experience of performing in Europe for you and the group?
The experience was crazy. We played Zug, Switzerland in 2001 & it was off the hook, completely crazy, a full club with maybe 300 people, signing records, pictures, we were treated like royalty. It took us by surprise as the scene was so alive out there. We met some real cool dudes called "The Positive Pressure Crew" who are still around today putting on Hip hop gigs & keeping the scene going. We also got booked to play Hamburg & it was another amazing gig, cool club, wicked people & the crazy weekend. The gig blew up big time & it was amazing, another rocking night. Met some fantastic German's who knew everything was to know about the UK scene & were serious collectors. We are still good friends & have collaborated on the "Mo Witch Project" as 12", I visit Hamburg regularly now.
Mo Witch Project "Weapon of choice"

Moving to more recent events 2011 saw the release of almost the entire back catalogue on a double CD with the added bonus of the systems overload demo version.  This has been great for people that did not get a chance to obtain a copy of the previous work and a good opportunity for younger fans to experience TCM's music.  
Yeah – it was something we thought would never happen.  We were frequently asked if we would repress "Guilty As Charged" and "Systems Overload". Halo was working on material as he always was & was chatting with Hip Hop heads across the country & stumbled across Grant from Rephlex Records who was a fan back in the day & wanted to release the back catalogue.  We didn't make it easy for him, the deal took over 12 months to pull together & finally in early 2011 the back catalogue was released.  It has got some great feedback & you know what, I am sure we have picked up some new TCM fans along the way.
The Criminal Minds "TCM" Double CD available now on Rephlex

List Price: $ 17.98
Price: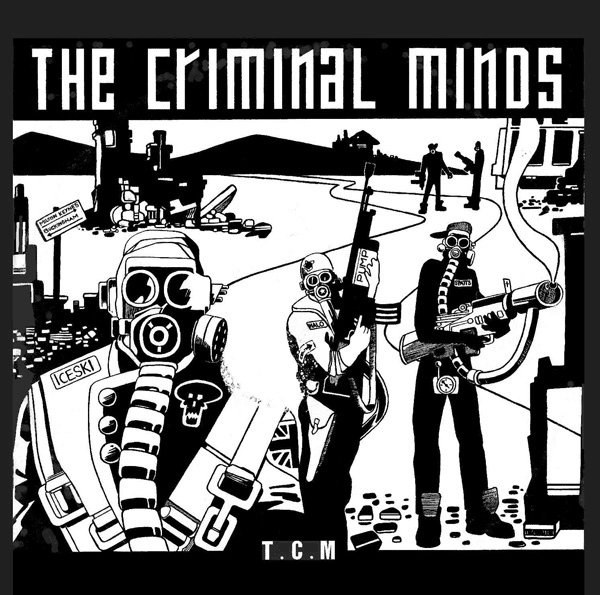 Finally moving on to the latest release "Regroup the Loops". A totally brand new 6 track EP currently on Vinal only but due for release digitally next month. The TCM rappers are reunited with DJ spatts on the beats. The EP has a classic Britcore sound reminiscent of Gunshot, Hijack and featuring more scratch DJs than Son of Noise! The opening track "On the run pt 2″ features all the TCM MCs and is accompanied by a professional video. Tell us about the new EP and the future plans for TCM?
"Regroup The Loops" was released in October 2011 & is the latest instalment from TCM.  It features all the MC's with tight hard production from my main man Spatts.  I really feel this EP is a return to form, capturing the rawness of the early sound with hard new edge.  The EP has gotten rave reviews from the serious Hip Hop heads & I hope will become another sought after TCM release.  We have more plans, more releases proving there is life in these old dogs yet.
The Criminal Minds "on the run pt 2″

Regroup the Loops EP now available on Fat Hop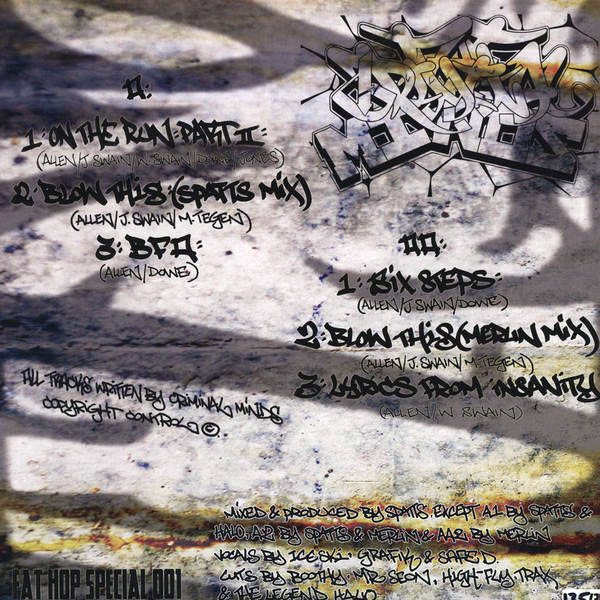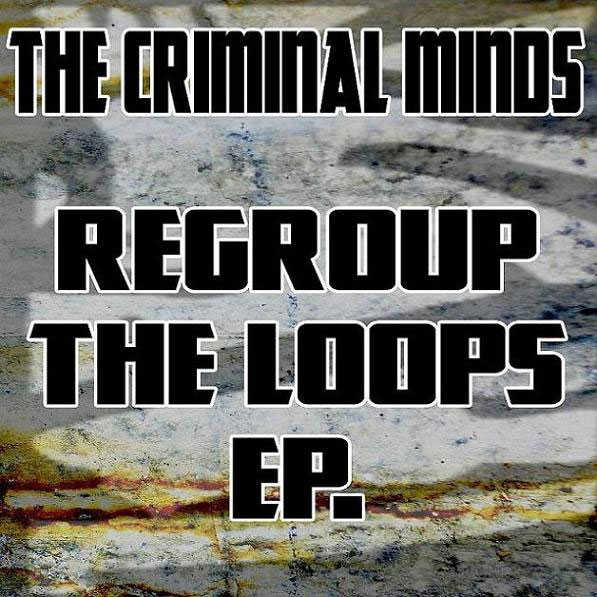 Follow The Criminal Minds on Facebook at:
http://www.facebook.com/pages/The-Criminal-Minds/141456562546247?sk=info