Welcome to the second chapter of the True Element story. To read chapter 1 please visit: True Element (Chapter 1).
In this section we will be documenting True Elements achievements during the later part of 1998 and 2001 which is when the project expanded from it's foundations of recording to include performing live, first locally and then nationally. Towards the end of this chapter we will also document the completion of unfinished demos from this period by DJ Kraze One, MC Killa Joul & DJ Maniphest in later years.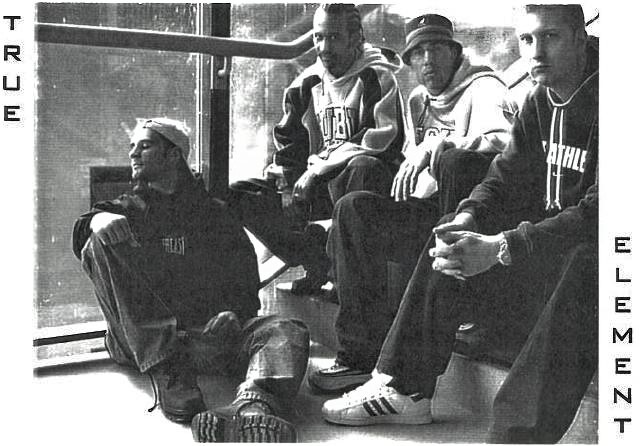 For True Element to progress DJ Kraze One knew that the project had to develop from recording and releasing music to performing and promoting the creations in a live environment. By the end of 1998 DJ Kraze One's persistence had established True Element as a local Hip Hop crew with two independent releases "Take a look around" and "The True Elementalz EP" accredited to them. The releases featured contributions by DJ Maniphest, Mr Lusta, Hysko, Tony Mac, Killa Joul and although some of the collective had began to take light steps in to performing live there was not a enough collective will to organise and establish the project as a live crew during the early years.
On DJ Maniphest's recommendation Kraze One approached rapper Fa-Real about collaborating on a new track that also involved MC Killa Joul who had previously featured on The True Elementalz EP.  DJ Maniphest had worked with Fa-Real on an earlier project that predated the establishment of True Element. In the late part of 1998 DJ Karze One, DJ Maniphest, Fa-Real & Killa Joul met up in Audio Lab studio Buckingham to record a brand new DJ Kraze One produced track that would become  known as "Triangular lyrification". This collaboration is what marked the start of the second chapter of the True Element project.
True Element "Triangular lyrification".
Shortly after and following the same formula all four members returned to Audio Lab studio to record the second instalment of new material entitled "Life time mission".
True Element "Life time mission".
MC Killa Joul departed from the project for a while in early 1999 so True Element continued for a period as a trio. At this point the focus was still on recording new materiel. DJ Kraze One, Fa-Real and DJ Maniphest reconvened at Audio Lab studio to record the third composition entitled "Responsible", which followed the same formula as the previous tracks with with DJ Kraze One producing the beats, DJ Maniphest providing scratches, and vocals by Fa-Real & Kraze One.
True Element "Responsible".
By mid 1999 word of what True Element were doing was starting to get around. DJ Kraze One continued to send out tapes to DJs and record labels of the True Element recordings along with other projects that he was producing. During the same period DJ Maniphest was also producing and recording his own materiel which he was independently promoting. Both DJ Maniphest and DJ Kraze One continued to DJ at parties and events both locally and nationally and in July 1999 True Element were asked perform live and play support Manchester's Jeep Beat Collective in their home City of Milton Keynes. This would be True Element's debut live performance.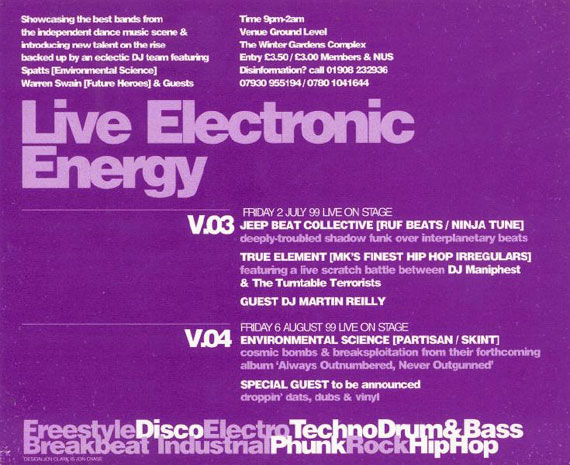 To make the live show more interesting and to include more of a dynamic True Element invited singer Laura Christy to join them for the performance. DJ Kraze One had recently been producing a solo track for Laura Christy which she performed as part of the True Element live set. True Element and Laura Christy also wrote a brand new track entitled "True Feelings" for their debut show which they recorded shortly after.
True Element "True feelings".
Performing live had been a positive experience for True Element and inspired them to seek other live opportunities to perform and promote their music. During the rest of 1999 True Element's focus was to establish themselves as a live Hip Hop crew in their home City of Milton Keynes. During the later part of the year DJ Maniphest and DJ Kraze One began to organise Hip Hop events that would feature True Element. The reason for this was due to a lack of opportunities in the City for Hip Hop artists. Below are a few images from this era…
True Element 1999.
At the same time as performing live True Element were also working on new materiel. keen to capitalise on the performances and live shows DJ Kraze One compiled and produced a new True Element CD entitled "Unmanufacturable". The CD featured all the tracks described in this section so far as well as a handful of new materiel and some instrumentals. The cover was designed by graphic designer Matt Meech who had designed both of the previous True Element releases. In January 2000 True Element organised and held an album launch party in a club called Bar Central which was a popular venue for independent artists and musicians located in Central Milton Keynes.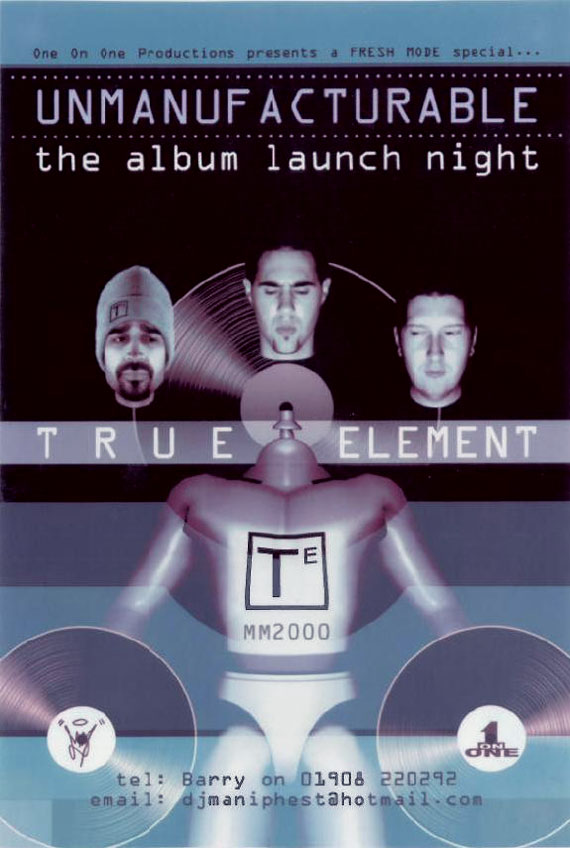 Unmanufacturable album launch flyer by Matt Meech.
By the year 2000 it had become clear to both DJ Kraze One & DJ Maniphest that there was only limited opportunity available for Hip Hop artists in Milton Keynes. DJ Maniphest & DJ Kraze One both naturally progressed to networking at Hip Hop events out of town where there were more opportunities to connect with people from the music industry. The True Element project continued but was centred around the local music scene in Milton Keynes. During the year 2000 True Element continued to record new materiel when financially possible keeping to the same formula as described earlier in the article.
True Element "The truth will out".
As producer, DJ Kraze One was also able to remix and rework several of the recordings by using accapellas taken from previous studio sessions. This was a cost effective method of generating more tracks as all the production could be completed in DJ Kraze One's home studio using the Roland S7:50 sampler.
True Element "Responsible remix".
As the True Element project progressed further DJ Kraze One began to experiment with production by incorporating live musicians. The below recording is of a track entitled "Let your mind be free" and is the first True Element recording where this technique was used. "Let your mind be free" features singer Laura Christy and keyboardist Nigel Neil (The Jedi Master).
True Element "Let your mind be free".
In July of 2000 True Element re-united with MC Killa Joul for a live performance at an event held in Campbell Park Milton Keynes called Global Festival. This event marked the start of an expansion of the True Element vocal line up which became more of a collective as the project progressed. By this point DJ Maniphest had successfully signed several independent releases to a number of record labels and both he and DJ Kraze One were involved in contributing to Hip Hop events across the UK as a result of this. DJ Kraze One was also producing beats for a handful of local singers some of which would contribute to True Element's live shows firstly in Milton Keynes and eventually as momentum built further afield.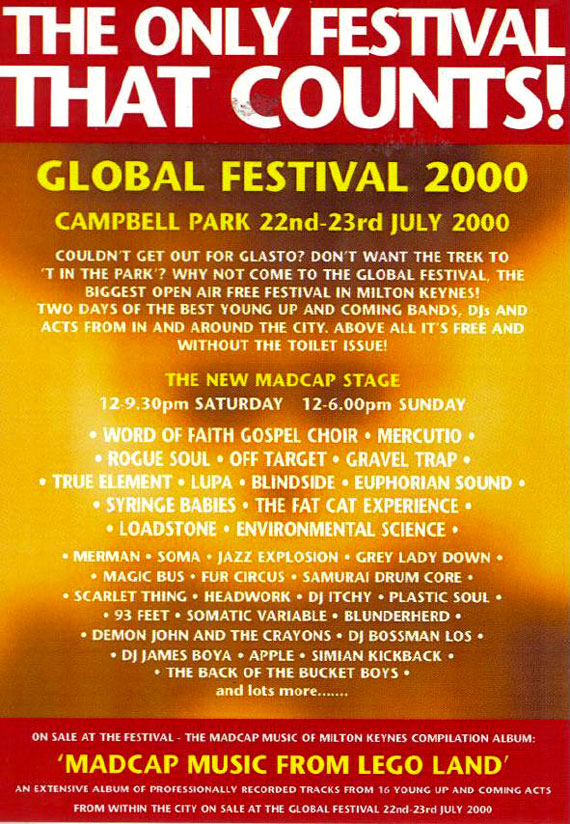 The constant networking out of town eventually lead to opportunities for DJ Kraze One to independently sign and release some solo materiel and by 2001 both DJ Maniphest and DJ Kraze One had several independent releases accredited to them. This indirectly provided a bigger platform for the True Element project as they were able to capitalise on the releases and link them back to the collective project in Milton Keynes.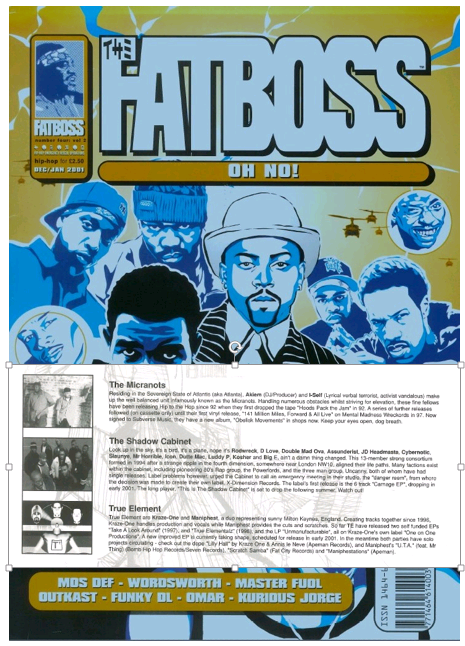 Fatboss magazine January 2001 edition.
In 2001 True Element returned to Audio Lab studio to record what would become the title track for a new and final recording project during this chapter. The project was entitled "The road less travelled" and this was the first of two recordings used by DJ Kraze One & DJ Maniphest to promote True Element's music. Although DJ Kraze One was still producing the beats for True Element, DJ Maniphest was also contributing to production by selecting samples and ideas for the project. By this point True Element was evolving in to more of a collective effort.
True Element "The road less travelled".
The second of the True Element tracks prepared for promotion was a rework of a composition entitled "Jedi mind trix". Production was also a collective effort between DJ Maniphest and DJ Kraze One and was a rework of a version that appeared on the Unmanufacturble CD documented earlier in the article. Between these two tracks each member of the crew was represented and both were promoted and networked via a promotion CD by DJ Kraze One and DJ Maniphest at Hip Hop events they attended in the UK during 2001.
True Element "Jedi mind trix".
Eventually True Element received invitations from outside Milton Keynes to perform live at events and on radio shows. This is what DJ Kraze One felt was needed for the project to progress from being seen as a professional local Hip Hop crew to professional UK Hip Hop artists. DJ Kraze One was hoping that the opportunities of being able to perform and experience events outside of the local circuit would inspire progression of the project from within the collective. The below slideshow contains images of events attended by True Element between 2000 – 2001.
True Element 2000-2001.
During the summer of 2001 is when True Element solidified as a collective and progressed to making decisions as a group. By this point DJ Kraze One felt that it was important to distinguish the True Element project from his own leftfield Hip Hop and Soul production work and for the first time since the inception of the project took a step back to enable the project to diversify. This was a period where all members of the collective were working on their own projects many of which interconnected with each other. DJ Kraze One's aim was to work with True Element to produce a new body of work to reflect the evolution since the recoding of "The road less travelled" and the reworking of "Jedi mind trix" which were already being promoted. The below intro was also put together by DJ Kraze One for the new project.
True Element album intro.
From this new collective approach emerged a wider range of ideas and more diversity. Another substantial development during this period was the result of a collaboration entitled "Human interest story" between MC Killa Joul, Singer Kathryn Peck, Guitarist Paul "Fresh Strings" Fawcett and DJ Kraze One. After the creation of "Human interest story" which was headed up by Killa Joul, Fresh Strings began to perform live with True Element.
Killa Joul "Human interest story".
The final part of True Element's second chapter concluded with two live performances both of which were in Milton Keynes, and the release of a fourth True Element CD entitled "The road less travelled". As a Hip Hop crew from the late 90s True Element had to work hard at creating opportunities, working with promoters, and building platforms to enable progression of their project. During the year 2000 True Element took a decision to call out a local press organisation for lack of support for Hip Hop music while performing at a Milton Keynes festival. The same organisation responded to True Element on several occasions in print which is what prompted the first of the final 2 live shows in this chapter. The second live show occurred as a result of True Element, the local press organisation, and it's affiliates working together in unity to create and jointly promote an album launch.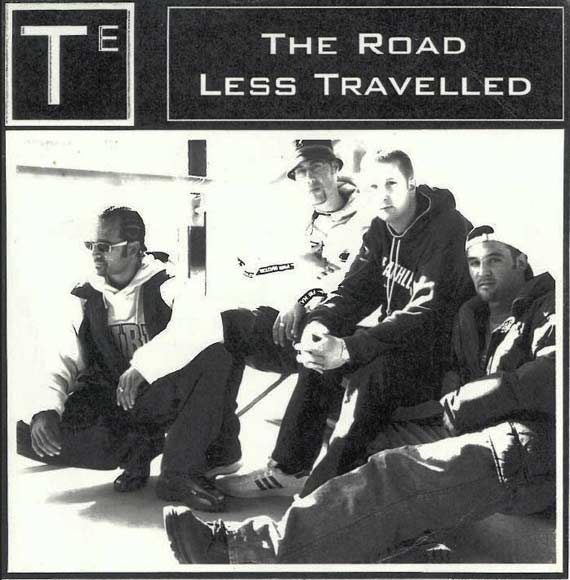 In August 2001 True Element collectively decided to respond to the criticism of their comments made in 2000 by entering a battle of the bands competition associated with the local press. True Element were advised that due to a technicality of "not having a full live band" they were unable to progress passed the heats to the final of the event but the performance was incredibly well received by the full to capacity venue of mainly rock fans who welcomed the diversity of True Element's live show. After the event True Element were able to rebuild their relationship with the gate keepers of the local music scene who continued to support the project in future years. A few months later True Element organised the launch of their fourth CD EP entitled "The road less travelled" at the same venue.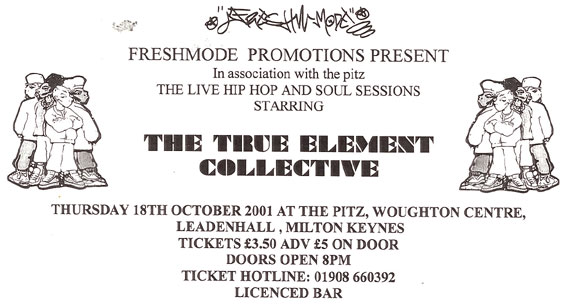 The road less travelled recording project marked the end of True Element as a traditional Hip Hop crew for several years. At this point True Element were still very much centred around traditional Hip Hop but the project had diversified to include  contributions by musicians Fresh Strings and The Jedi Master, with singers Laura Christy, and Kathryn Peck. Production was now also becoming a joint effort between DJ Kraze One, DJ Maniphest, and Killa Joul. The idea of "The road less travelled" was that it could be used as a promotional tool for any of the artists involved in True Element to promote themselves and the group.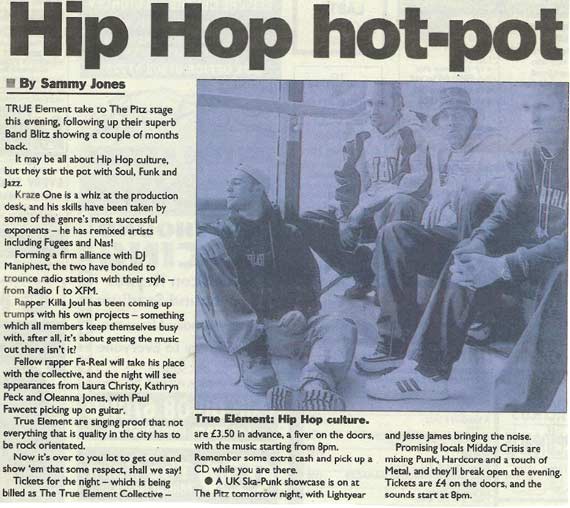 This is where chapter 2 of the True Element story concludes. All future progress would be a result of collective input from the members of True Element as opposed to DJ Kraze One heading the charge as in previous years. In the final part of this chapter we will document creations from this era that at the time were incomplete but were revisited in later years when True Element had evolved in to a live band.
In the summer of 2003 DJ Maniphest, Killa Joul and DJ Kraze One reconnected with the aim of recording a 3 track single as a tribute to the Hip Hop sound True Element established during their early years. The production work had already been completed by DJ Kraze One during the 1998-2001 period but the vocals had never been recorded. The first of the new 3 tracks was a rework of "Ground level" that appeared on True Element's "Unmanufacturable" CD in 2000. Since it's initial release DJ Kraze One had revisited the production and made several amendments creating a more professional sound. In 2003 in what would be a one off studio session at Audio Lab DJ Kraze One and DJ Maniphest recorded the new version of Groundlevel.
True Element "Ground level rework".
The second track scheduled to be part of the planned single was entitled "Ground level part 2" and was a follow up that had been recorded in demo form by Kraze One and DJ Maniphest in early 2003. The aim was to re-record the demo to a professional standard using Audio Lab studio but the project failed to materialise and "Ground level 2" only made it to a demo stage.
True Element "Ground level part 2 (demo)".
The third track entitled "Do you remember?" was started during 2003 but remained unfinished until 2013 when DJ Kraze One and Killa Joul reconnected and finished the recording. "Do you remember?" features extracts from a live interview conducted by DJ Frannie who was a radio presenter on Leicester radio station Demon FM in 2001.
True Element "Do you remember?"
The final revisited recording from this period was also completed in 2013 by DJ Kraze One and Killa Joul. During the period documented in chapter 2 DJ Kraze One had also remixed a composition entitled "The truth will out". The original version was created while True Element were a trio and the rework evolved to feature Killa Joul but was never finished as originally planned. Using accapella's from the original version and a demo version created with Justice of the PZK Crew, DJ Kraze One fused his and Fa-Real's verses with the backing track that featured DJ Maniphest's original scratches. Killa Joul wrote and recorded a third verse in 2013 which was added to the final mix.
True Element "The truth will out rework"
Shortly after DJ Kraze One put together a True Element CD Album entitled "The road less travelled" to reflect as much of the period covered in chapter 2 as possible. A selection of the completed tracks were also uploaded to the True Element Soundcloud page to play and download.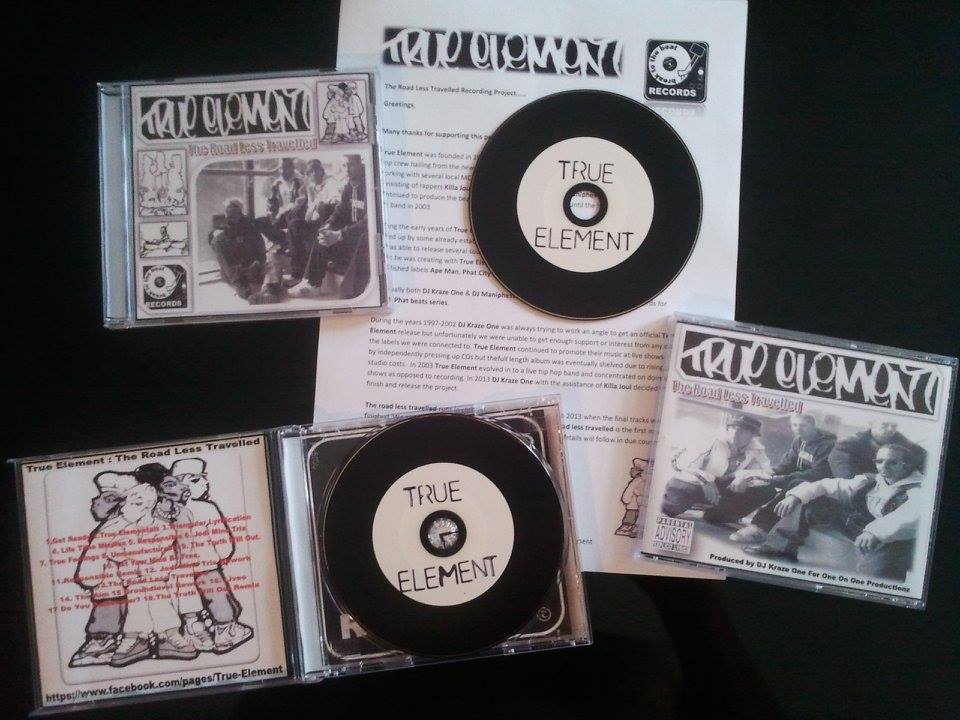 This concludes the second chapter of the True Element story. To read chapter 3 please visit: True Element (Chapter 3).
For further information on True Element please visit True Element on Sound Cloud and True Element on Facebook.
To keep up to date with Break to the beat news, projects and events please follow our social media pages.