Like the Amen drum break documented in the first of the Classic Break Beats series  the "Funky drummer" by James Brown has also had a huge imprint on popular music. The drum break has been sampled, chopped up and incorporate in to musical creations across genres now for generations. From classic Hip Hop artists like Public Enemy, Ultamagnetic MCs, and N.W.A, to pop artists like George Michael, Kylie Minogue and in recent times Emili Sande, the familiar sound of the Funky drummer can be heard throughout the musical spectrum.
Below is an insert of the Funky drummer bonus beat reprise in case you are not familiar with this particular break beat:
James Brown "Funky drummer bonus beat reprise"
Now you are familiar with the Funky drummer break beat we are going to look at the influence it has had on modern music.
The song Funky drummer was recorded in 1969 and released in March 1970 on King Records as a double sided 7″ vinyl Single. The single contains two extracts entitled as parts 1 & 2 taken from a full length version of the recording that is 9 minutes 13 seconds long. Because of the length of the recording it would not have been possible to cut it to a 7" Record which can only hold about three and a half minutes of sound per side at optimum recording quality. Releasing extracts of long compositions was a popular method at the time especially with Funk music that would often be created on the fly by musicians jamming together. The Jam sessions were then edited to a suitable length within the parameters of the record (In the case of a 7″ 3.5 minutes or less)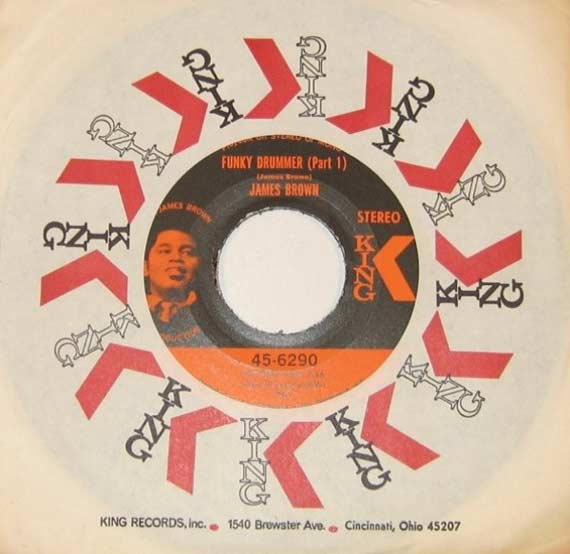 James Brown "Funky drummer" 7″ single 1970 King Records
The musicians involved in composing and recording Funky drummer were as follows and at the time of its release it reached number 20 on the American R&B Chart and number 51 on the American pop chart.
James Brown – vocals, organ
Richard "Kush" Griffith – trumpet
Joe Davis – trumpet
Fred Wesley – trombone
Maceo Parker- tenor saxophone
Eldee Williams – tenor saxophone
Jimmy Nolen – guitar
Alphonso "Country" Kellum – guitar
Charles Sherrell – bass
Clyde Stubblefield – drums
The below insert is of Funky drummer (part 1) which is the A side to the single:
James Brown "Funky Drummer" (Part 1) 1970 King
The next insert is of the B side Funky drummer (part 2) which contains the famously sampled drum solo at the end of the composition:
James Brown "Funky Drummer" (Part 2) 1970 King
The full length version of Funky drummer however was not released until 1986 when it appeared on James Brown's In the jungle groove LP. The album also contained a bonus beat reprise of Funky drummer that was edited by Danny Krivit and consists of various sped up loops of different drum sections of the track alongside some of James Browns popular vocal ad-libs as inserted at the start of this article.
The Full length version of Funky drummer can be heard below:
James Brown "Funky drummer" full length version 1986 Urban
An edited version of Funky drummer was also released on in 1986 on volume 12 of the Ultimate Breaks & Beats series which by the time had become popular among Hip Hop DJ,s and producers. DJ and break beat godfather Louis Flores edited Funky drummer so the drum break played from the start of the record unlike the version on the original 7″ single.
The below insert contains the version of Funky drummer edited for the Ultimate Breaks & Beats series:
James Brown "Funky drummer" (Ultimate Breaks & Beats vol 12) 1986
The "Ultimate Breaks & Beats" series are considered by many to be the building blocks for Hip Hop music as they popularised records containing drum solo's. The same records were popularised in the 1970's by DJs such as Kool Herc, Africa Bambatta, and Grandmaster Flash. By 1986 Hip Hop had become an established form of music and had already started to make it's way from the birth place in New York City to the rest of the world. Sampling technology was also just starting to enable producers to loop sections of records a technique that originated with Hip Hop DJ's using 2 turntables.
Below is a selection of Hip Hop music that samples James Brown's Funky drummer.
Sweet Tee "It's my Beat" 1986 Profile
Public Enemy "Rebel without a pause" 1988 Def Jam
Big Daddy Kane "Mortal kombat" 1989 Cold Chillin
Above The Law "What cha can prove" 1990 Ruthless
LL Cool J "Mama said knock you out" 1990 Def Jam
Paris "I Call him Mad" 1990 Tommy Boy
Son Of Noise "Dedication to Dennis" 1992 Kold Sweat
By 1990 the techniques of sampling and the Hip Hop culture had began to change the way music was made as it had given another avenue for creative outlet. The Funky drummer break beat had become so popular from it's use within Hip Hop that producers of pop music were starting to use the same production techniques for various releases. Artist from George Michael, to Kenny G, to Duran Duran, to Prince all utilised the Funky drummer break beat in there recordings.
Below are a few examples:
https://youtu.be/K3eaQr-bDiQ
Kenny G "G-bop" 1992 Arista 
Candy Flip "Strawberry fields forever" 1989 Debut
Sinead O'Connor "I am stretched on your grave" 1989 Ensign
Drummer Clyde Stubblefield along with many other members of the James Brown Band are now internationally recognised for their contributions to modern music. Hip Hop music especially would sound very different if the Funky drummer had not benn created.
Below is an inserted clip from a seminar where Hip Hop DJ/producer Marly Marl discusses with drummer Clide Stubblefield about the creation of the Funky drummer composition. Clyde also gives a demonstration of the drum solo:
Clyde Stubblefield "Funky Drummer"
Hip Hop DJs are also slowly becoming recognised for their contributions and influence on modern music and below is demonstration of some of the techniques needed to master the art of beat juggling by DJ Rob Swift using two copies of the Funky Drummer break beat:
DJ Rob Swift beat juggle tutorial using Funky drummer part 1
DJ Rob Swift beat juggle tutorial using Funky drummer part 2
Since sampling technology has allowed the manipulation of recorded pieces of music the Funky drummer break beat has always remained a prominent tool for producers of various musical genres. Below are a few examples of how the Funky Drummer has been utilised in recent years:
Katy B "Broken Record" 2011 Sony Music
Nikki Minaj "Save me" 2010 Cash Money
Last year In 2011 the Funky drummer break beat was sampled and formed the basis of a chart topping single entitled Heaven written by singer/songwriter Emeli Sande and her production team.
In Febuary 2012 Emeli Sande won the critics' choice Brit award for her debut album entitled Our version of events. Below is an insert of the video for Heaven, the Funky drummer break beat can be heard throughout the track:
Emeli Sande "Heaven" 2011 Virgin
To conclude. The Funky drummer break beat like several other Classic break beats that originated from within the Hip Hop culture has left a remarkable legacy on modern music and continues to be used and incorporated in to musical creations of all genres. A full list of music that has sampled "Funky drummer" by James Brown can be found at the Discogs website.
This is the 2nd article of a series exploring the impact that classic break beats rooted in the early Hip Hop culture have had on modern music. Also available in the CLASSIC BREAK BEATS section of the website is part 1 The Amen Break.