The Hip "Coffee" $Hop event took place on Saturday 19th March 2022, at The Bogota Coffee Company coffee shop located in the The Hub area of central Milton Keynes. The concept was put together by DJ Kraze One with the aim of promoting Break to the beat's historical content in a social setting coupled with live DJ sets and performances from local artists. The event was also supported by DJ King Fisher and Space + Sound events.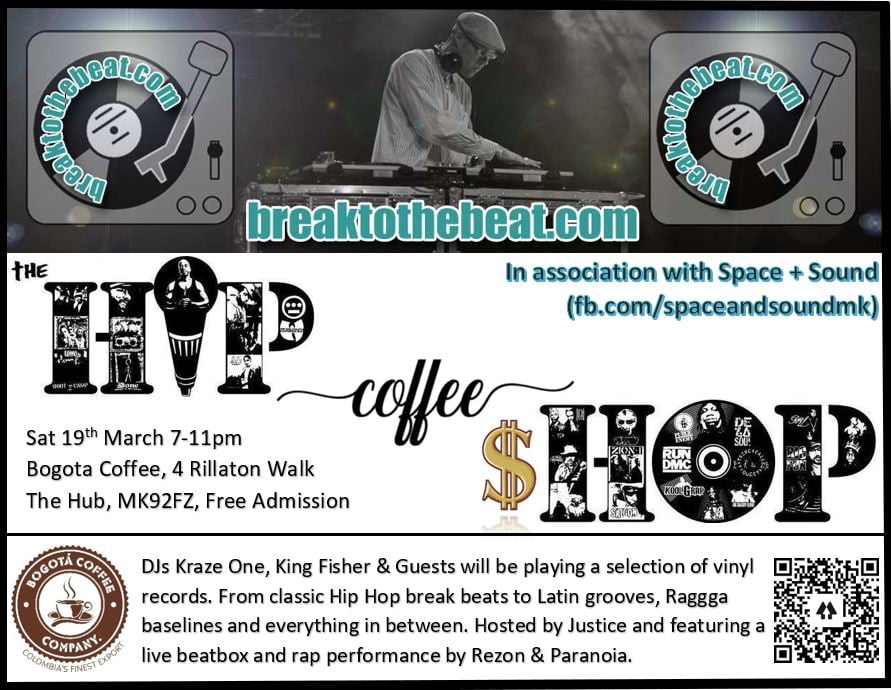 The Hip "Coffee" $Hop event flyer by DJ Kraze One, 2022.
The Hip "Coffee" $Hop ran from 7-11pm and was hosted by Justice with DJs King Fisher, Kraze One and Ill Repute (aka D.S.P) selecting and playing a variety of sounds. There were several live performances that took place during the evening, some of which have been edited and uploaded to you tube. The first footage in the video directly below features beatboxers/rappers Rezon & Paranoia.
Rezon & Paranoia "live performance" – Bogota Coffee Shop, 2022.
The second video contained in this article features a live performance by soul singer and Milton Keynes native Nicky Prince and like the majority of all performances on the night just evolved with the general positive vibes and attitudes of the croud. Break to the beat would like to thank everyone that came out to support the event and all the performers that contributed their talents.
Nicky Prince "live performance" – Bogota Coffee Shop, 2022.
To view more images and videos from The Hip "Coffee" $Hop please visit Break to the beat's facebook page.
Further information on the venue, organisers and performers can be obtained by clicking the below links:
To keep up to date with Break to the beat news, projects and events please follow our social media pages.