On Friday 24th September 2021 Break to the beat in association with Elysium Events and Arkade Graphics organised a Hip Hop culture event at The Broughton Hungry Horse pub and restaurant located in Broughton Milton Keynes. The management at the venue contacted Break to the beat after visiting the Milton Keynes Hip Hop Culture Part 1 exhibition held during July & August 2021 at MK Gallery.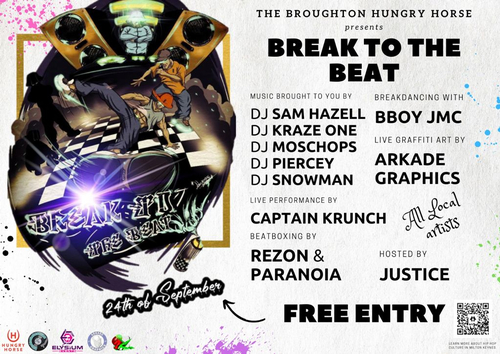 "Break to the beat live" event flyer by JMC\Elysium events, 2021.
The event entitled "Break to the beat live" featured several DJs, rappers and performers from Milton Keynes's Hip Hop community against a back drop of graffiti artwork created by local artists for the summers Hip Hop culture exhibition. The below video was assembled from footage filmed during the event.
"Break to the beat live" – The Broughton, Milton Keynes, 2021.
Over the course of the event which ran from midday until midnight graffiti artist Arkade Graphics created two pieces of artwork for the venue. The first was to highlight the charity work that The Broughton continuously support for Macmillan cancer research and was created on the wall facing the outside seating area.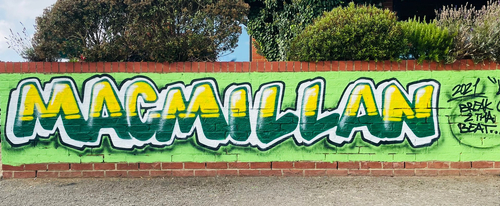 "Macmillan" by Arkade – The Broughton, 2021.
The second piece of artwork was created on the side wall of the venue at the outside covered smoking section.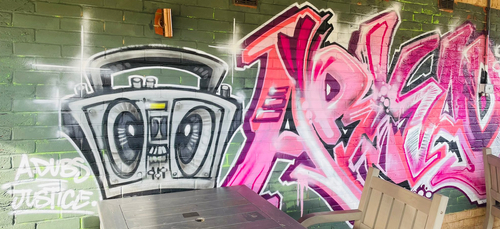 "Arkade" by Arkade – The Broughton, 2021.
To keep up to date with Break to the beat news, projects and events please follow our social media pages.