Welcome to the final chapter of the True Element story. In this section we will document a handful of reunion shows and the creation of several spin off recording projects that allowed True Element to evolve after circumstances beyond the bands control forced them to retreat from the live scene. collective will was still the driving force behind these final projects but this time the  inspiration was also based around reuniting and jamming just for fun. During this period True Element reconnected with some of their older affiliates, incorporated several new members and compiled a final recording project as the True Element MCs.
To read chapters 1, 2 & 3 (parts A & B) please visit the below links: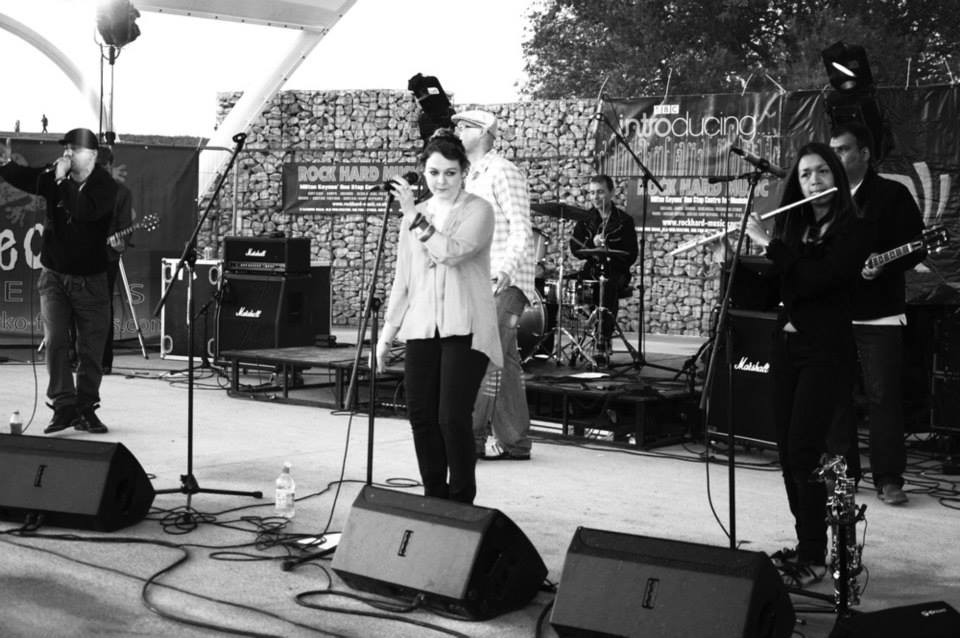 True Element – Campbell park 2012.
As documented in the previous section True Element stopped performing live in March 2006 which is when all professional activity with the band ceased. The first reunion show came about as a result of a charity event organised by Killa Joul that took place in Buckingham during the summer of 2008. Killa Joul had organised a venue and compiled a CD of music by local artists. True Element's recording of "Natural selection" was included on the CD and several members reunited to perform at the event. All the reunion shows documented in this section included the core members of the original line up that were able to participate with support by musicians and vocalists from the wider community. For the Buckingham performance core members Aniis Le Neve, Kraze One, Big Jules and Flute Loop were accompanied by guitarist Ade Street, Drummer Real Deal and guest rapper Paranoia MC who had been working with DJ Kraze One on a separate recording project during this period.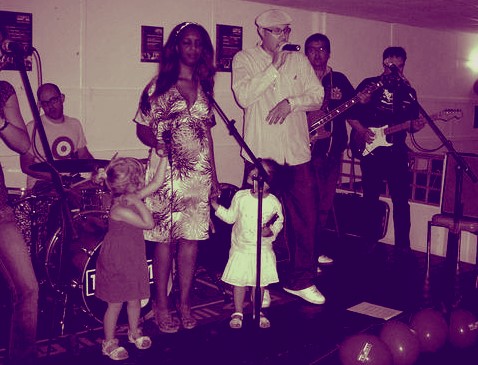 True Element – Buckingham 2008.
The next time True Element reunited was on Boxing Day 2008 for an Xmas get together at The Cannon music venue in Newport Pagnell. The event was organised by Big Jules and a band he was working with at the time called The Silver Brazillians. This event was a great opportunity for True Element members to socialise and re-connect with the added bonus of having a jam session. For this performance core members Kraze One, Big Jules, Flute Loop and Fresh Strings were joined by vocalists Nicky Prince and Paranoia MC, with Real Deal on drums and DJ Boothy on turntables. The below video footage is of a track taken from the live show that was musically based around material True Element were working on during the period documented in the previous chapter. This like much of True Element's music was never professionally recorded. 
True Element – The Cannon Newport Pagnell 2008.
All members of True Element were constantly involved with different musical projects. Sometimes professionally, and other times just for fun. During 2009 Fresh Strings and PZK producer J* were collaborating on a recording project and asked Kraze One to feature on some of the tracks. Between them they produced several compositions, one of which entitled "The way nature intended" was a recorded as a tribute to True Element. Using various instruments and studio techniques, Fresh Strings, J* and Kraze One were able to recreate a backing track complimenting the live sound of True Element.   
True Element "The way nature intended" .
Several years later Fresh Strings, Big Jules and Kraze One collaborated with producers Tim James and Martin Reilly on a similar recording project aimed at recreating the live sound of the True Element Collective. Using a bass, rhythm guitar, turntables and various studio techniques they produced a demo entitled "Let the battle drums sound".  
True Element "Let the battle drums sound".
True Element reunited again in 2011 to perform live for a one off show organised by DJ Spatts aimed at reuniting some of the Milton Keynes Hip Hop pioneers. By this point Kraze One, Paranoia MC, Killa Joul and DJ Boothy had reconnected and were contributing to several local recording projects that all interlinked with each other in various ways. For this live show True Element incorporated some of the new vocal materiel the rappers had written in to the previous True Element groves. Rappers Kraze One, Paranoia MC and Killa Joul were joined by Big Jules, Fresh Strings, Flute Loop, Real Deal and DJ Boothy for the Hip Hop owes me money performance.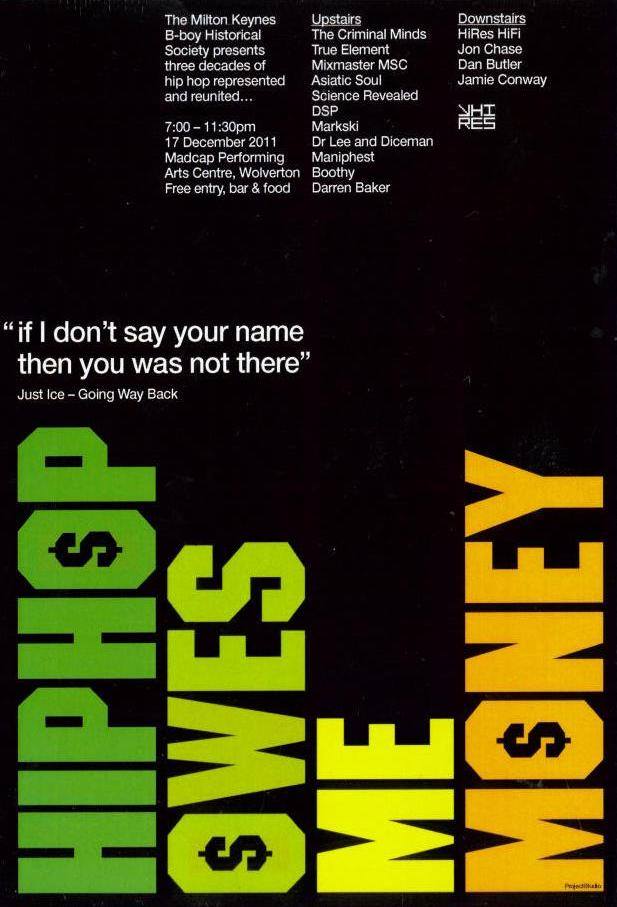 Hip Hop owes me money flyer by Chase One 2011.
At the time this article was written, the last time True Element performed as a full live band was for an event called the Milton Keynes summer festival which took place over 3 days in Campbell park. Bass player Big Jules was contacted by the promoters and he and Fresh Strings recruited drummer Beatmaster Stu for the show. Together they created the basis for several brand new tracks and reworked a selection of the older groves. They also recruited singer Ellie Antonini for the performance who together with Flute Loop, Killa Joul, Kraze One and Paranoia MC collectively built on these new ideas to produce a brand new live set. Since the previous live show Flute Loop had been learning to play the Saxophone which she was also able to incorporate in to the performance. The below video footage is of a composition entitled "MC's": 
True Element "MC's" – Milton Keynes summer festival 2012.
A few weeks later True Element booked Echo Studios and recorded a complete live session of the materiel they had been practicing for the performance. Below is an example of one of the tracks "Milton Keynes City" with some post production by DJ Kraze One.
True Element "Milton Keynes City" (Live recording 2012).
True Element's last live shows to date were both during the summer of 2013 and were also in Campbell park. Due to circumstances beyond their control the final shows were stripped down to the four vocalists Kraze One, Paranoia MC, Killa Joul and Ellie Antonini with Real Deal on drums and Big Jules on bass. Below is a short clip of the first performance that went so well that True Element were invited to perform at the annual Filipino festival the following week.
True Element Campbell park 2013.
The final project referred to as "The True Element MCs" evolved from the True Element rappers making guest vocal appearances on projects for other producers. These features were happening between the reunion shows described above and slowly evolved in to a recording project spearheaded by DJ Kraze One, Killa Joul and Paranoia MC.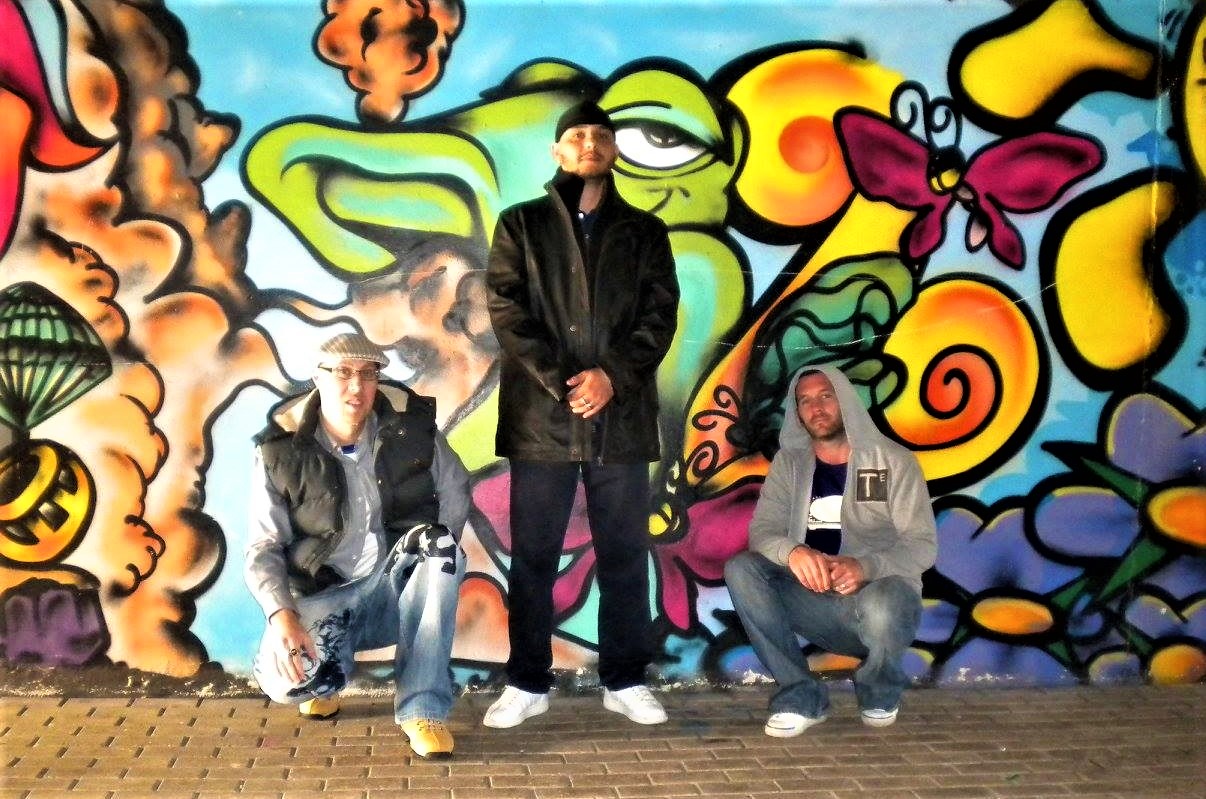 True Element MCs.
The True Element MCs project began with DJ Kraze one and Paranoia MC providing guest vocals for producer J* & Fresh Strings. The inspiration for the rappers at the time was simply to try and record vocals to a professional standard and come away with a recording that could be used to showcase their work. As mentioned earlier in the article DJ Kraze One had already been collaborating with J* & Fresh Strings. Paranoia MC was invited to participate and the together they reworked an existing track by Kraze One & Paranoia entitled "Milton Keynes City". Initially the recording was acoustic but as the True Element MCs project began to materialise in later years  DJ Kraze One reworked the track slightly creating the Break to the beat remix version which is inserted below:
True Element "Milton Keynes City" (Break to the beat remix).
During the evolution of the True Element MCs project DJ Kraze One & Paranoia MC were also writing and recording guest vocals for producer DJ Spatts which in turn opened up several opportunities to contribute to projects by The 32 Troop and Planet of the fakes. MC Killa Joul returned to the fold around 2011 and also got the opportunity to feature vocals on several of these projects. All True Element rappers were big fans of DJ Spatts's crew The Criminal Minds and saw it as an honour to feature as vocalists. The below composition entitled "All or none" is an example produced by DJ Spatts that features all three of the True Element rappers.  
True Element "All or none".
As Kraze One, Killa Joul and Paranoia MC united around the True Element reunion show for Hip Hop owes me money they began talking about creating a recording project based around vocal contributions by the True Element MCs. This was the point when True Element began to coordinate their own recordings and took on creative and financial responsibility of recording sessions. The first recoding was made with a beat produced by Vex King and was entitled "Welcome to the City". 
True Element "Welcome to the City".
During 2012 the focus shifted to rehearsing with the live band for the Milton Keynes summer festival which eventually lead to several live recordings involving the entire collective. Due to the financial cost of recording a live band and the mounting pressure on commitment to rehearsals the live tracks were never completely finished and so were never taken any further. Throughout the series of articles collective will had been highlighted as the driving force for all evolution and progression of the True Element projects. Due to a number of varying circumstances and outside family/work commitments collective will began to diminish after the 2012 Milton Keynes summer festival which is partly why the final live shows concluded as they did. 
True Element "Looking for a brighter day" Live recording.
For the next few years The True Element MCs continued to feature as vocalists where possible as a trio. By 2013 DJ Kraze One & Killa joul had enough recording equipment between them to create tracks of their own and after finishing some outstanding demos from True Element's earlier years set about pulling together a True Element MCs album. DJ Kraze One's production contributions were built using unused beats and ideas from his time as True Element producer in the late 90s. 
True Element "Poetry session par 2" (DJ Kraze One remix).
Killa Joul took on the responsibility of providing new beats for the project which he created independently and presented to the group who were then able to add vocals/scratching where needed. The basic concept of the project was simply to create and record tracks that involved the three rappers equally.
True Element "Spitting lyrics like artillery". 
The True Element MCs project concluded with two final recordings that also involved lyrical contributions from rapper Justice. The first was a feature for producer DJ Kura on a track entitled "Action stations". Justice turned up for a surprise visit while the the MCs were recording vocals and ended up jumping on the track which was produced arranged and masterminded by DJ Kura who also executed the scratches and cuts. 
DJ Kura featuring True Element "Action stations". 
The final recording for the True Element MCs project was appropriately titled "That's a rap" and was jointly produced by DJ Kraze One & Killa Joul who alongside rappers Justice and Paranoia MC wrote and performed the vocals. 
True Element "That's a rap".
Although collective will and drive had began to fade the recordings concluded as a result of DJ Kraze One relocating to a smaller property in 2015 and dismantling his home studio which had become the base for the project. During the last weeks in the home studio DJ Kraze One compiled and mastered a 10 track CD Album of the strongest True Element produced tracks and distributed copies to all members of the crew to allow the option for continued promotion of the project. After DJ Kraze One's relocation The True Element MCs set up a True Element MCs Band Camp Page to compile and promote the project digitally. The Band Camp page also contains the extra tracks that did not make the unreleased CD.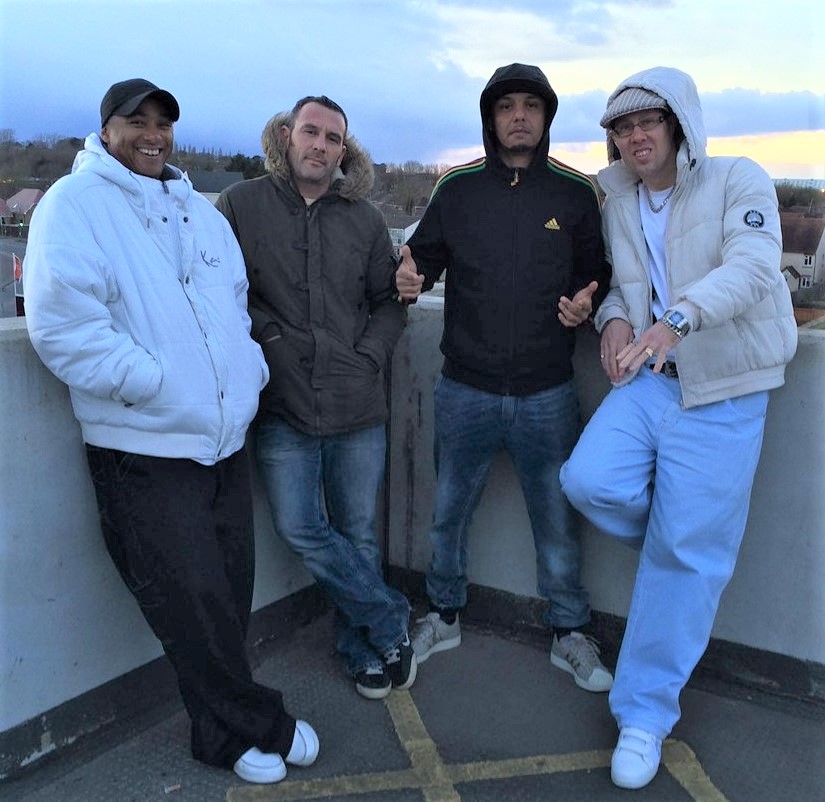 True Element MCs – That's a rap photo shoot 2016.
At the time of writing this article this is where the True Element story concludes. After 2015 DJ Kraze One's focus has been to create and administer True Element's online experience setting up Sound Cloud and Facebook pages to compile and share memories and recordings of the the project. Many of the creatives involved over the years are still adding their vibes to the creative universe and there may be a time in the future when collective will initiates another chapter in True Element's evolution. These series of articles are dedicated in loving memory of Paul "Fresh Strings" Fawcett who's spirit left planet earth in 2020. Please help to keep Paul's memory alive by sharing and downloading the music and images from the below links.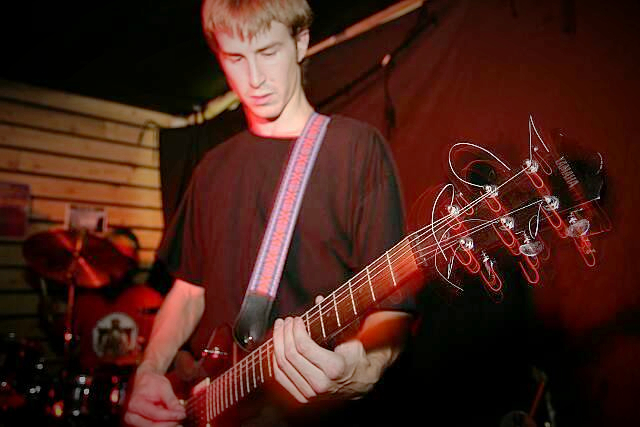 Paul "Fresh Strings" Fawcett R.I.P.
For further information on True Element please visit True Element on Sound Cloud and True Element on Facebook.
To keep up to date with Break to the beat news, projects and events please follow our social media pages.