Welcome to the second part of the third chapter documenting True Element's musical achievements. Part B will focus on the period between 2004 and 2006 when True Element reformed as a full live band after core members of the PZK broke away to focus on a recording project . During this period True Element developed new materiel which they regularly performed on the local music circuit and amongst other things picked up an award in 2006 issued by the local music press. This chapter also documents the unforeseen circumstances which lead to True Element's inability to continue to champion local music and their disappearance from the scene in 2006.
To read chapters 1, 2 & 3 (Part A) please visit the below links: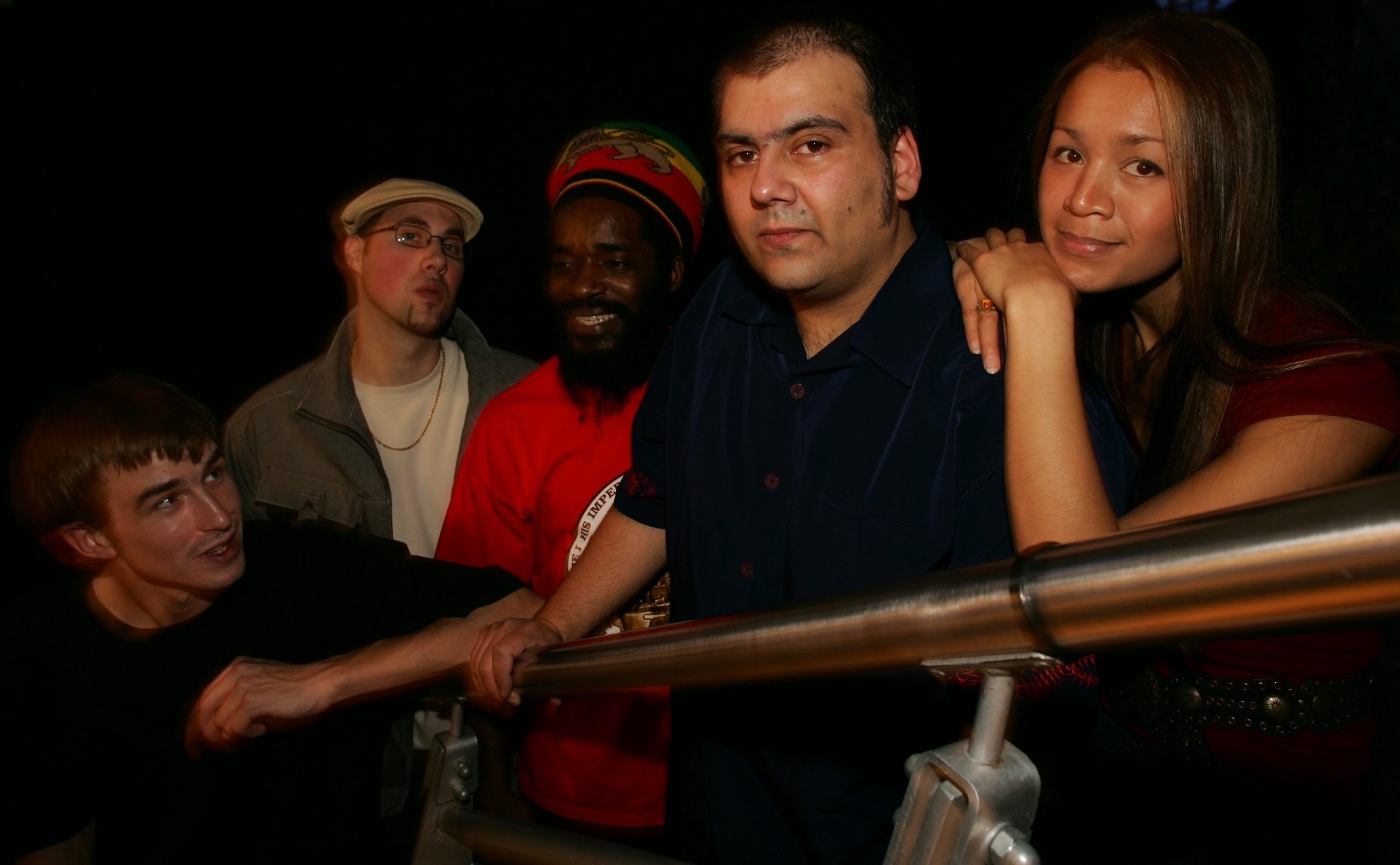 True Element – Xscape Milton Keynes 2005.
Since 2001 collective will had been the driving force that kept True Element's momentum. It was collective will between both True Element & PZK that had kept things moving up until the summer of 2004 when commitment to rehearsing and different musical outlooks forced a change in direction for both crews. This part of the story starts with the journey that True Element took when the remaining members that were interested in continuing a live project regrouped. Initially True Element formed around bass player Big Jules and guitar player Fresh Strings with rappers Fa-Real, Kraze One and Justice. Shortly after the creation of a new track Justice left the project for a period and True Element expanded to include Singer Aniis Le Neve and drummer Gwandumi. True Element's new formation spent several months putting together a live set and in December 2004 were booked to return to Xscapeology which was now under new management.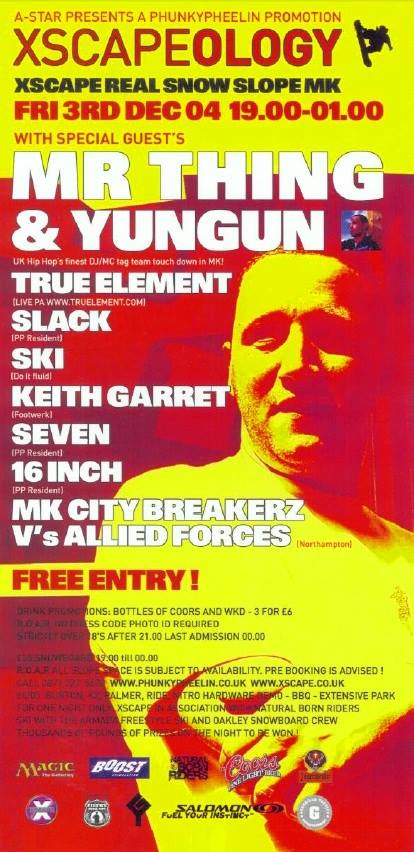 Xscapeology flyer December 2004.
The initial performance after regrouping was a great starting point for True Element who were booked to support established UK Hip Hop artists MR Thing & Yungun. For True Element however it was not without a substantial amount of turbulence as two weeks before the event rapper Fa-Real decided to leave the group. The remaining members Big Jules, Fresh Strings, Gwandumi, Kraze One, and Aniis Le Neve reworked the live set as best they could and after lengthy internal discussions went ahead with the performance.
True Element – Xscapeology event December 2004.
The departure of Fa-Real had substantially changed the dynamic of the True Element as collectively for the first time Hip Hop music was not the driving force behind the group. Each of the five members had all established themselves in various different genres and True Element evolved in to melting pot of these different influences. In early 2005 True Element continued to develop their songs and shortly after began working on their first set of new studio demos. By this point Kraze One was the only remaining rapper and vocal duties were shared between him and Singer Aniis Le Neve.
True Element – Audio lab studio January 2005.
For the first half of 2005 True Element jammed together on a weekly basis and developed a new live set. It was this dedication to rehearsals that started during the cold winter months in an unheated garage where Fresh Strings was staying at the time that enabled True Element to bond and most importantly to learn how to vibe together as a single musical entity. By the time the group re-emerged during the summer they had developed approximately an albums worth of materiel which they felt proud of and re-introduced themselves to the local music circuit.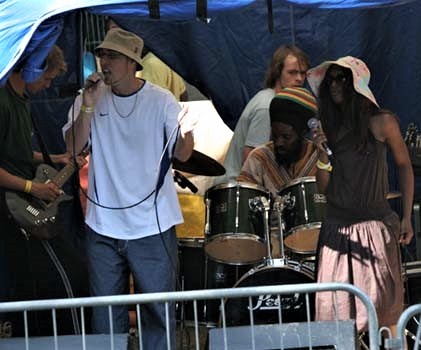 True Element – Parklife festival Newport Pagnell 2005.
As True Element reintroduced themselves and their body of work to the local music scene other likeminded musicians gravitated towards the core True Element sound. Rapper Justice returned occasionally to share vocal duties with Kraze One which allowed True Element to perform different live versions of their materiel. DJ Boothy also assisted at selective live shows adding scratches and cuts to True Element's performance.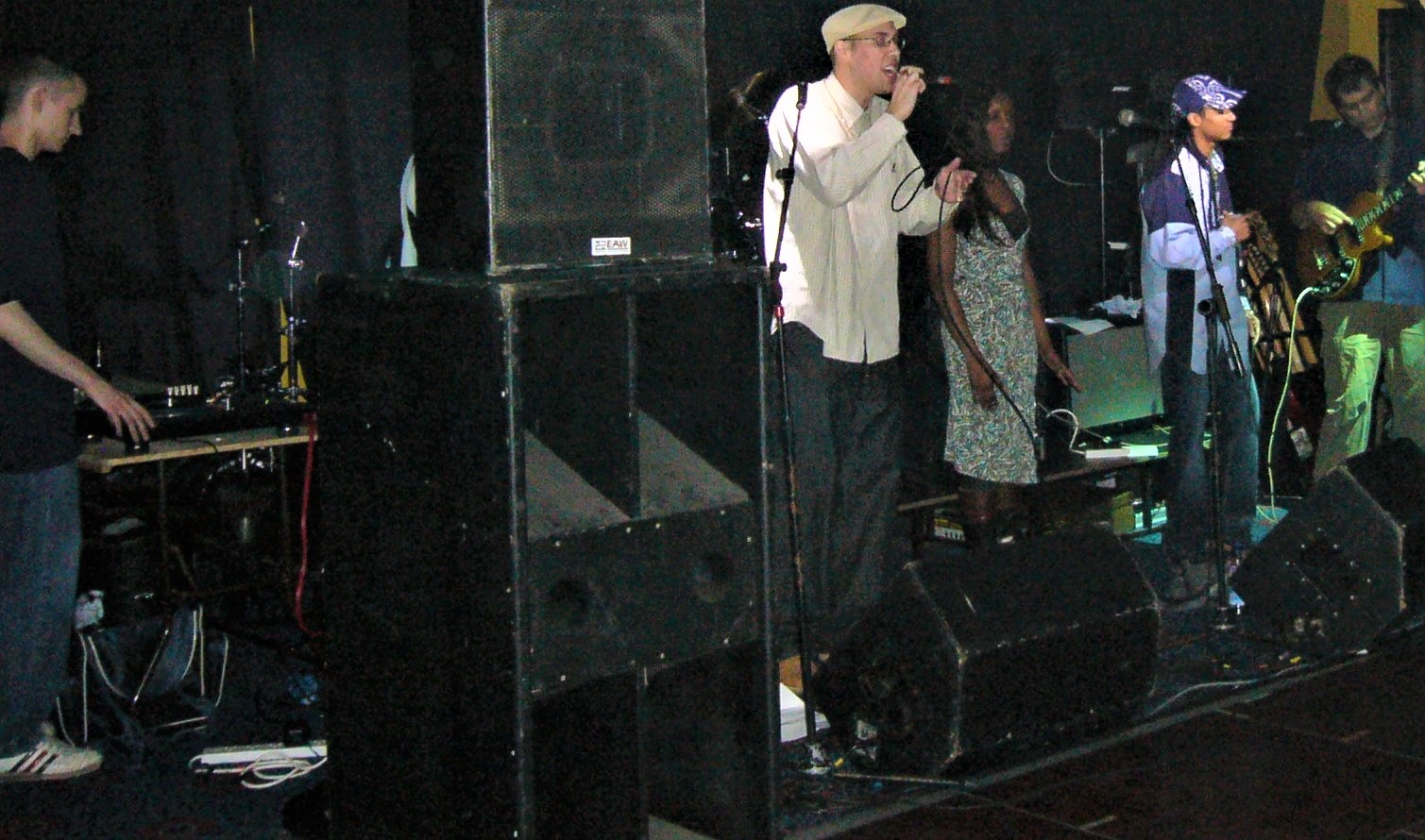 True Element – Manhattan suite Xscape 2005.
It was not long before True Element had made enough money to book a second recording session and continue adding to their small collection of studio demo's. The below track "Seasons" was recorded in the later part of 2005 and by this point rapper Justice had re-joined True Element as a full time member of the group.
True Element "Seasons".
The final ingredient added to the new True Element sound came with the addition of flute player Rachel "Flute Loop" Rahman who joined the band during 2005. By this point True Element were doing regular live shows and after several rehearsals Flute loop was able to write and introduce flute parts for all materiel that True Element had composed. Flute Loop began to perform with True Element and contributed ideas as the band composed new materiel.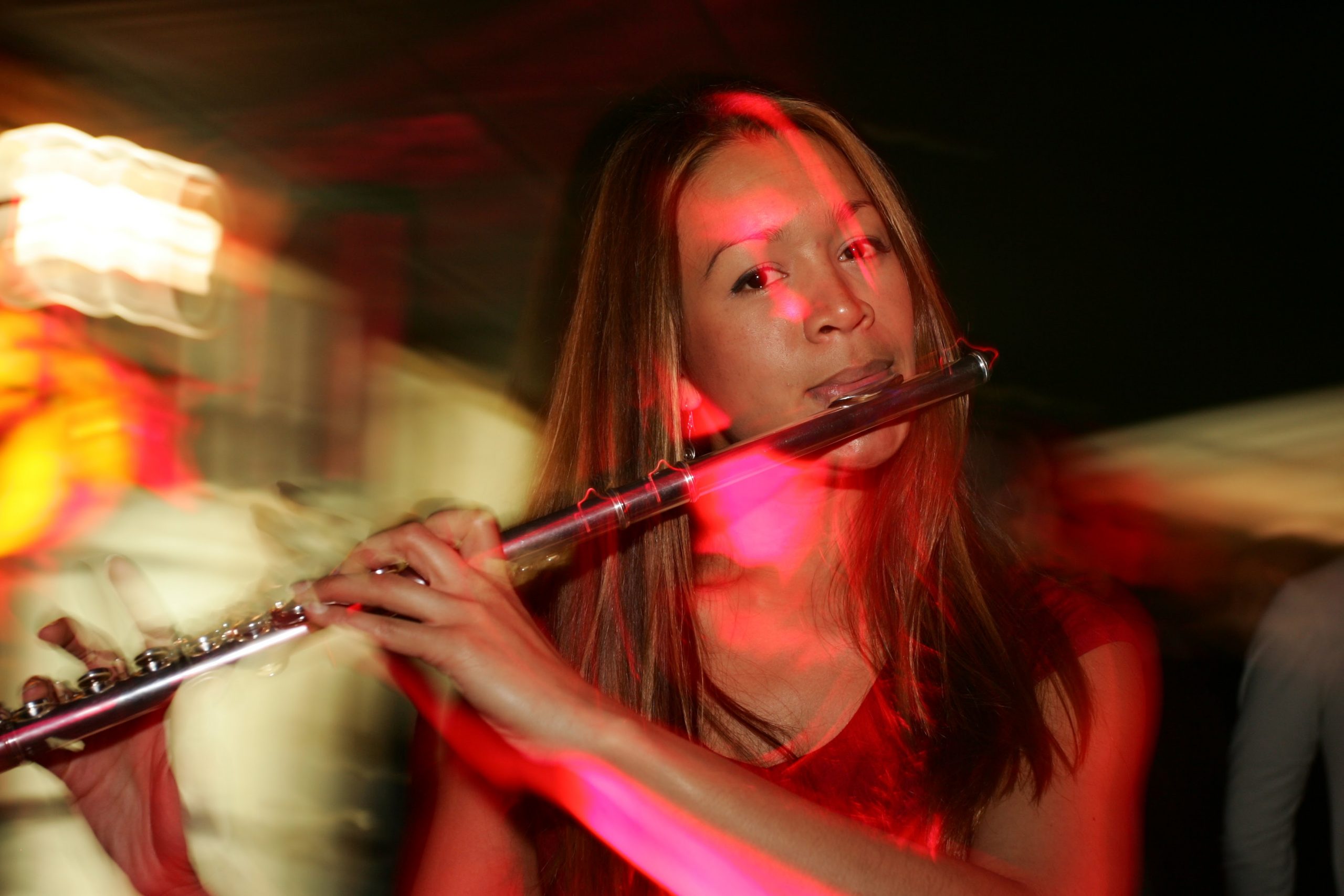 Rachel "Flute Loop" Rahman.
Nearly all of True Element's materiel created during the period documented in this article was never recorded to a professional standard. The below composition entitled "Looking for a brighter day" is one of the few examples of completed True Element tracks. The recording process was started in January 2005 as the band regrouped following their first live show and the flute parts were added after Flute Loop's inclusion in the True Element line up.
True Element "Looking for a brighter day"
During the final stages of 2005 True Element had established and perfected their sound and had become one of the city's prominent alternative local bands. True Element finished the year on a high with a performance at a venue called the Snobar located in the popular Xscape complex in Central Milton Keynes.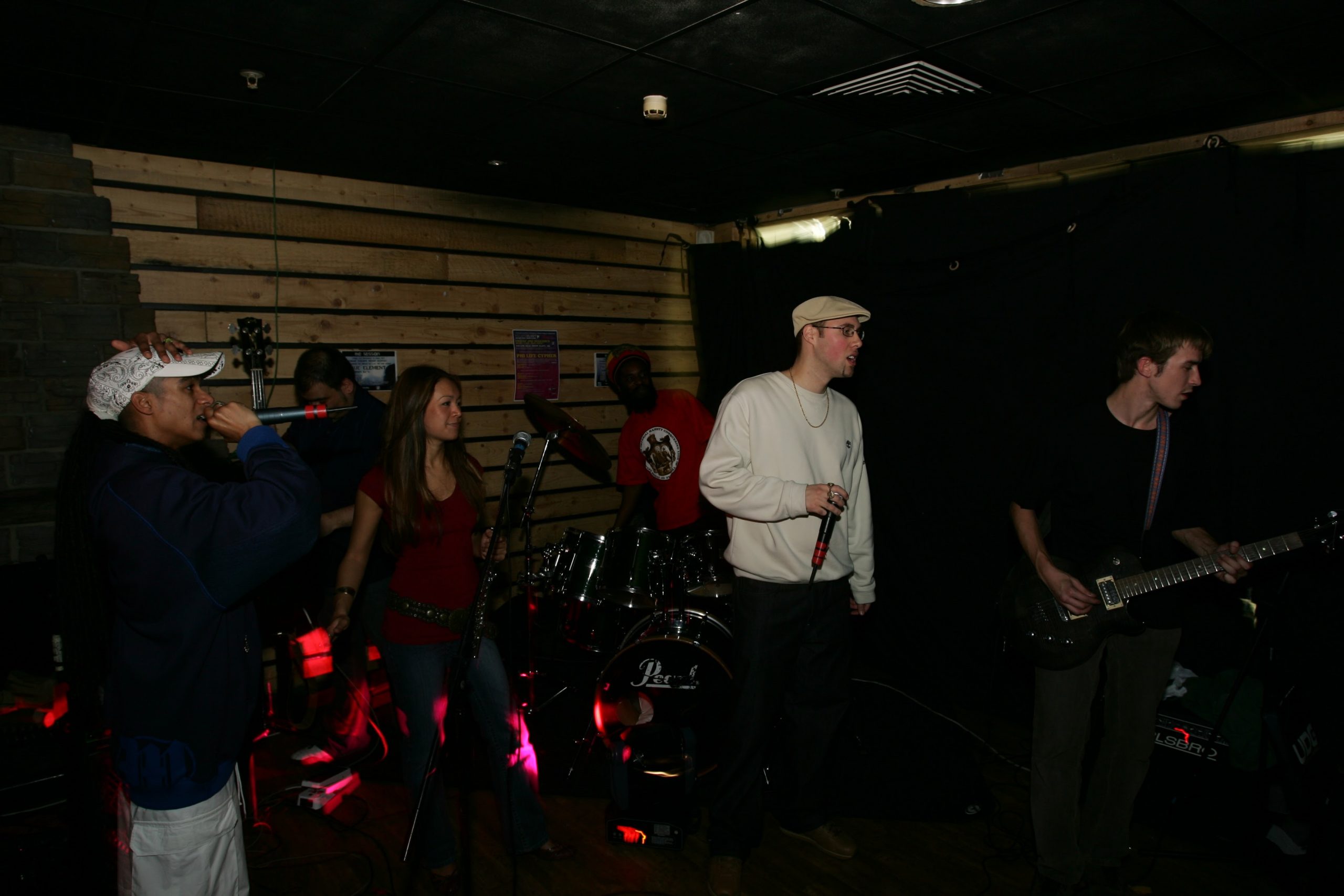 True Element – Snobar 2005.
The performance went so well that the venue offered them a residency. Bass player Big Jules had also established and was in the process of developing a True Element website and the band had received a management offer from promoter/local cultural activist Matt "Meechy" Meech. The below video footage is of the second of True Element's completed studio demos from this period entitled "Natural selection" and also features the only live footage currently available from this era which was recorded at Milton Keynes music venue The stables. The live footage appears towards the end of the video and was True Element's first performance for cultural activist Matt Meech who created animated images that were projected as True Element performed. Unlike all other True Element performances this took place in the morning at an event organised by Milton Keynes councillors and other public figures looking at cultural diversity in Milton Keynes.
True Element "Natural selection" (Studio demo & stables performance).
True Element were fortunate enough to have a great collective work ethic and the core members enjoyed jamming and rehearsing as much as performing live which was the main reason the group endured. At the start of 2006 True Element were thinking over the residency offer, discussing the management offer and had a handful of local performances planned in February and March one of which included supporting UK Hip Hop artist Blade. There had been a slight change in True Element's line up as Aniis Le Neve had decided to peruse a solo opportunity and had left the group. To compensate singer Joanne Farragher had joined as a replacement vocalist. In January 2006 True Element were invited to the Milton Keynes Go! awards organised by the Milton Keynes Citizen newspaper and The Pitz live music venue. True Element had been nominated for and won an award for best dance act that incorporated all local urban musical genres.
True Element Go! awards 2006.
After a reflective January in 2006 True Element felt confident about their place in local music and had received overwhelming support from the local press and music venues. True Element were in the process of experimenting with other vocalists to try and vary their local performances and the core members were beginning to focus on ways to break in to the London music scene. At the same time True Element were also looking for recording opportunities to turn their live jam sessions in to recoded compositions.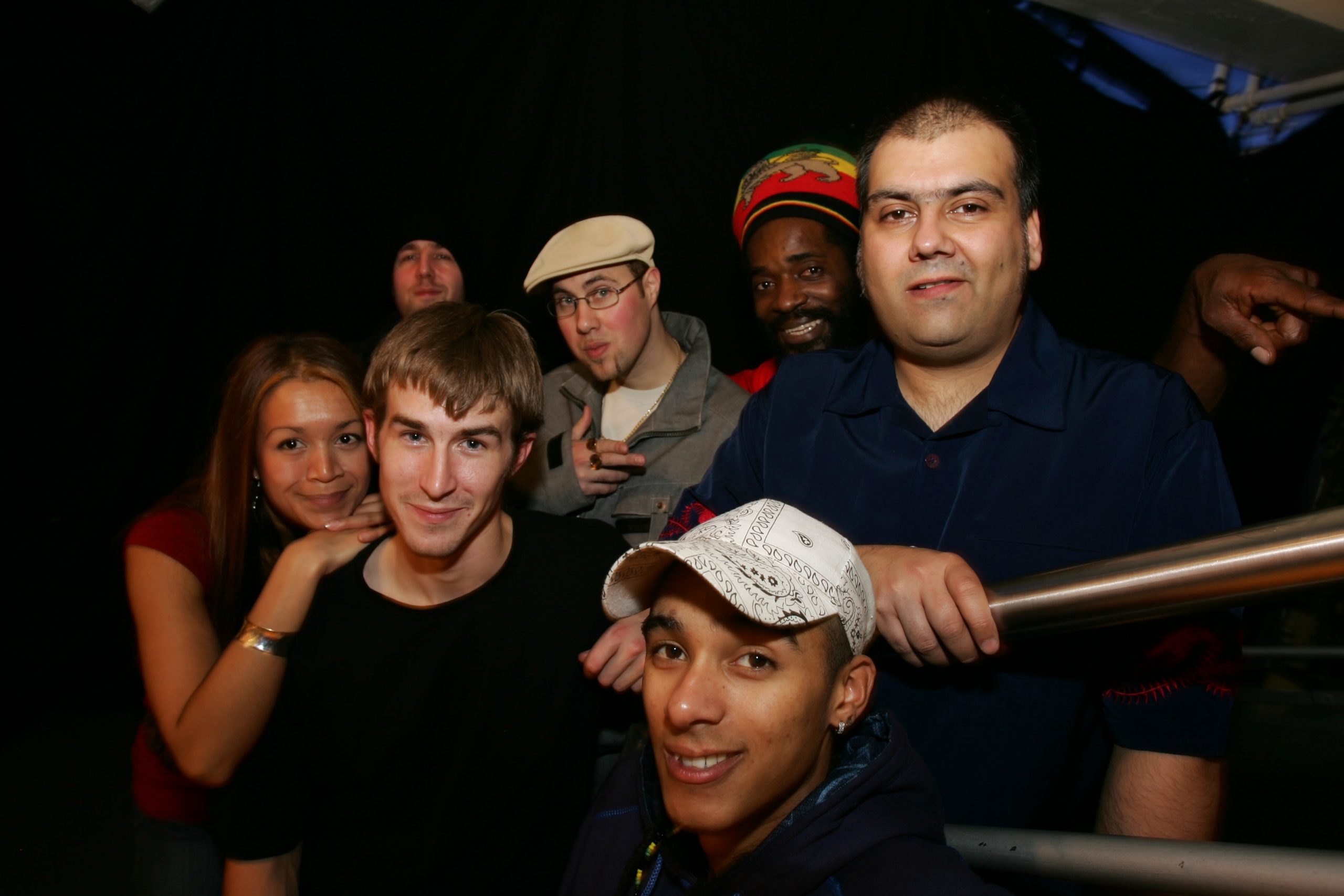 True Element – Xscape Milton Keynes 2005.
Unfortunately the day before True Element's first performance of 2006 drummer Gwandumi had to deal with a situation that forced him to stop being able to perform with True Element. It would not be professional for us to document the details in this article but we can confirm that neither Gwandumi or True Element had any choice in this event. True Element were due to start the first of a monthly residency at the Snobar but due to these unforeseen circumstances only managed to perform a short acoustic set at the event.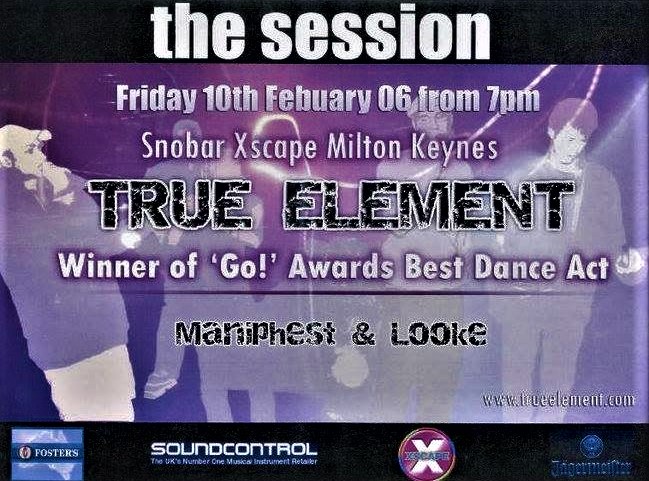 Snobar – Session flyer 2006.
With the exception of two contracted pre booked performances True Element cancelled all other live shows while they explored options around possible resolutions. True Element's immediate focus was to find a way to fulfil the remaining performances the first of which was to support UK Hip Hop artist Blade at the biggest local Hip Hop music event at the time Xscapeology. True Element honoured their 45 minute set by incorporating DJ Boothy and performing half as a traditional Hip Hop crew and half as a live band with Mark "Real Deal" Wheeler who stepped in to play the drums.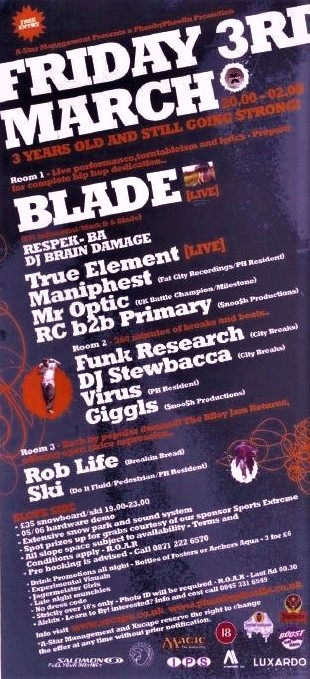 Xscapeology flyer 3rd March 2006.
True Element's final performance was for an event organised by FAIRTRADE to raise awareness of world poverty. The event took place outside Virgin Megastore on a Saturday lunchtime in Central Milton Keynes. True Element were forced to perform without a drummer for this final event which DJ Boothy assisted with by looping drum breaks between two turntables.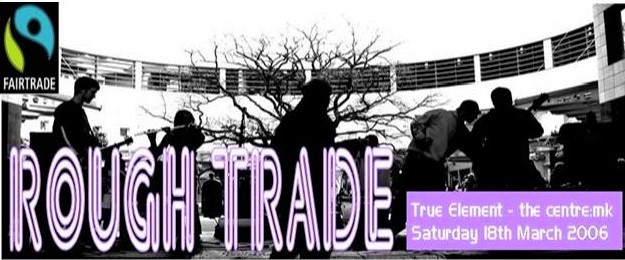 True Element – Fairtrade flyer 2006.
After several months it became clear that there was no way forward for True Element to continue with the line up that had proved so successful for the band. Although they tried on several occasions a solution could not be found and True Element realised that they had reached a peak of which they were unable to get beyond. There were varying factors involved in the final decision to disband which we do not need to document but we can confirm that True Element did attempt to explore all possibilities to try and move the project forward. With the exception of a handful of reunion shows and a final recording project which we will document in the last chapter this is where True Element's professional ambitions as a live band ceased.
This concludes part B of the third chapter documenting the True Element story. To read chapter four please visit: True Element (Chapter 4 ).
For further information on True Element please visit True Element on Sound Cloud and True Element on Facebook.
To keep up to date with Break to the beat news, projects and events please follow our social media pages.