Breaktothebeat recently caught up with the Urbanist to discuss and document his Hip Hop roots in Graffiti art while living in Milton Keynes during the 1980s. We have also aimed to show and document how the Hip Hop culture influenced the Urbanist, how his artwork evolved from using spray paint, to the creation of carnival costumes, using an airbrush, and working as a make up artist for numerous celebrity's at the MTV European Music Awards. The following interview aims to capture the Urbanist's story and highlight the positive aspects of local Hip Hop and street culture.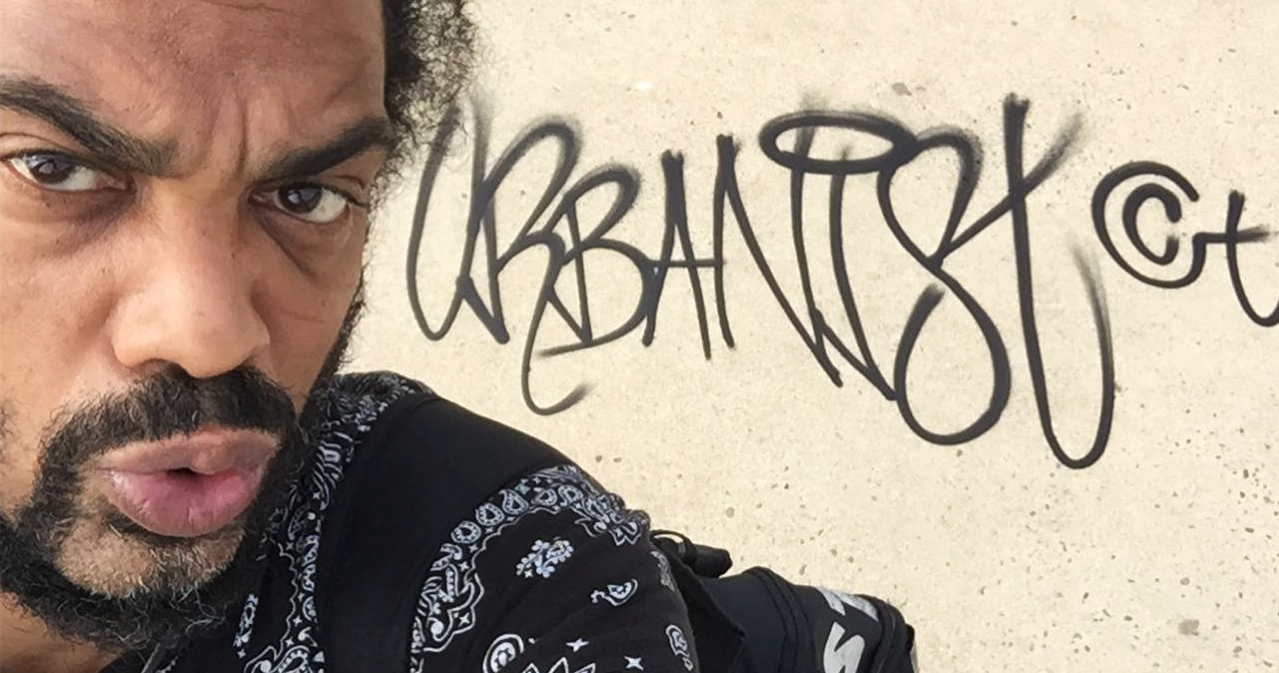 You were part of the Hip Hop scene in Milton Keynes during the early period and by the end of the 1980s you had become a participant in the culture. Firstly, could you tell us if you were born in MK or did you move here from another area?
I moved to Netherfield, Milton Keynes from Brixton South London, in 1977 when I was 6yrs old.
How did you first discover Hip Hop music and culture and what or who were your inspirations to begin your creative journey as a Graffiti artist?
I first discovered Hip Hop in the early 80's, listening to music with school friends and old friends in Brixton, when I went back to visit. I used to listen to Grandmaster Flash and the Furious Five, Melle Mel, Slick Rick, LL Cool J, Big Daddy Kane, RUN DMC, Public Enemy, KRS One, Roxanne Shante. After School Movie Club played a video of Beat Street, which really got my attention I loved the breakdancing, the Graffiti and that whole new urban Hip Hop culture. Shortly after my Mum bought me a Hip Hop tape and a book on breakdancing, followed by two Graffiti books called Subway Art and Spraycan Art, these books became my bible, studying them every night after school, and trying to copy some of the images.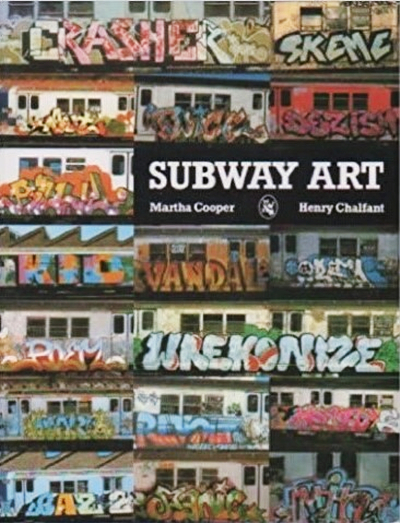 "Subway Art" book – Martha Cooper & Henry Chalfant, 1984.
Could you tell us a bit about how you developed from drawing on paper to using spray paint and painting murals during the 1980s as you were one of a handful of artists who created pieces locally during this period when Urban art was a long way off being recognised by mainstream society as an artform like it is today?
I Used to breakdance on large sheets of card, and, at first I used to sketch out different Graffiti lettering with marker pens. One day I sketched some block lettering with a black marker on a small marble underpass wall.
The first time I used a spray can was with a friend in Brixton tagging a couple of walls. Next I went out with a couple of my friends from college and did my first piece under a local railway bridge. It said Nervous Posse, which was the name of a KRS One track at the time.

"Nervous Posse" by Urbanist – Milton Keynes, 1989.
I continued to be active in MK during the summer of 89, hitting different railway bridges. I painted, Stop the Violence, Smooth Criminal, Black Hero, Uzi, Power, most of my work would have a character with the lettering..

"Smooth Criminal" (section) by Urbanist – Milton Keynes, 1989.
Part of the Hip Hop Culture was to create a name tag which you would become associated with and build up. This extends to all elements of the culture from Graffiti, Emceeing, Deejaying, Breaking, etc. In a recent interview Rolek One mentioned that before becoming Urbanist you tagged Rastafari. Could you tell us a bit about how your name evolved and when you started using Urbanist?
From spending my early years in Brixton there was a lot of influences to my Jamaican roots, I would see a lot of Rastafarians, and I was interested in that way of life, so back then I started to tag Rastafari, next to my work.
Later on I got into Airbrushing and I was also working with kids in South London teaching urban art skills, that's when one day my friend's girlfriend said 'At work they call you the urban artist, why don't you call yourself 'The Urbanist? I've used it since.
At break to the beat we are trying to build up a picture of local pioneers who, like yourself, changed from being fans of the culture to participants in the culture. Going back to the early period in MK specifically can you remember any other local artists that were part of those foundation years and deserve a mention either in Graffiti Art or any of the other elements of Hip Hop?
To be honest when I used to paint, I didn't really see any other Graff in MK. A lot of the time I think I was one of the first Graff artists in MK that bombed some of those railway bridge walls back then. The only other Graff artist I knew of in those times was Jesse (Rolek One). He was a year younger but we went to the same school, I would sometimes find walls he had hit before me, He was a technical guy in all that he did and still is, he was a good at Graffiti and a great breakdancer.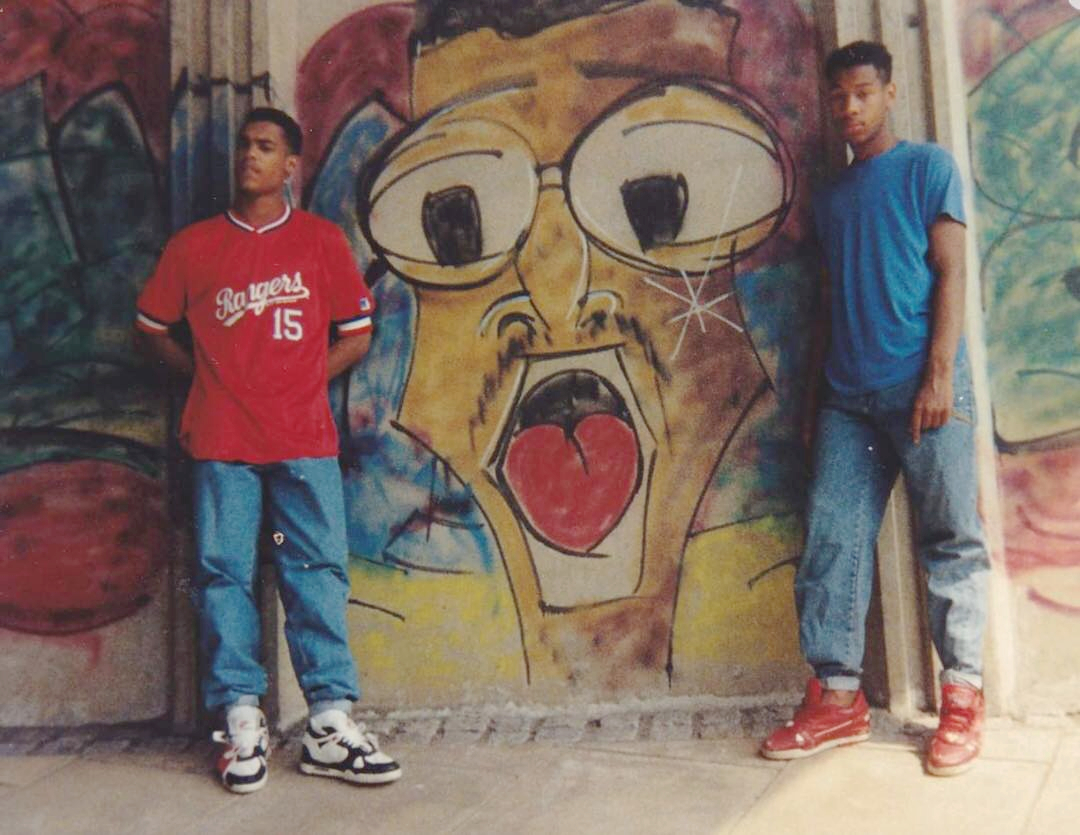 "Bugging out character" by Urbanist – Milton Keynes, 1989. 
By 1990 you had moved back to South London. Could you elaborate on how the move affected your creative journey? Were you still doing pieces in London after leaving MK?
I moved back to London in September 1989, I was a student at Southbank University studying for a HND in Business and Finance. I was staying in a hall of residence in Stockwell which was very urban and raw. I saw a lot of Graffiti and I did draw and sketch lots of Graff images and characters in my halls.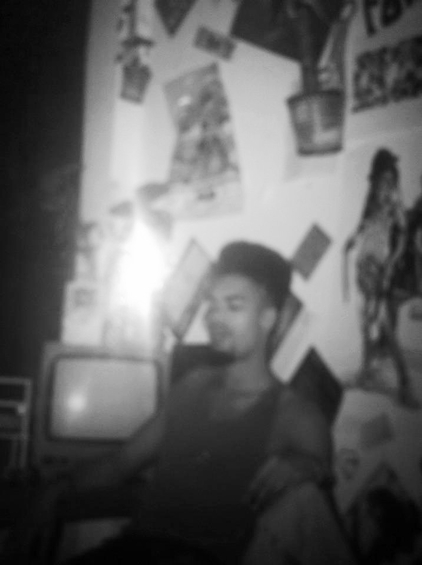 After graduating in 1991, I moved to a studio flat in Elephant and Castle, I was unemployed for a while, but really wanted to eventually make money from my art and combine business and art together. I heard on Choice FM radio an advert for a course in Hackney studying carnival arts and making carnival costumes for the Notting Hill Carnival, I called the number, got an interview and started the course, which was for a year.
I learned how to use various different types of materials to create different costumes. I would always have my Graffiti influence in my work. I was good at this and after finishing the course I was employed by them to work on a mobile carnival arts workshop with kids in schools and colleges creating costumes for their local carnivals. This started off in London but eventually spread all over the country. I was often away working 5 days a week spending a lot of time in hotels and B&B's. I learnt a lot doing this about exploring my art in a different way.
Urbanist carnival collection
In the late 90s I took my first trip to New York, where I watched a guy creating crazy images of skylines, pyramids, planets, water falls by scratching into card, I found it really impressive and attempted the same thing when I got home. This is what got me back into using a can again.
Urbanist Graffiti Art – Harlem New York (Late 90s).
I later got a job at a children's charity called Kids Company in Camberwell working with children from the local area, I was mainly teaching art and doing Urban Images. My boss at the time would get me to paint some of the walls and paint backdrops and do designs for charity fundraisers. I would also get a few Graff wall commissions in London. All these experiences and working alongside other artists and their positive influences really helped me with my artwork.
You mentioned that you got in to Airbrushing while living in London could you tell us how you developed from using spray cans to painting with an airbrush, and if there were any particular challenges in developing your skills as an airbrush artist?
I got into airbrushing in the late 90s after hearing rumours that the charity I was working for were making people redundant, this pushed me to look into a different avenue. A friend of mine at the time had once suggested that I try airbrushing as it's coming back into fashion and people are loving custom trainers and jean jackets etc. Unfortunately, my suspicions were right and I did get made redundant. So, I did what my friend said, I found a local airbrush supplier who, had a nail salon, but sold the equipment. I brought my first airbrush and compressor from her.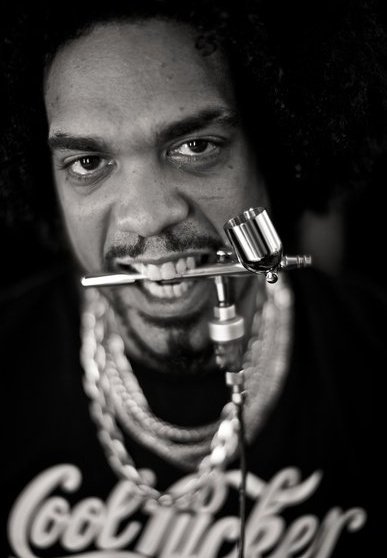 I managed to hire an art studio at an old bus garage in Camberwell, and I would go there after work to practice. I started off by painting characters faces on the wall, I found it so much easier than spray paint, I loved how precise and accurate the airbrush was. It was like having a small spray can in my hands. I could get so much more detail and the paint didn't drip.
I would paint in a similar way to how I would have with a can but I had to learn how to use the airbrush paint, as you can't always paint in layers with airbrush paint and the paint would work differently on different materials. I also had to adapt from painting Big wall spaces to t-shirts and Trainers, so I really had to scale down my work. It took some time but I also had to get used to the different pressures of the airbrush and how to get various effects, I learnt something new with the airbrush every time I picked it up.  My work evolved with time but when you look closely at my airbrush work its easy to see my graffiti background.
For move info and images please visit http://www.theurbanist.co.uk/
After establishing yourself as The Urbanist could you talk about what opportunities followed for you as an artist and a rough time line of the approximate years? For the purpose of the interview we will break this in to two sections starting with the years 2000 – 2010.
Ok the first section is as follows:
---
2004 (Jazzie B)
I was contacted by Jazzie B's wife Efua, to come to their house and do some live airbrushing for their daughter's birthday party. This went well and we became friends, since I have painted canvases, clothes, shoes, even their son Mahlon's bedroom wall.
---
2005 (Timberland Boots)
I airbrushed a pair of Timberlands for a customer with a skyline on the side, he liked them so much he sent a pic of them with a letter to Timberland head office. To our surprise the managing director for Timberland UK, got back and asked us for a meeting.  We met at head office just outside London, they tested the paint to see how well it stayed on and then hired me to appear live airbrushing Graffiti at their new flag ship store opening in Glasgow.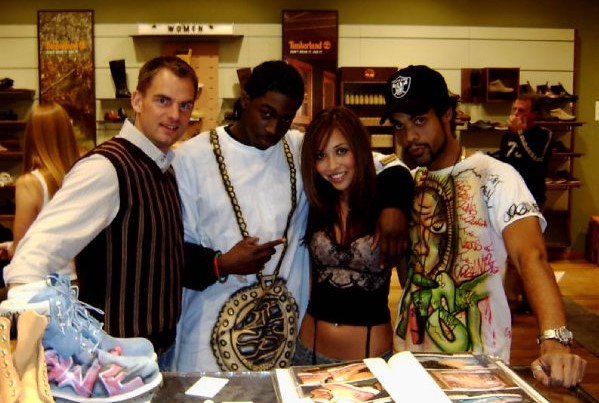 Shortly afterwards they hired me again to work in Germany, Ireland, and most of the UK. I would often airbrush in the shop window. This would normally be over the weekends.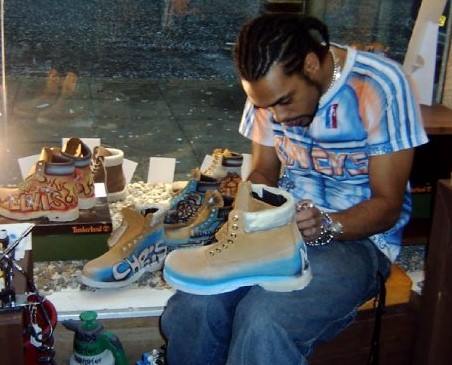 ---
2006 – 2011 (THE LAB)
In 2006 I opened my own little shop unit in Stables Market Camden, this was very small, a 3m x 3m glass container. This is where I truly learned my craft doing live airbrushing for the general public on hats, hoodies, trainers and t-shirts, this was only open weekends but got so popular I hired someone to take down all the orders and deal with the sales, so I could keep up with the workload, This small shop unit opened up a lot of doors for me, as so many people would see me painting every weekend.
---
2006 (MK Graffiti exhibition, and MTV opportunity)
A local Graffiti artist and friend Kade, invited me to show some of my airbrush work at Middleton Hall MK, I was able to do some live on the spot painting for the general public, when I met a lady who said she was part of the MTV hair and makeup team, she was interested in my live painting and asked if it was possible to airbrush on skin? I replied that I can paint on anything I would just need a different type of paint. I gave her my business card, had another meeting with her. She gave me some Mac airbrush make up paint for me to practice with. Then a couple of weeks later I was flying to Copenhagen to work at my first MTV EMAs. I got on well with the crew, and I've been invited back every year since. I have now worked at 13 MTV EMAs.  Painting on some celebrities and a lot of dancers, big names included Nelly Furtado, Wyclef Jean, David Guetta, Taylor Swift, Kesha, Katy Perry.
For move info and images please visit http://www.theurbanist.co.uk/
---
2008 (Formula 1)
I was approached at my shop unit in Camden by an events team to travel to the F1 event in Bahrain, I was asked to be part of the track side entertainment whilst the race was on. I airbrushed on t-shirts. After this I was invited to Abu Dhabi, Dubai and Beirut, to work on other events working with Red Bull and the F1 events company.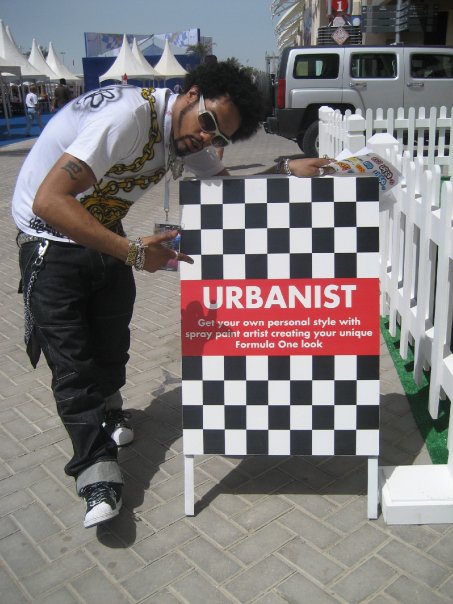 Click here to read the Urbanist Interview (Part Two)
For further information or to contact the Urbanist please visit: