Break to the beat recently had the honer of catching up with and interviewing one of Hip Hop in the UKs godfathers Overlord X. Overlord X along with the X Possee put their home borough of Hackney, London and the entire UK on the Hip Hop map back in the late 80 and early 90s giving us 3 outstanding LPs that were not only an inspiration but for many an introduction to British rap music. Overlord X's contributions to the UK music scene over the years have been nothing short of outstanding and has provided us with both thought provoking intellectual lessons in life as well as timeless Hip Hop classics. Any readers not familiar with Overlord X & The X Possee's work should check the Overlord X Discography & Review article posted a few months ago on break to the beat.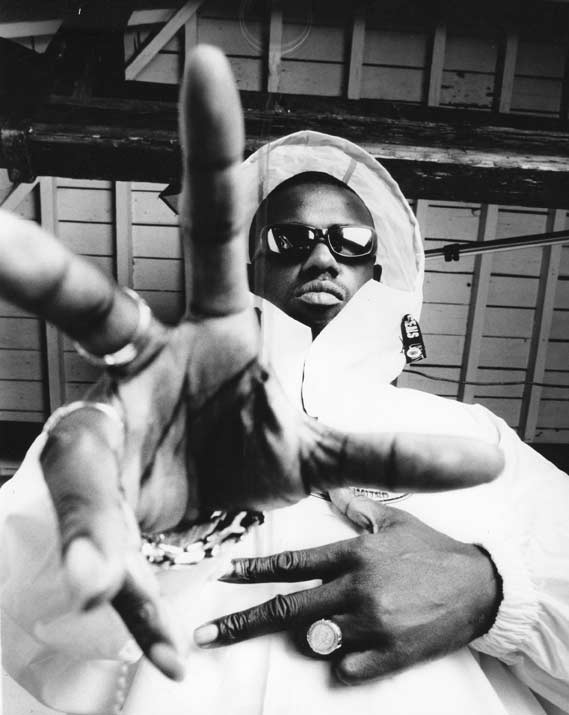 Taking things right back to the beginning. Before you started rapping and producing records please tell the readers how you discovered the Hip Hop culture?
I really started to get into Hip Hop music from Africa Bambaataa and the soul Sonic force, back then Hip Hop was in the style of Electro and they were the ones that grabbed my attention to start even thinking of making music. At that time I was a young break dancer and DJ producer just being a big fan and follower of the movement. I was looking for a rapper to spit over my beats but there were very few MC's around so I picked up the mic and started creating rough demos at home.
Africa Bambaataa & The Soul Sonic Force "Planet Rock"
In 1987 you had a track released on the Music of life compilation "Hard as Hell – Raps next generation" How did the opportunity to record with Music of Life arise?
Once the passion to become a rapper overtook me I was relentless. I was doing demos at home but they were really rough because of the limited equipment that I had. I used to buy magazines to check for record labels, for events, or anyone who was looking for acts.  I came across an ad that said a recording studio in Liverpool had set up a record company and were looking for unsigned acts to develop. I gave them a call and sent them my demo. That was followed by an invitation to go up to Liverpool for three days to record some demos with the studio. I was mad excited as I had never been inside a professional studio before.  I produced and recorded 4 tracks over the 3 days but to cut a long story short nothing came of the Liverpool record company but they said I could use the demos for whatever I pleased. So I decided to re- send out my new demos again and Music of life was one of the labels I sent the new demos to. One exciting day they gave me a call and I couldn't believe it!!! I had a meeting with them and they told me they likes one track in particular from my demo tape and that track was "Let There Be Rock'!!!!!
Overlord X "Let there be rock"
The credits on the record say that the track was produced by Simon Harris – Did you have any input in to making the beats or was it something that was pre prepared for you to write to?
I had already produced the demo but Simon Harris wanted to re-do the track again, but taking from my demo the key elements which made the track, such the samples. I was a young kid with a record deal so I didn't even care.
What was it like working with producer Simon Harris and the Music of life team?
In the short time I was there It was great and a big privilege they where a small tight unit, very talented with their fingers on the pulse of what was happening on the streets. But I felt a bit like an outsider so my stay there didn't last long.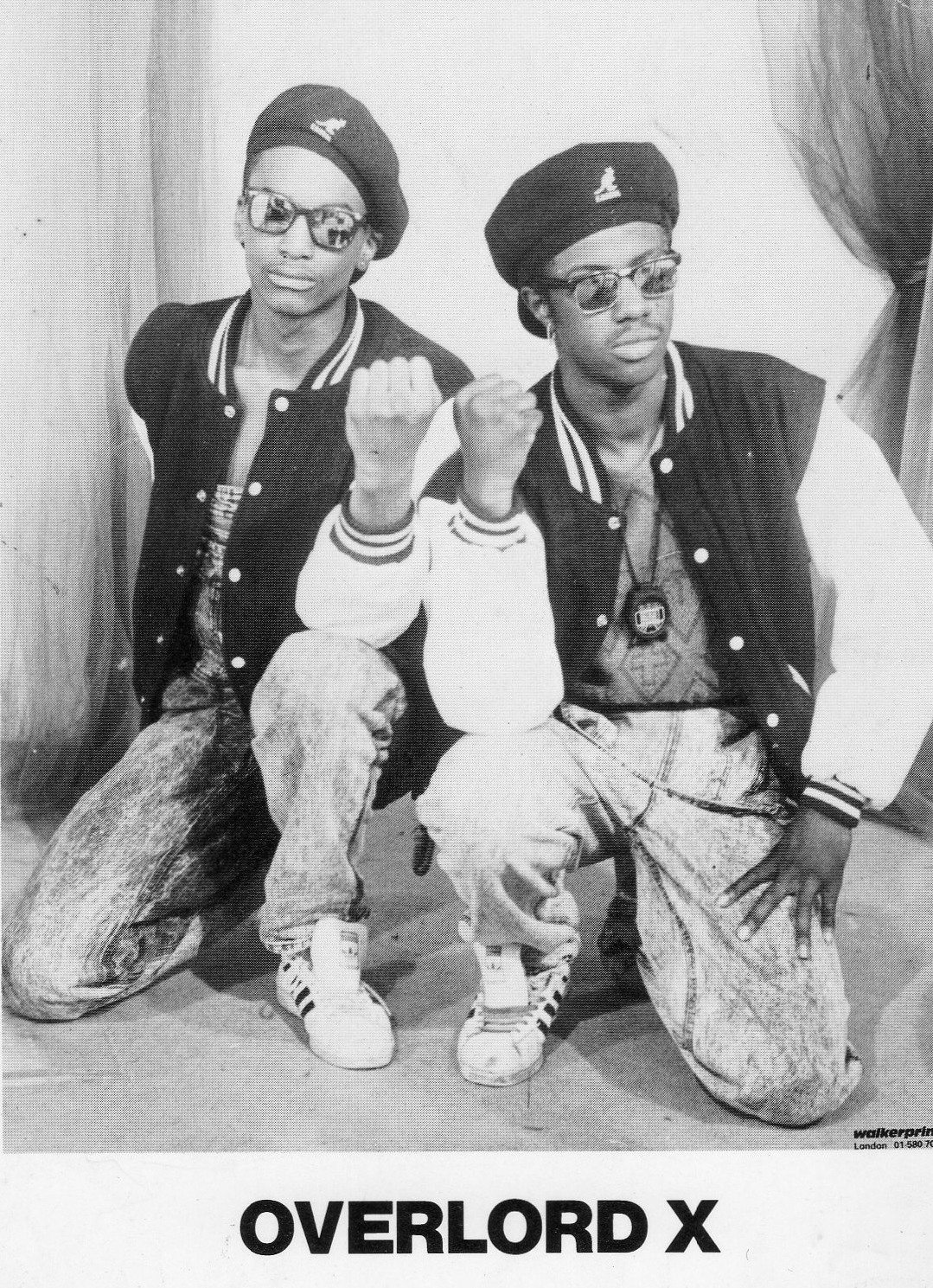 Overlord X 1987 Music of Life
There was another rapper on "Let there be rock" which was X-Possee member Dark Heart who would later feature on the X-Possee album "project X". Had the X-Possee formed before releasing the track in 1987? And if this was not the case then how did the X Possee form?
By The time I was on my 10th demo at home I started to get the attention of all my friends who were listening to my demos. Then slowly one by one they started to pick up the mic. As I was the only producer on the block they would all come over to me for beats. Dark Heart was lucky enough to be around working with me at the time "Music of life" approached me so I brought him in on the track. The buzz slowly started to spread about my ability to create beats and I was producing for 12- 15 rappers from round my way. Whenever we had the opportunity to perform at a local event we all went together and took turns in spitting 16 bars. Its only when I got my first deal with "Music of life" that we realised that this rap thing can be something big. So after I signed with "Music of life" we all agreed to come under my production wing as the X possee and that I would try and get them exposure with my production and influence and in return they would support me.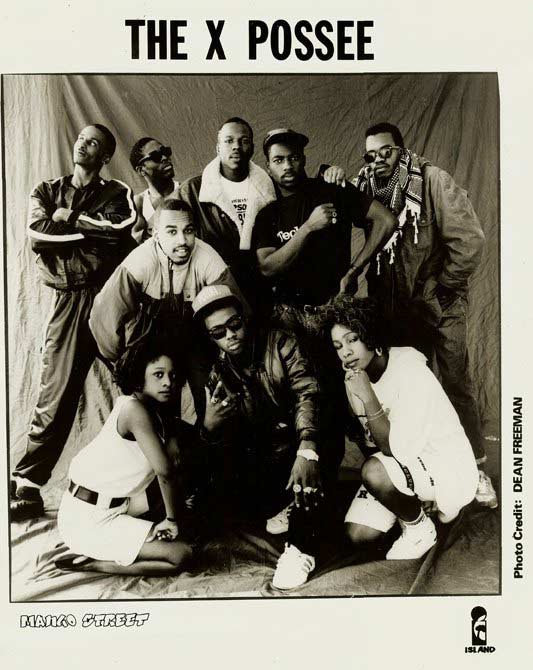 Overlord X and The X Possee
"14 Days In May" was the second Overlord X release and originally came out on the Electro/Hip hop vol 20 compilation. Many B-boys and B-girls in the UK grew up listening to the Electro series and at the time they were one of the most accessible ways to own hip hop music as they were widely distributed in the UK. How did the release with "14 Days In May" on Street Sounds come about?
After I left "Music of life" I was still on the grind getting myself out there at any opportunity, at that time Dave Pearce had a successful Hip Hop radio show called "Fresh start to the week" And on his show rap listeners had the chance to rap live. All you had to do was call in and rap 16 bars over the telephone and the best three rappers would get aired on the radio that day and the best of the three wins the chance to come in the following week to rap live on air. I entered and won and did my performance but then a couple of weeks later entered again using a different rap name and won again. When I arrived at the radio station the 2nd time  Dave Pearce caught on to my scheme and laughed but said you can only win once but allowed me to rap live again. After the live session Dave Pearce asked what I was doing in regards to my rap career and I told him that I was on a search of a deal having left music of life. He said he was involved with a new Streets-sounds hip hop album which was going to be 50% USA and 50% UK acts and would I like to record a demo for the Album. It so happened that a day or 2 later that I saw the TV documentary called '14 days in May' which moved me so much that I wrote a song and recorded that for the Street-sounds album.
Dave Pearce Hip Hop Documentary (Overlord X appears briefly at 3:37)
Shortly after Hip Hop 20 was released Hardcore Records which were a subsidiary of street sounds released "14 Days In May" as a 12" Single. The track was also produced by you. I noticed that by this point you were already using the technique of slowing down your voice for the overdubs that would later go on to be recognised as the character Lord V. How did you achieve this effect?
Now I'm a big believer in the most high God, I have always been since before Overlord X. And at certain times I would get ideas flying into my head and I would simply act on it. That was the key thing to my success even today in what I do. Though I was part of a huge collective of rappers I still was very much on my own a lot of the time going to the studio or making demos and Lord V which one day popped into my head, was kind of an alter ego that allowed me to feel that I was connected or somehow partnered up and protected by some sort of terminator character that thru thick and thin would always be there. I know it sounds mad but that's what it was. The sound was created by a voice pitcher which controls the pitch of your voice thru me Lord V comes alive and it's become its own thing. So much so that I have been recently asked to appear on a track which I declined but they asked if lord V could appear which I agreed, this is something due to come out soon with a few old skool heads featured.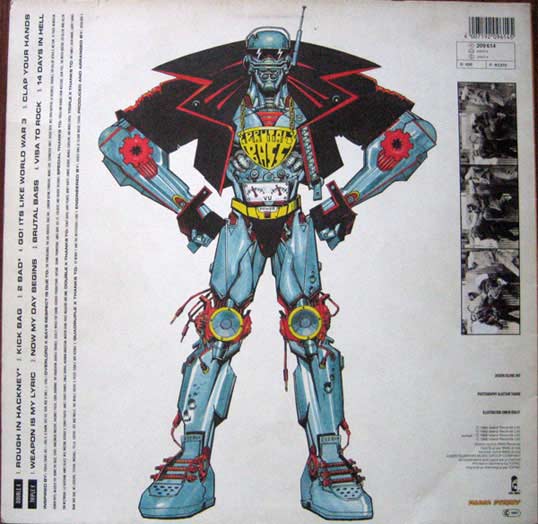 "Lord V" from the back cover of the "Weapon is my lyric" LP
Your production carries a signature Overlord X sound. What equipment/set up did you use to construct your beats and backing tracks?
At the beginning at home I had some basic studio equipment, I had a Boss DR-670 DR670 drum machine, 2 Technics 1200 turntables a small mixer and a Casio SK 1 sampling keyboard  which I recorded onto a Sharp GF-555 ghetto blaster which I would use a as a multi track to overlay sounds and vocals onto tape cassette. That was it, but that allowed me to bring out my ideas every day. Later  when I was signed I mostly used the Akai 1000 sampler  along with the Roland 909 and the Korg M1 keyboard, those where my weapons of choice to create my sounds.
When did you start working with DJ Sir-Preme-Tee and how did you guys meet?
I started to work with DJ Sir Preme Tee from 14 days in May. As I said before the buzz started to get around and I was introduced to him by an existing X Possee member. He came over my place and I tested out his DJ  skills on my turntables and I was quite blown away by his  scratching skills. Up to that point I did all the scratching on my own beats as I didn't know any other DJs on my block. So I was able to concentrate on just writing and producing once Sir Preme Tee  joined the X Possee.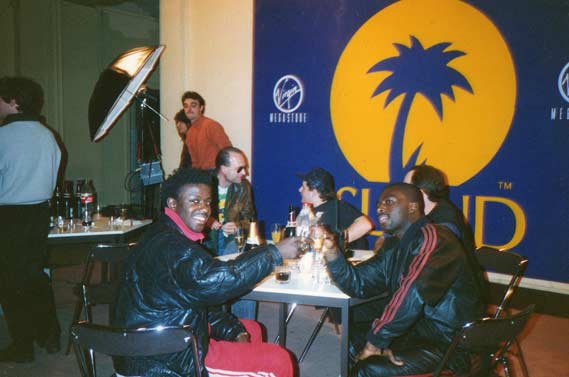 Overlord X & DJ Sir-preme-Tee
Listening to some of the breaks you and other Hip Hop artists had sampled was what introduced me to Soul and Funk music. For example on your albums you sampled Isaac Hays, The Tom Tom Club, Sir Joe Quartermain, Curtis Mayfield, as well as some more obscure records like Pigbag and Ennio Morricone. A lot of Hip Hop producers in the late 1980's went straight for the popular Ultimate Breaks & Beats albums. Where did you source your samples from?
As I was a DJ before I was Overlord X I already had a record collection. My thing as a DJ was to mix abstract music with hip hop breaks during DJ sessions at my local youth club. Visiting my local record store which was called "Wired for sound" and spending 2-3 hours listening to records because I liked the record cover design allowed me to discover some pretty incredible music.
Following the success of "14 Days in May" you were signed along with the X-Possee to Mango Street Records where you released your debut LP "Weapon is my lyric" shortly followed by the collective X-Possee album "Project X". Did you have 2 separate contracts for solo/group tracks with Mango Street? 
I was signed to deliver 2 albums with Island/Mango Street but also signed separate contracts every-time I did various projects with the label which included the X possee album.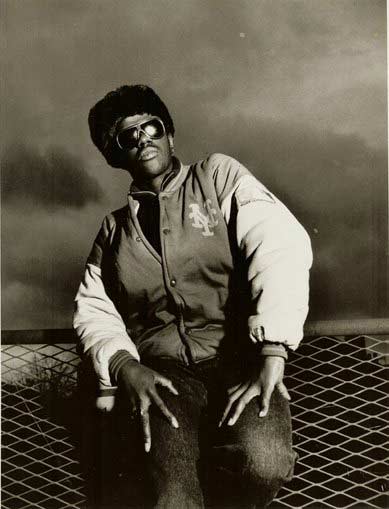 Another Landmark record in early UK Hip Hop history was the BROTHER (Black Rhyme Organisation To Help Equal Rights) Movement's "Beyond the 16th Parallel". The record was made to raise awareness of the inequality of the South African Apartheid regime and all the proceeds went to Sickle Cell Anaemia Research.You featured on the record with most of the biggest UK Hip Hop artists at the time including Cookie Crew, The Demon Boyz, Hijack, London Posse, MC Mell'O', She Rockers, Standing Ovation, Etc. What was it like recording this project? Were you all in the studio on the same day? Or did you all record individual parts?
That was a powerful movement and a really good project to be part of. It's mad to think now, that a country could be so racist against a race of people but that's exactly how South Africa was the world started to show them that we didn't approve and that was the UK hip hop scene doing its part. It was a really great thing to be a part of but at the same time very competitive as there were so many talented acts featuring on the record. You felt that you wanted to do well and stand up against the likes of Demon Boyz, Hijack, MC Mell'o', Cookie Crew etc. We did our parts separate over a couple of days.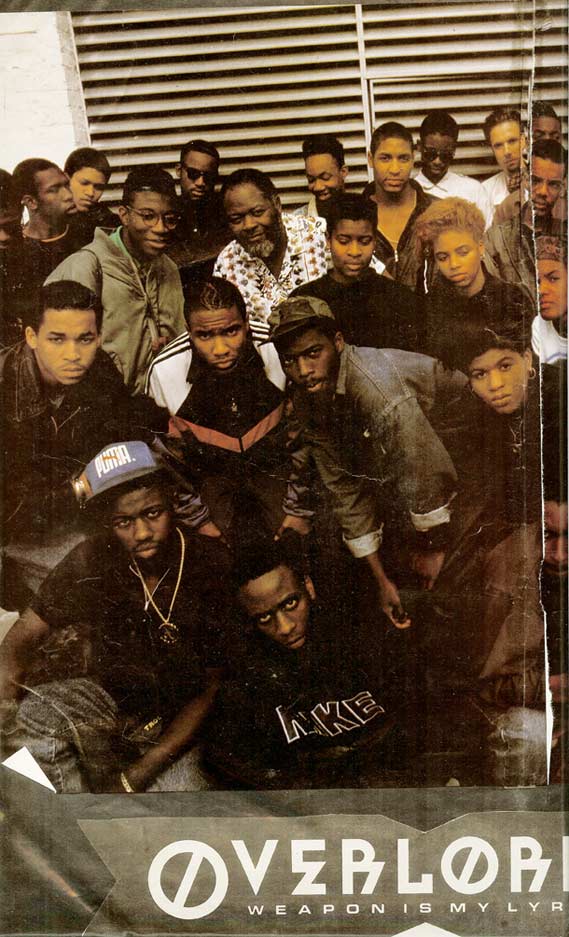 B.R.O.T.H.E.R Movement
B.R.O.T.H.E.R Movement "Beyond the 16th Parallel" 
I felt that Hip Hop in the late 1980's and early 1990's helped educate listeners on many social and political issues many of which are still relevant in society today. How important was it to you to be able to highlight and communicate these types of issues in your music?
Hey bro I'm still shouting about them things now. I think it was important for me. I grew up in what was considered the poorest borough in London, Hackney, and I saw and got involved with a lot of things which made me put a pen to a pad?  I saw the problems and how they started and the causes and the suppression's to keep people from coming out of their states so I felt the best way to bring it out was to rap about it.
Were you inspired by any other rappers, producers, or political figures during your career? If so who were the biggest influences?
Sure I was inspired. My biggest influences were by the Bomb squad, Mantronix, Public Enemy, and LL Cool J.
In 1990 a record called Ndodemnyama (Free South Africa) by Hip Hop artists against Apartheid was released. You are listed as one of the artists involved with the project alongside X-Clan, UTFO, Brand Nubian, Africa Bambaataa and several others. What was your involvement in the project?
I'm trying to remember exactly what I did but didn't have anything to do with the track in regards to recording or producing.
Ndodemnyama (Free South Africa) by Hip Hop artists against Apartheid
You were one of the biggest non commercial rappers that the UK has produced and anyone who is anyone connected with the UK Hip Hop scene in the golden era has heard the name Overlord X. How well was your music promoted overseas in Europe and worldwide?
Thanks Bro, the achievement was a blessing I remember when my first album was 2 weeks into being released and the Record company top execs at Island Records where quite shocked at how well my LP was doing. So they pushed the momentum to continue it to Europe. France, Italy, Germany, Holland, Spain and it did very well there too. Even Iceland wanted a piece of it and when I went over there they told me I was the first rapper ever to perform there. The states wasn't too bad but wasn't great, 14 days in may sold 40'000 though it may sound a lot but it wasn't, I really needed to go over there and promote which didn't happen until later after I had left mango street. The rest of the world got my album, though there it was much more underground than Europe and the UK.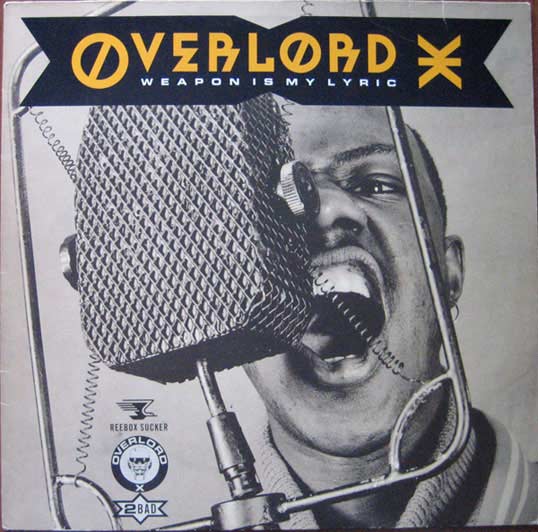 Overlord X "Weapon is my lyric" LP Mango Street Records 1988
Did you get the opportunity to perform outside of the UK?
Yes I toured Germany, Italy and France in small clubs and some big theatres along with local talent opening up for me.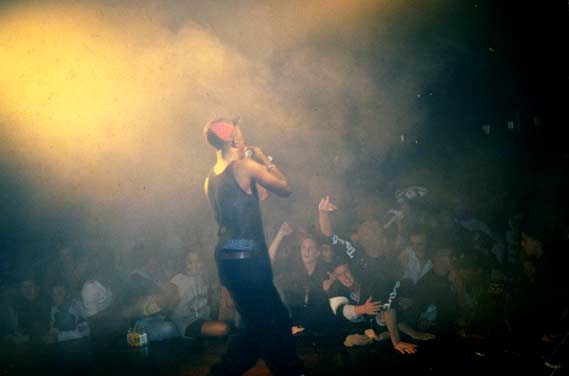 Overlord X European tour, Germany 
What were some of the most memorable live shows?
My most Memorable live shows are as followed, in Germany at this packed venue (can't remember the name of the venue) when I walked stage the crowd lost their minds!! ha ha and the noise was ridiculous. Brixton Fridge where I headlined a hip hop all dayer with the cream of the UK artist. Also I toured with Ice T around the southern parts of the UK, that was the shit!!!!. And at a small show I performed on stage in central London's Cafe de Paris in which I was in a battle with MC Duke with Queen Latifah as Referee and peace maker lol. Big up MC Duke we cool now.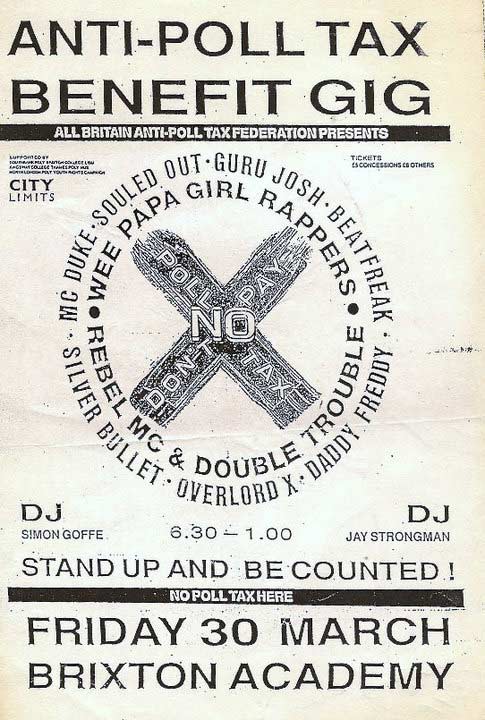 What exactly happened at Mango Street and why did Island shut down the label?
As you may know mango was a reggae label within the structure of a major label called Island Records who at the time had U2, Bob Marley, Aswad, Mica Paris etc. When I was signed the label formed Mango Street to accommodate me as a Hip Hop artist but they also went on to sign other UK Hip Hop artists too. When I had delivered the 2 albums the company offered me a contract for another 3 albums which I declined in order to sign to Motown Records in the USA. So after I left I figured having been the biggest artist on the Mango Street my LP sales would keep them going. But as soon as I went (no disrespect to the artist who were still signed) but the label felt it didn't make financial sense to keep the Mango Street label going as the remaining artists were not shifting the units.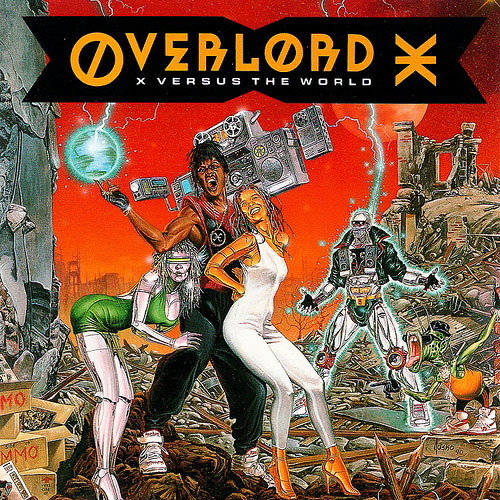 Overlord X "X vs the world" LP Mango Street Records 1990
Thanks to youtube and the internet fans discovered that a 3rd Overlord X album was in the process of being recorded. How much of the third album "Mind of a menace" was completed before the closure of Mango Street?
Ok… well the third album was never recorded with Mango Street I had already made the jump to Motown. Once I had signed I began to record. I was signed for 2 years and recorded a full album entitled "Mind of a menace" (MO-AM). To be real they didn't get it, they didn't get me, they didn't get Lord V and we went round in circles. In the end we had to part ways and when I came back to the UK scene things had changed musically and I had no interest to continue Overlord X in this new scene which was jungle and drum & bass.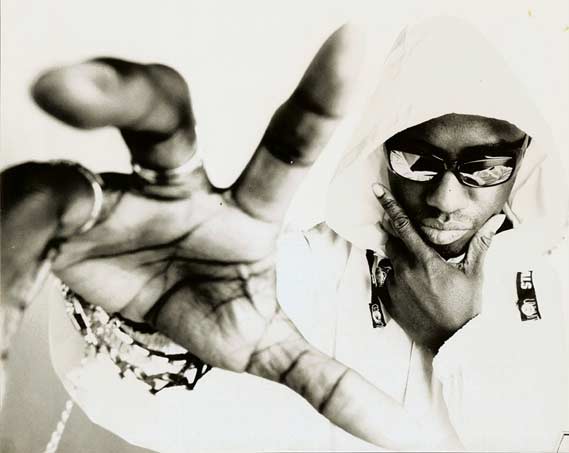 Overlord X Motown Records photo shoot
Ok so from a fans perspective its good to know that there is a full length Overlord X album from the golden era of hip hop still waiting to be discovered. Is it possible that the "Mind of a menace" album will ever get an official release? Or is this out of your hands and in the hands of Motown?
Yes there is a complete album which I finished with Motown titled Mind Of a Menace (MO-AM) I actually have all rights to the album as that what I requested as part of the agreement of leaving. At that time I had no intention of giving up the mic. It was only when I saw how much the scene had changed back in the UK that things changed and I decided not to continue any more. I have thought a few times of putting out the material but never had the moment of planning and time to do it as I became very busy working in another field. I have been constantly doing various interviews or jingles for on-line radio stations and I had put a few exclusive tracks together from the Mind Of A Menace album for them to drop. The Tracks are Beast Killer, Prototype and So Dam Deff which have gone down quite well. Will I be putting out the album any time soon? Well in the past I didn't really have a reason to put out the album other than simply putting out for those that may want to hear it. But now I think I may have a reason. I'm directing, producing and featuring a series of short films on youtube in conjunction with my web site which will have my tracks as backing music. Depending on how well these movies do will depend on whether or not I will go ahead and release the album. But the series of short films will start soon and will even feature Lord V. I'm going deep with the visual FX.
Overlord X "Prototype" from the unreleased MO-AM album 
As the UK music scene continued to evolve Hip Hop culture influenced several emerging music scenes including Rave, Jungle, Trip hop, Swing, and eventually R&B. In the mid 90s you formed a Soul/Swing trio called Benz and as a group you had several top 40 hits. What was the experience of working in Benz like as opposed to being a solo artist?
I took a break for while and still realised I had a love for music the same way I did before I was Overlord X. So I continued with producing beats. I was listening to old skool as well as this new form of Music which was hip hop mixed with RnB. The idea of Benz came about by chance when as I was working with a rapper/singer called Big Ben, he was generally this new wave of artist that were mixing hip hop with RNB but favoured more singing. At this time there was no UK rappers who were rapping over this music. I met another guy called Tony Benididct who was a singer and started to work with him too and it came about that I was the only one with the experience to put something together and get it to a label to be signed. Then again the idea popped into my head and I thought of joining forces with these guys. So I looked at the UK scene and looked what was missing there's no Rapping. That spark from the most high in my head gave me the idea to say to the guys let's do a group thing, call it Benz as we all have Ben in our name but let it be influenced by rap and hip hop beats rather than singing and hip hop beats. We signed to a major record company called RCA I was asked by the guys and the record company to keep my name Overlord X to create a buzz but I refused as this was not Overlord X music, so I created the alias Mr Shade (as in undercover). Being in a group was challenging as now I have to think of others when writing when producing and stage performance. But I did have a laugh with the guys and it was like a huge experiment that lasted 4 years and we made some money and I got some more experience to how the industry works on another level.
Benz "Urban City Girl" 1995 BMG Music Ltd
Over the years you kept your hand in producing for a wide variety of artists both signed and unsigned. Do you still draw inspiration from and use techniques originated in Hip Hop?
Always, that side to me will never die its always been there even on my video and photography clients I work with and on my Youtube I produce some of the background music which is heavily Hop Hop influenced even using the same breaks that I used on my first 2 albums.
Finally in recent years you have become recognised as a professional photographer. When did you become interested in photography?
The decision to getting into media was another thing that sparked into my head by the most high.  In 2006 I started as a film maker making short films and Music videos for a new generation of artist that were prepared to fund their own videos. I also did photography as a hobby and I began working a lot with beautiful models from the music videos I directed who always wanted their picture taken for their portfolios. The more I did the more I would get praises for my work and I slowly exiled in the profession and then started to get calls from big name brands such as Apple Bottom, Adidas, Baby Phat, Armani, Viper London, and I have had work in tabloid press and had bill board posters all around the world (even I don't even know how I did it ha ha)
Overlord X Photo Shoot at the Armani Exchange London
My latest venture which I only started 4 weeks ago is my Media blog which I put together youtube videos. It will feature the new 2012 designed Lord V and will start off as a knowledge site for film makers and photographers but will morph into something quite interesting very soon. The link is www.bro.mo-am.com  All I can say is believe in your goals and pursue it and have faith and watch the ride coz there's more to come peace.
Overlord X Pastry photo shoot with Peeks & LoLo
Break to the beat would like to thank Overlord X for providing such a detailed incite to his career. Further info on Overlord X and his projects can be found at the below links.
https://www.facebook.com/Overlord-X-99797423785/
https://www.facebook.com/brophotoandvideo/
Please check out our British Hip Hop Pioneers section for more articles.