Amerie's "Because I love it" LP was released in the UK in May 2007 and surprisingly did not come out in the US until 15th January 2008. The album was supposed to be called "None of the above" and was set for release in Autumn 2006. Amerie's music is amoung some of the most collectable soul and R&B released to date.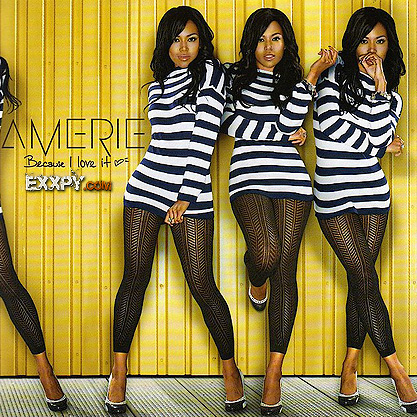 The "Because I love it" LP contains the same musical DNA as the golden age hip hop music from the late 80′s early 90s. I think this is why I have found the LP so appealing as a hip hop DJ. I have played tracks from this LP at weddings, functions and live events and the tracks always rock the crowd. I have decided to give an insight and a personal opinion on some of my favourite tracks from the album.
Hate 2 love U
"Hate 2 love U" contains samples from a popular funk track called "Give it up" by Kool and the Gang originally released in 1969 on their debut LP entitled "Kool and the gang". Give it up" along with the rest of the LP is a pure instrumental funk album containing several drum breaks and grooves that would in later years be used by DJs and producers as the building blocks of golden age hip hop alongside other bands like the JBs and The Meters.
Amerie "Hate 2 Love U"
"Give it up" by Kool and the Gang has been sampled several times before Amerie used the track by hip hop artists. What is interesting with Amerie's track "Hate 2 love U" is that the end result is totally different and unique to all of the previous tracks that I have heard. Amerie's vocal performance draws inspiration from classic soul singers singers like Lyn Collins, Marva Whitney and James Brown. While the lyrics themselves are also well thought out and describe a relationship with a person that is treating her badly.
Kool and the Gang "Give it up"
Rapper Uptown sampled a drum break from "Give it up" by Kool and the Gang on their 1989 12″ single "Dope on Plastic" To me this record is a bonafied hip hop classic. I remember obtaining a copy of this on a tape when I was about 13 from one of the older b-boys on my estate, before finally obtaining the 12″ re issue record in 2001. It's definitely an imprint of what I remember as hip hop growing up as a teenager. Today people like to use the term golden age or old school but in 1989 these kind of records were nothing like the hip hop or rap records I had heard before and we used the term "new school" to describe them. Nowadays the term Golden age rap or classic hip hop would be a more accurate description.
Uptown "Dope on plastic"
UK hip hop pioneer Blade's track "mind of an ordinary Citizen"  released in 1990 on his own label 691 influential, is another record that will ever be imprinted on to my mind and in my soul as a hip hop classic. "Mind of an ordinary citizen" contains an interpolation of the grove of Kool and the Gang's "Give it up" as well as sampling the main horn section. Again in terms of hip hop records from the golden age era this is about as good as it gets. I think growing up 50 miles outside London made us just look a hip hop as one movement. Be it US or UK hip hop it really didn't matter as there were no divisions or subdivisions in those days as there are in music today, it was either good or wack. Its the same way as I like to look at music today. Something is either your cup of tea or it isn't, You either like it or you don't. But the important thing for me is to keep an open mind on all music styles because at the root of every music genera is essentially the same thing. Music that makes you vibe and feel a certain way.
Blade "Mind of an ordinary citizen"
The last track I am going to mention is Gangstarr's "take a rest" Which sampled a horn stab from the Kool and the Gang track "Give it up". "Take a Rest" appears on Gangstarr's second LP "Step in the Arena" which for me brings back memories of hanging out in the summer of 1991. I had a cassette copy with Gangstarr's LP on one side and Main Source's LP "Breaking Atoms" on the other side. The tape got rinsed the entire summer.
Gangstarr "Take a rest"
What is amazing is the 3 hip hop tracks mentioned and Amerie's track "Hate 2 love U" is that all sound completely different from each other and at the same time completely different from the kool and the Gang original funk record. Equally all tracks have the same impact when you play them. This is what I mean when I say that Amarie's LP contains some of the same musical DNA as some of the golden era of hip hop. I don't feel that its the same as just covering or updating a hip hop classic which has been a trend in R&B over the years but what Amerie has done not just with this track but with a lot of her work is to make a fresh and unique track from a classic break that all hip hop DJs know and love.
Some Like It
Amerie's track "Some like it" heavily samples Malcom Mclaren & The World famous supreme Team's track "Worlds Famous" Which itself contains a samples of Cerrone'strack "Rocket in the Pocket (Live)". "Rocket in the Pocket (Live)" is another popular hip hop breakbeat that has been sampled and popularised over the years by the likes of Run DMC, LL Cool J, The B-Boys, The Treacherous Three and several others.
Amerie "Some like it"
Again I feel that Amerie has successfully reinvented and breathed new life in to a classic breakbeat while at the same time reinvented Malcom Mclaren & The World famous supreme Team's electro hip hop track "Worlds Famous".Worlds Famous is mostly an instrumental early 80s sounding electro track containing scratching with a short rap at the very end. Amerie and her producers have lifted sections of Malcom Mclaren & The World famous supreme Team's track "Worlds Famous" using Cerrone's "Rocket in the Pocket (Live)" drum break as the chorus section. The finished product again sounds fresh and unique. Especially when you compare the track to other soul and R&B tracks released at the time
Malcom Mclaren & The World famous supreme Team "Worlds Famous"
Cerrone "Rocket in the Pocket (Live)"
Make me believe
"Make me Believe" by Amerie is another one of the albums up-tempo tracks. "Make me Believe" is a remake of Curtis Mayfield's track entitled "Make me Believe in you" which was released in 1974 as part of his LP "Sweet Exorcist"
Amerie "Make me believe"
Although Amerie's version is a remake it is by no means a cover version of the song. Amerie's version is a more rugged up-tempo stripped down hard funk sounding track While Curtis Mayfield's original is somewhat smoother leaning towards soul than the hard edged funk/hip hop sound.
Curtis Mayfield "Make me believe in you"
Before I heard either versions of "make me believe" I had heard the break sampled in a track called "Radical kickbag" by rapper Overlord X.
Overlord X "Radical kickbag"
Overlord X is one of the first generation UK rappers hailing from Hackney in East London and is considered a pioneer of the Britcore or Hardcore European hip hop music scene. "Radical kickbag" was released in 1989 on Mango Street records and was a rework of a track called "Kickbag" for Overlord X's first LP "Weapon is my lyric" also released in 1989. Amerie's version of "Make me believe" is a good balance of the Curtis mayfield original and the "Radical kickbag" track by Overlord X. Amerie's version is not quite as hardcore sounding as "Radical Kickbag" but a good deal harder edged that the Curtis Mayfield original. In my opinion a good blend that may appeal to both hardcore hip hopers like myself as well as the fans of 60s and 70s Soul . As soon as I heard Amerie's version of "Make me believe" I had to dig out my old Overlord X 12″ record and have another listen.
Take control
"Take control" is a very catchy up-tempo track from the LP based around a guitar sample from Brazilian musician Tom Ze's "Jimi renda se" track. "Take control" is very funky sounding and a definite dance floor filler. Once again Amerie's vocals and delivery are outstanding. "Take control" was written by Cee-Lo Green and presented to Amerie who then wrote the bridge and the hook. "Take control" was the first single to be released from the "Because I love it" LP.
Amerie "Take control"
What Amerie has done with this track is part of the beauty of what hip hop/DJ culture  started back in the early 80s, by reinventing and in this case completely changing the sound of an existing record. Hip hop DJ's and producers know this process as "digging in the crates". Below is the track "Jimi renda se" by Tom Ze.
Tom Ze "Jimi renda se"
It took me a while to work out where I had heard in this case part of the sample used. Again I can't confirm this 100% but after hearing "Take control" by Amerie I kept humming part of the base line. After a day or two I realised it was part of the break used by the Smut Pedlars in their track "One by one".
Smut Pedlars "One by one"
Smut Pedlars were Mr Eon and DJ Mighty Mi from the New York hip hop crew "High and the Mighty" with rapper "Cage". The Smut Pedlars "One by one" instrumental was also used by DJ Talkback as part of his track "The return of scratching" which was included and is one of my favourite tracks from Bomb hip hop records compilation LP "Return of the DJ Vol 3"
DJ Talkback "The return of scratching"
The art form of producing beats is all about hearing samples like raw materials and then building and adding to them. Tom Ze's "Jimi renda se" is a completely different sounding track to Amerie's "Take control" but both sound authentic and unique. In researching this article I have found out that there is a 12″ record of "Take control" containing the instrumental and accapella versions that was released in the US. As a collector of classic soul and R&B records I will hope to track down a copy of the wax at some point for my own collection.
Gotta work
"Gotta work" is another clever and well produced track based around a sample of Erma Franklin's cover version of Sam & Dave's classic soul track  "Hold on I'm Coming". The drum break is incredible and the chopped up horn samples are subtly dropped in an out of the track like an old school hip hop DJ dropping a horn stab.
Amerie "Gotta work"
Amerie gives an amazing vocal performance and has some well written conscious lyrics describing that some times in life you have to work hard to get what you want. Overall "Gotta work" sounds like a golden era hip hop instrumental but Amerie's unique vocal style and delivery take the listener in to new territory. This is one of my favourite tracks from the LP.
Erma Franklin "Hold on I'm Coming"
Crush
"Crush" does not have any samples that I recognise but is another stand out from the LP. A nice piano loop with some strings, horn samples and sweet harmonies. Great vocals and sexy lyrics. Very well produced and arranged.
Amerie "Crush"
Crazy wondful
Amerie's "Crazy wonderful" is one of the smoother sounding R&B numbers from the "Because I love it" LP. A lovely summer sounding track that uses the same melody with rolling vocals that are well written and I particuly like the way Amerie' changes up the delivery on the chorus based on Digital Underground's 1991 single "Kiss you back".
Amerie "Crazy Wonderful"
Digital Underground were an old school hip hop collective from Oakland California fronted by rapper "Shock G" and his alter ego "Humpty Hump". The track "Kiss you back" was a single from the collective's second LP "Sonz of the P". Rapper "2Pac" was part of the line up for the "Sonz of the P" album before he broke out to record his first solo Materiel. I'm not sure if "Kiss you back" was in any way an inspiration for Amerie recording "Crazy Wonderful" as there is no mention in the creditation but overall another great track from an outstanding album.
Digital Underground "Kiss you back"
1 thing
"1 Thing" was the reason I purchased this LP in the first place and is by far Amerie's most recognised hit, still play listed on stations like MTV and VH1. "1 Thing" was released in 2005 as the lead single from Amerie's 2nd studio LP "Touch". "1 Thing" is by far the stand out track from the "Touch" LP and it would appear that Amerie has really tried to capitalise on the overall classic funk sound of "1 Thing" for the "Beacuse I Love it" LP.
Amerie "1 Thing"
"1 Thing" contains a break from The Meters instrumental funk version of a track called "Oh Calcutta" from the 1970 "Look-A-Py-Py" album. What I found amazing about this break in particular is that for years it seem to have been passed over undiscovered. Several big hip hop artists have sampled sections from the "Look-A-Py-Py" album through the late 80′s and early 90s Del the funky homosapien sampled the Meters track "Rigor Mortis" on his track "The same ol thing"
DEL The Funky Homosapien "The same ol thing"
The Ultramagnetic MCs sampled The Meters track "Little old money maker" from the same "Look-A-Py-Py" album on their track "Ease Back"
Ultramagnet MCs "Ease Back"
The Meters "Little old money maker"
Gangstarr sampled the Meters "Funky Miracle" track on "Take a rest" from their 1991 "Step in the arena" LP.
Gangstarr "Take a rest"
The Meters "Funky Miracle"
The list of artists that sampled the "Look-A-Py-Py" album by The Meters goes on to include Ice Cube, The jungle Brothers and Cypress hill.
The Meters' prolific run of '70s albums established the incomparable foursome as the premier exponents of New Orleans funk, blending syncopated rhythms with gritty guitar/organ grooves to stir up a musical gumbo that's grown ever tastier with the passage of time. The quartet's 1970 sophomore album is one of the legendary combo's most beloved releases, and a quintessential evocation of the Meters' peerless greatness. The album features their immortal smashes "Look-Ka Py Py" and "Chicken Strut,"

List Price: $ 13.98
Price:
The Meters version of "Oh Calcutta" is not really a stand out track from their "Look-A-Py-Py" LP and the particular break that Amerie sampled for "1 Thing" is just an 8 or 9 second loop three quarters of the way through the track. But what an incredible loop. I have had this LP in my collection for about 5 years before "1 Thing" was released and I always used to skip the "Oh Calcutta" track when listening to the LP. As it seems did a lot of other producers. Since purchasing Amerie's "Because I love it" I have also purchased the 12″ vinyl of "1 thing" mainly for the instrumental but there is also a nice alternative version where rapper "Eve" drops some lyrics at the start. If like myself you have seen the video to "1 Thing" on MTV or heard the track on daytime radio then I would recommend picking up the "Because I love it" album as there is a lot more of the same music on it. I would find it difficult to say which is my favourite Amerie track but I would say that "1 Thing" would definitely be in my top 5.
Check out The Meters version of "Oh Calcutta" at the below link to hear the break sampled by Amerie in "1 Thing".
http://www.whosampled.com/sample/view/2520/Amerie-1%20Thing_The%20Meters-Oh,%20Calcutta!/
To conclude my review I would say that if like me you are a fan of the golden age classic hip hop then the "Because I love it" LP is definitely worth checking out. It contains a lot the same elements as classic hip hop and have been put together in a really unique way using similar production techniques. I would describe this album as one of the best albums of the Noughties. It had me reaching back in to my record collection to revisit some of the classic hip hop, soul, funk and electro that I know and love while at the same time introduced me to Brazilian musician Tom Ze and some of Curtis Mayfield's and The Meters work that I was not familiar with. All you could want from a great album.


UK edition of the 2007 album from the R&B star includes two bonus tracks: '1 Thing' and 'Losing U'. As a whole, Because I Love It, Amerie's third album, unapologetically falls into no particular box. There are many elements ('70s soul, '80s New Wave, Hip Hop, live instrumentation), yet the sound is remarkably consistent throughout and makes complete sense. Although the musical inspiration is broad, the arrangement of the material is signature Amerie: strong, aggressive vocals, beautiful melodie

List Price: $ 42.99
Price: