MC Killa Joul broke on to the local hip hop scene in 1993 as part of the Buckingham based hip hop crew the Justice Element. Since picking up the mic Killa Joul has recorded and released materiel independently as well as working with Milton Keynes based hip hop collective True Element. During his time with True Element Killa joul had the opportunity to perform on the National circuit doing live shows and appearing on radio stations before learning to play guitar and sing. Break to the beat recently caught up with MC Killa Joul to hear his story and to talk about his involvement in the hip hop scene as well as to find out about his latest hip hop project entitled The Cure.
So to kick off the interview tell the readers when you started rapping and how you got involved in the local hip hop scene?
I got into the hip hop scene when I started 6th form at Buckingham school in 1993, Kraze One was in my form at the time and I think we started speaking due to a shared love of hip hop music. He knew a lot more about it then me, was into the British scene that I didn't even know existed really, and had a massive record collection (still has). I knew about the American stuff but he turned me on to artists like Gunshot, Hijack and The Criminal Minds. We started making demos with one turntable and using break beats from Simon Harris's break beats and scratches records and a dodgy mic from Curry's!
What was the hip hop scene in Buckingham like in the early 90s?
There wasn't much of a hip hop scene at the time. TCM (The Criminal Minds) had success with their first two EP's in 1990 and 1991 but by the time we were coming up  they had changed direction and progressed in to making Rave/Hardcore music. Buckingham has a university and some of the students that went there at the time were in to hip hop but more the American stuff that was popular like Snoop Dogg and Dr Dre. There wasn't much of an underground hip hop scene at the time, there were a few heads that listened to underground hip hop but no one else creating hip hop music.
How did the Justice Element Crew Form?
Kraze One had already done some choons with a crew called UCP (Under Cover Prophecy) but they had disbanded a year before when they left school. We started talking and that led to the first demos. Shortly after we included a DJ called Crime Plate who was also in 6th form at Buckingham secondary school. Crime Plate also played happy hardcore music under the name Desire and was also a part of the UCP crew so had a bit of a background in the local hip hop scene. The three of us started writing stuff together when we should have been at 6th form! We were about 16-17, it was a great time.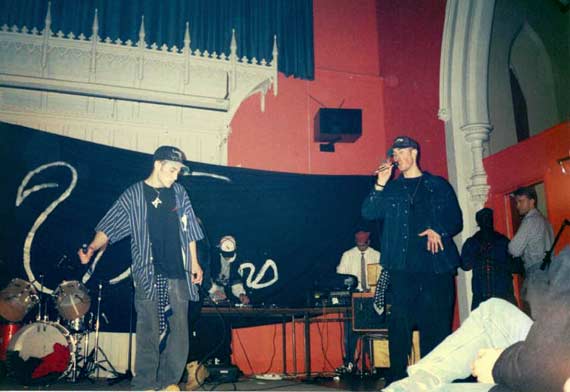 Justice Element Crew April 1994 – Buckingham University
Were there any other crews around your area at the time?
Not from what I remember, you have to understand that at the time hip hop was on it arse and music wasn't as accessible as it is now, TCM were the pioneers for the Buckingham scene but had moved on. We continued where they left off.
Justice Element recorded a demo "Prologue of Buckingham's Innovators" that was released independently in 1994 on cassette. Was there any budget behind the JE crew or was everything done independently?
Absolutely no budget at all. The album was mixed and mastered on a hi-fi using cassettes! Any money we recouped was spent on more cassettes, DJ Crime Plate designed the artwork, we photocopied covers at school and sold em out of a backpack on the street but that was enough to generate an interest in the crew!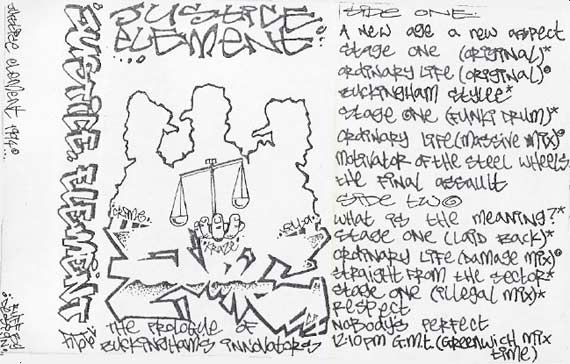 Justice Element "The prologue of Buckingham's innovators" Cassette LP released in 1994
Did Justice Element go on to record any other tracks after the cassette was released? and did anything else make it from the studio to the streets?
Well things started to get a bit more serious once we had left school, we were gigging a bit round the town, goin out tagging and stuff and we reconstructed a couple of tunes from the Justice Element tape at DJ Halo's from The Criminal Minds studio. At DJ Halo's we were able to sample and construct backing tracks where as everything previous has been recorded live from the two turntables straight to cassette. We then recorded our vocals on top of the backing tracks using a 4 track cassette tape. The quality was a lot better but still not quite good enough to release professionally. We recorded "Straight from the sector" and a reworked version of "Stage One" but that was never finished as DJ Crime Plate had left the group by this point. Shortly after we started using a studio in Buckingham called Audiolab, that was run by a great guy called Nigel Neil. We were working on a track called "break back" that was miles more advanced than the stuff we had been doing, there was also an early version of "Detonate the funk" that we started, but for one reason or another they were never finished, shame really as "Break back" was a cracker! Kraze One's track "Straight from the sector" was re-recorded at Audiolab while I was away and the re-recorded version was included on DJ Halo's Widow maker album in 1995. I was originally on the end of the track doing shout outs but as I was out of the area at the time and DJ Crime Plate had left the group it was put out under Kraze One's name as a solo track.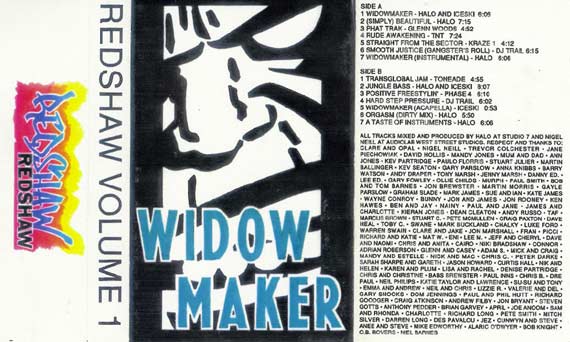 Justice Element performed mainly around Buckingham but in 1994 the crew did manage to land a fairly high profile gig as part of a show put on specifically for the high commissioner of the Bahamas when he was visiting the UK. How did this situation come about?
We had done a couple of shows for a promoter called Natalie who was a student at Buckingham University. She was from the Bahamas and was part of the committee organising the event in honour of the high commissioners visit to the UK. There were loads of different acts on…… but we were the best…. ha ha ….happy days from what I remember. We were still with DJ Crime Plate at this point and we also had back up dancers and as a unit we managed to put on quite a good show. Natalie actually wanted us to record vocals on a track for her but at the time we turned it down as we thought the beats were too commercial and that was not what Justice Element was representing at the time.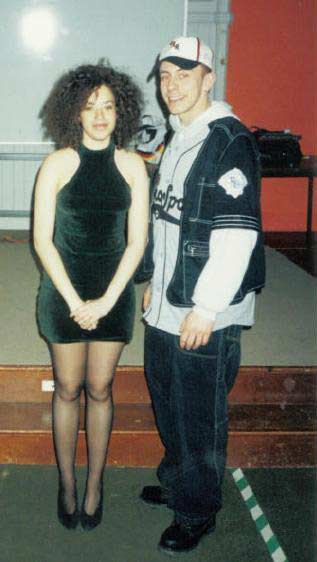 Natalie from Visions Promotions and DJ Crime Plate Buckingham 1994
Why did the Justice Element crew split?
All good things come to an end I suppose, Kraze was working full time after leaving school but still keeping his hand in the music via several opportunities at Audiolab studio, I got a job in Scotland which involved me relocating and that was that really. I did do a solo track called "Knights of the post" when I was back in the area in 1995 but it was a transitional period for all of us.
IT wasn't until 1998 when you reappeared on the track "True Elementalz" on the True Element CD EP along with DJ Maniphest. How did you get involved with True Element?
Me and Kraze kept in touch while I was moving around the country, he had kept going in my absence and started making his own beats with different vocalists, good stuff as well. He gave me a copy of "True Elementalz" track and I wrote a verse. Then we recorded it with DJ Maniphest at Audiolab studio, it became the title track of the 2nd True Element EP. There was some good tunes on it, one with a singer called Hysko and another with a rapper called Tony Mac. True Elementalz got played on Horizon Radio around the time it was released in 1998 which was a bit of a big thing for us as normally they just used to play chart music. The EP also received some great reviews in the local press and helped secure True Element as a serious crew on the local hip hop scene. There were not many crews around at the time and in those days a CD was a professional package. Most people still had demo tapes (Cassettes)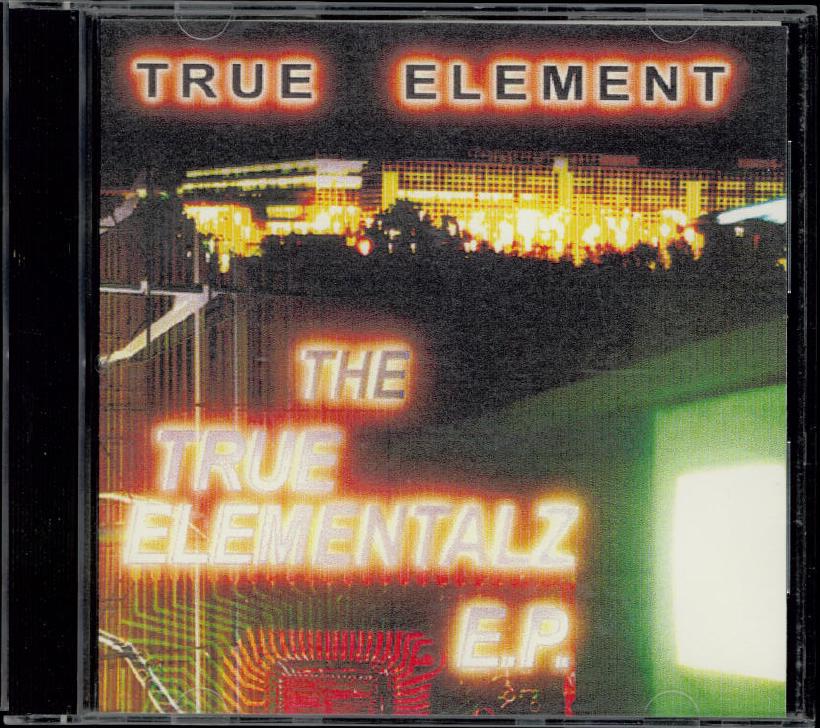 True Element "The True Elementalz EP CD" Released in 1998 on One on One Productionz
You were one of the more consistent rappers in the True Element projects appearing on the debut LP Unmanufacturable, The Road Less Travelled EP and The Road Less Travelled LP. In 2001 you joined the crew as a full time member and were involved in the live shows as well as recording vocals. How was your experience performing live with True Element?
Around 2000-2001 me and Kraze started sharing a house in Newport Pagnall on the outskirts of Milton Keynes. The album "Unmanufacturable" had been released at the start of the year and had created a bit of a local buzz around the group. I was on two of the tracks, "Lifetime mission" and "Triangular lirification" that also featured rapper Fa-Real as well as DJ Maniphest on the cuts. We played a festival at Campbell Park, Milton Keynes in August 2000 and I swear it was the coldest day ever! But things were picking up steam and we started playing further afield in Northampton and Leicester as well as doing some of the bigger events in MK like Music 4U. we were fairly open minded as a group and in 2001 we entered the Milton Keynes battle of the bands comp at the pitz. The organisers said that if they were judging on crowd response then we would have won but they felt that as we didn't have any traditional instruments (except for Paul "Fresh strings" Fawcett who at the time was featured live on guitar on 2 trax) they could not give it us…… it felt like we were on the verge of something. I always enjoyed playing live with the guys, the dynamic had changed as we had "Fresh strings" on guitar and "Katherine Peck and others vocalists singing, as well as me, Kraze and Fa-Real rapping, we were good but we also had a great laugh. I was also involved in releasing and promoting the fourth True Element CD EP "The road less travelled".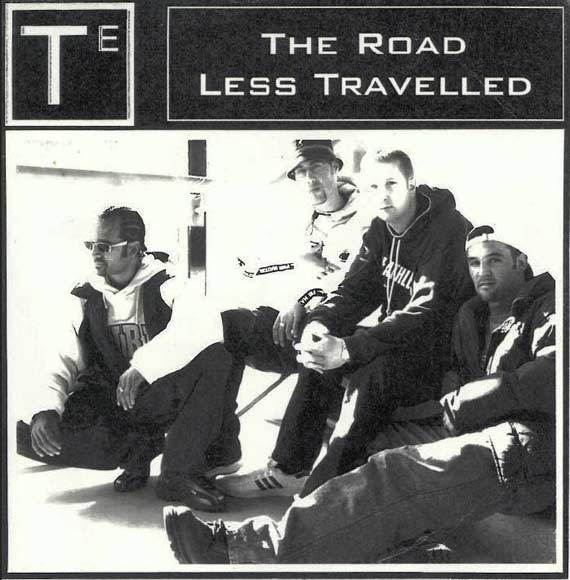 True Element "The Road Less Travelled EP" Released 2001 on True Element Records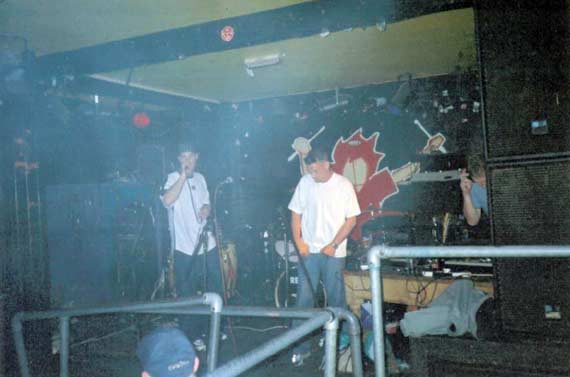 True Element live at the Charlotte club in Leicester 2001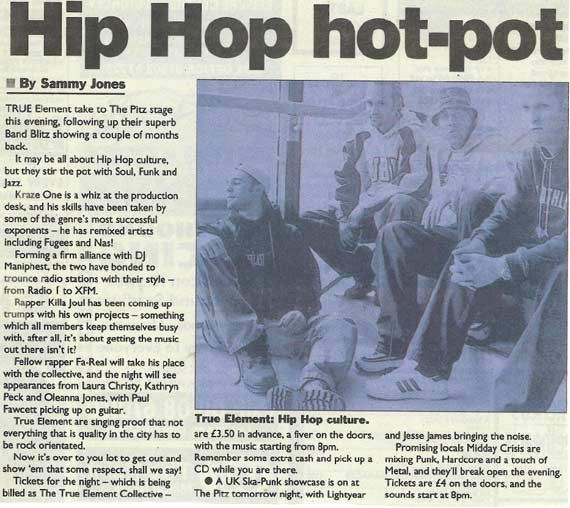 True Element gig review Milton Keynes Citizen 2001
In 2001 you co-ordinated and independently released your debut solo EP "Seconds Out". The EP featured singer Kathryn Peck, Live guitar by Paul Fresh Srings, Cuts by DJ Maniphest, and production by Kraze One. What was the inspiration behind this solo project?
Kraze had produced two or three good tunes that were just lying around doing nothing so I had a mad couple of writing days and hey presto…. chuck in Fresh strings and Katherine peck, who worked out guitar parts and a melodic chorus respectively and "Seconds out" was born. It seemed like a natural thing to do, we recorded it at Audiolab and the result was magic, I gained a lot of confidence from it as a writer, must give a shout to my bro for the artwork though!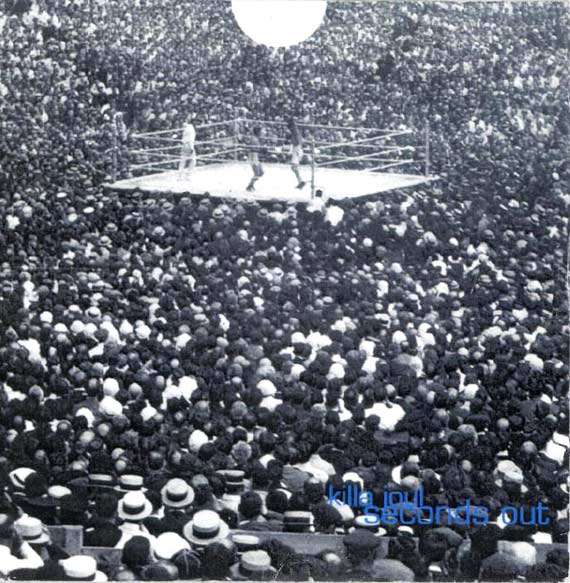 Killa Joul "Seconds out" EP -  Released 2001
How has the hip hop scene changed nowadays as oppose to the late 90s?
I suppose people would say it has progressed…. but it's not the same for me. it's easier to get your stuff heard online and anyone can record a good quality demo at home with all the software that's on the market but…. good stuff is hard to find from a personal point of view and although acts like Tiny Tempa are on the radio it's not really hip hop is it? That's not to dis anyone it's just not my cup of tea. Where's the scratch DJ? it's more electro if anything.
In 2003 True Element started a natural progression from the Boom Bap hip hop to more of a live sound. How different is it working with live musicians as opposed to a DJ and backing tracks?
It's a lot more complicated and challenging but the rewards are massive.
you are not confined to a particular framework and lots of people's ideas can take you places you might not normally go, songs can be more complex and freestyle and yet still have that raw element, chuck in a scratch DJ and the possibilities are endless, its good fun man!
True Element live at hip hop owes me money Milton Keynes 2011
In the mid noughties you learned to play guitar and sing. This lead to you recording 2 solo albums under the name "Kieran Jones" what was the inspiration for this transition in musical styles?
Well to be honest I had always listened to a lot of indie and folk music, I had some crappy stuff happen in my personal life and writing songs about that and relationships was kinda like therapy for me, I was also working at Audiolab studios in Buckingham and hanging out with some good players and writers who inspired me, I'm not the next Nick Drake or anything but I can pen and sing a choon!
Kieran Jones "Simple folk" CD LP – Released 2008
Kieran Jones "Lay like ghosts" CD LP – Released 2011
You have also compiled and released 2 compilation albums called "songs for Souls" as well as organising 2 charity events. What was the inspiration behind this?
Well I'd stopped playing live at this point and was looking for something to do! My sister in law was running a pub in Buckingham and trade was slow, so I decided to put on a night to swell the takings…. then decided to raise some money for cancer research at the same time. a friend of mine from the Audiolab days, Jamie Masters, allowed 6 of us to record an acoustic tune at his new studio ( Echo studios, check it out at http://www.echostudios.org.uk/ ) and my brother did some artwork and we pressed up 300 cds to sell on the night, three or four of us played a set and we charged a couple of quid on the door hey presto…. £1000 for Macmillan cancer research and £1000 in bar takings! I then did a bigger one a few months later at Buckingham town football club.
Songs for soul's charity cd volume 1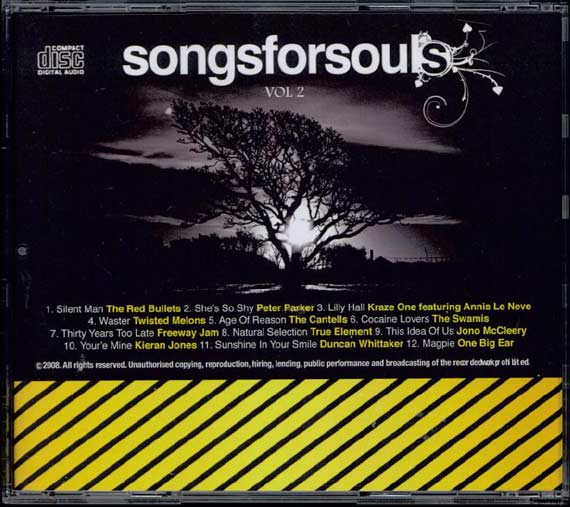 Songs for soul's charity cd volume 2
Recently you have returned to your roots and have been working on a new self produced hip hop EP called The Cure. The EP features performances by Fresh Strings, DJ Boothy, Mc Paranoia, Kraze One, Aniis Le Neve, and Lady Poet as well as yourself holing down the lead vocals. What inspired you to return to the hip hop music and record the new EP?
I kind of got stuck in a bit of a song writing rut, things dried up ideas wise and everything started to sound the same, id always been keeping my ear out for hip hop and was messing about making beats on my laptop, then I wrote a song that's on the ep called "Karma" and things evolved from there. It's quite an eclectic mix of tunes, mixing hip hop with folk; the songs have a more traditional structure, a bit of jazz etc… I realised I had a wealth of talent to call on to help out, from female singers to guitarists that played better than me plus the True Element boys. Me and Kraze One went back into the studio together this year for the 1st time in 8 years and recorded a couple of tunes that might see the light of day, Paranoia MC is also on them, they are good tunes! the more I did the more I wanted to do and I realised I missed making hip hop music, I had so much to say and can articulate it much better now I'm 34 and have done so much living in the last 8 years, the way I see it I'm better for the break and am loving being back on the mic!
Further information on Killa Joul & True Element can be found atthe below links:
http://www.reverbnation.com/kieranjones
http://www.facebook.com/#!/pages/True-Element/87929015091